I feel a bit embarrassed to put this entry up because it was taken
SO
long ago =x
But I want to post this up because of my happy purchases! :D
On 1 of those fine weekend, Eunice and I decided to head to KL to shop at Low Yat and catching a movie as well. We watched Prince of Persia :)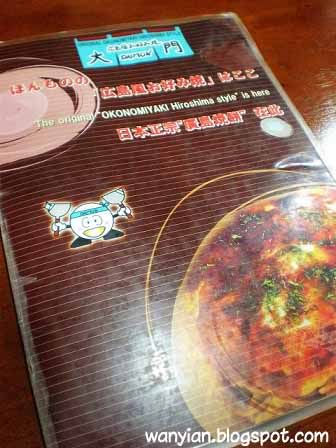 Eunice introduced this place called Okonomiyaki in Low Yat Plaza (lowest ground floor where all the restaurants are located) for lunch because she has personally tried and liked it.
I'm the type of person who's willing to try new things as long as there are good reviews about the food so I thought, "Why not?"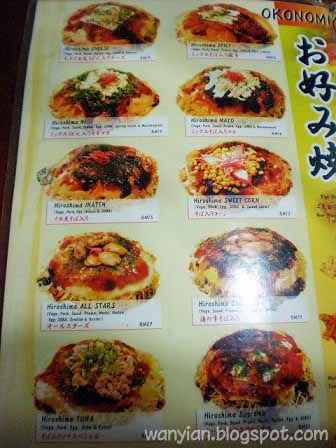 The types of Okonomiyaki available. Looking at their menu makes me salivate T_T
We picked Okonomiyaki Mayo (second from top right) as it was recommended by their staff.
Side dishes.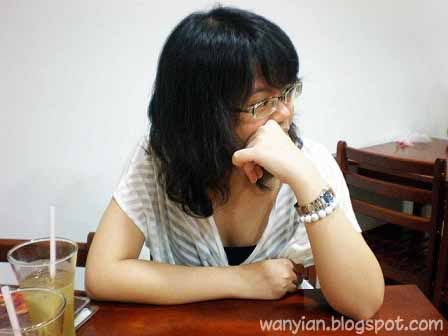 I asked Yung Hui to FREEZE in this position because I thought it looked cool LOL!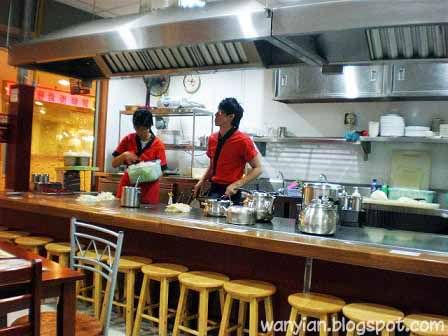 Only 2 staff available to serve the entire restaurant. Must give them credit!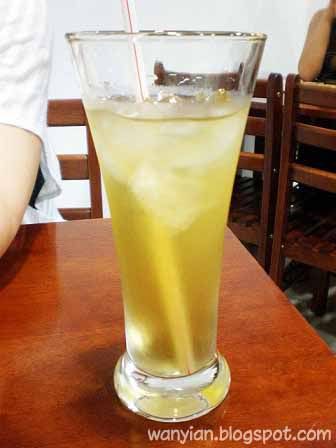 I'm
IN LOVE
with their
Honey Green Tea!
I've never tried honey green tea before so the moment I took my first sip, I fell in love wtf. It's so refreshing and thirst-quenching.
Finally, our Okonomiyaki Mayo arrived!
It looked different from the menu but don't judge the food by its appearance.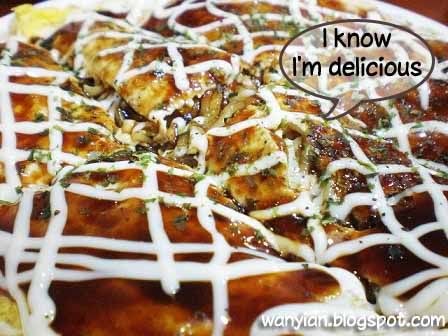 This is actually pretty good! I liked it!!
If you are going to this place to try it out, girls, I suggest you to share it with your girl friend because it is actually quite filling unless you are a big eater. Guys can easily finish it without a problem of course.
After a hearty meal, it's time for us to "exercise"! That I mean by shopping for hourssss :p
Without much ado, here are the stuff I bought on that day that makes me broke for the rest of the month.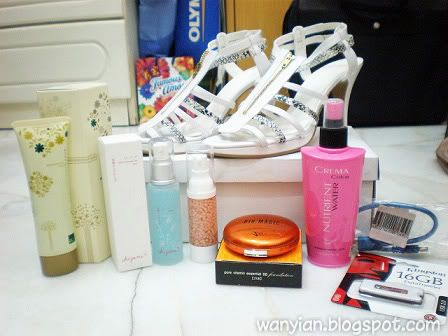 Looking at this photo makes me smile. But my wallet cries.
I bought a 16GB pendrive and a USB cable from Low Yat. Stupid uncle only gave me RM1 discount for the pendrive
because I'm not attractive enough wtf
and I got the wrong cable. This is not the cable that I wanted FML.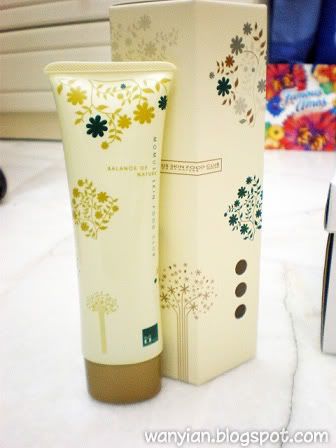 Some face scrub that was recommended by the show Ladies' First. RM43 if I'm not mistaken.
Thermal Protector spray for RM30+. Must love my hair!!!
While on our way back, I was stopped by this sweet looking girl trying to promote her beauty stuff and I initially brushed her off by saying that I seldom put on make up, she then recommend skincare products to me.
And lately I decided to take care of my skin since I'm beginning to
*cough*
age, washing my face alone is
not
enough. Besides, thinking that this
Shizen
brand is unknown to me, I wanted to give it a pass but Yung Hui said she like this brand because she thinks it's good and she's currently using their products.
Again, I got tempted and decided to give this brand a try. I tried a few of their products and I must say that they are pretty amazing!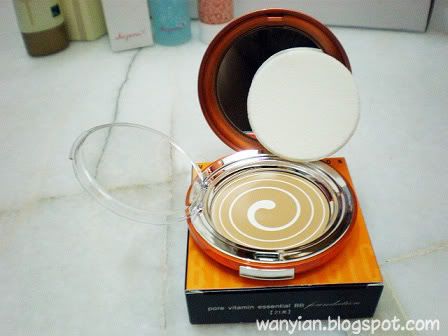 Bio Magic Pore Vitamin Essential BB Foundation for RM150+.
Basically, it helps to cover pores and man,
I LOVE THIS THE MOST!
I applied this when I went to club and it really keeps my face shine-free for such a long time!!! I have oily T-zone so this is like my secret weapon now for make up lah hahahaha.
I also bought their moisturizer
(orangy pink bottle on the right)
since I don't have any for about RM130+. It doesn't make my face oily like how other brands did that caused me to dislike applying moisturizer on my face.
I bought their promo package where 1 bottle of moisturizer+Pore Vitamin Essential foundation,
FREE
1 bottle of Skin Renewal Gel
(blue bottle)
worth RM79 if I'm not mistaken.
This is how I use it
:
Apply a few drops of
moisturizer
on my face and spread evenly all over. Then I apply a little bit of
pore vitamin essential
for good coverage of my blemishes before applying a thin layer of my ZA 2-way foundation cake as a smooth finish. Finally, complete my look by lightly dusting blusher over my cheeks. Done!
There you have it - flawless complexion that can con many people out there LOL.
Shizen should totally pay me for promoting their products online! Or give me great discount on my next purchase because I want to go back to buy their lipgloss :p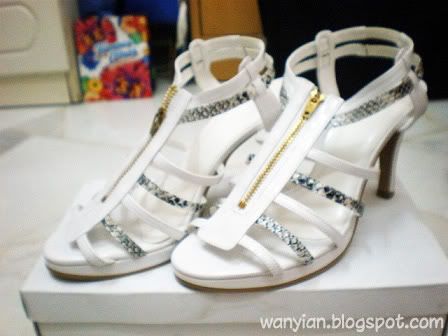 Bought my highest pair of heels for RM80! I love love love love love this heels sooooo much! It's actually quite comfortable despite the look of it ;)
Wore it to Zouk and Shennie also commented that my heels are pretty :D
Before this, exactly a week ago, I bought another pair of heels for work from One Utama.
White heels from Cleef for RM50 :D It was on sale!
My colleagues all commented that my things are all so colour coordinated - either WHITE of RED :p
I LOVE IT!
My spending on that day itself inclusive of shoppings, meals and movie cost me around
RM600
hahahahaha! That is why I did not plan any dinner outings with my darlings this month just to save money FML.
June is really the month where I spent the most. Besides the RM600, I also spent close to
RM3,000
on a new furniture and storage boxes in IKEA. Storage boxes cost me a few hundred bucks!!! Who says shopping in Ikea is cheap??? T_T
I seriously need a financial advisor
tsk tsk.