I tried out a new hairstyle yesterday!
Usually I do tight and small curls but yesterday I decided to be a little bit more adventurous by doing loose wavy curls for reunion dinner at my uncle's place and I would say that I LOVED IT! :D
My loose & wavy curls :)
If you did notice, I cut my fringe off last week and I have no regrets! Colleagues said that I looked much younger so it's all good~! :)
Those of you who think that I have not much difference with the new fringe or curls, save the comments to yourself because it do not matter to me as long as I like it! Mum said that this loose curls are nice but she still prefers me with the tight small curls because it makes my hair looks much thicker.
Don't worry mum, I will do both tight and loose curls alternately. Or probably depending on my mood :p
Before I end this entry to go for dinner, here, the blogger of Contagious Laughter would like to wish everyone who reads her humble blog....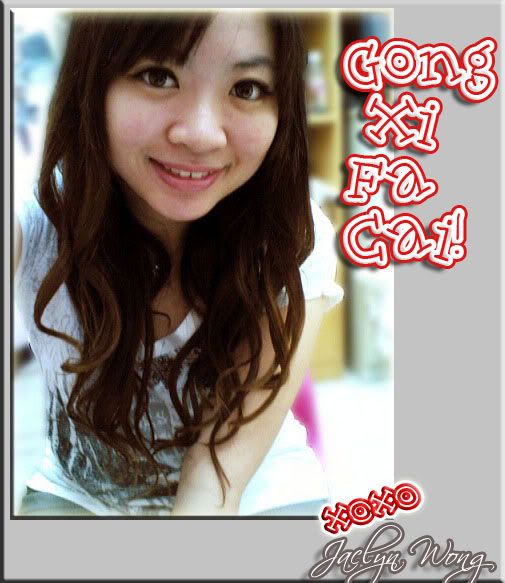 Happy Chinese New Year! And Happy Valentine's Day too!!! :)
Girls, try not to put on a lot of weight this time around!
"Indulgence" is a very evil thing wtf.
p/s - A big fat thank you to all who sent me CNY greetings through smses & MSN! I read them all!!!
p/p/s - I'll be going back to Segamat tomorrow so do miss me!!! Sms me or whatever because I have a feeling that I'll be damn bored throughout the journey or for the whole day in Segamat T_T