Yesterday I was out on a mission at One Utama and since I can't tell what it is, so yea, I have a mission to accomplish with Yung Hui.
Yung Hui was in the mood to shop for CNY while I'm super broke since it's the end of the month. I tried so freaking hard to not spend any money on shopping - at least not until I receive my salary by this week!
I guess I failed.
I ended up buying a jacket from Nichii -_-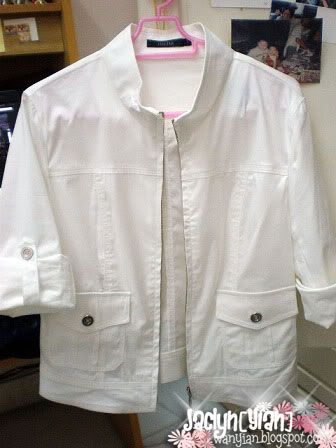 White jacket from Nichii - RM99.90 (10% off).
I told Yung Hui that I'll be coming back next week to buy after I get my salary but the sales girl told me that it's the LAST piece already!!! If I don't buy now, I don't get to buy it anymore!
FTS I grabbed and paid without a care wtf.
That's my current favourite jacket! It fits me perfectly and most importantly,
sibeh
comfortable :D
Yung Hui shopped so much yesterday and I helped out by mixing and matching clothes for her. Guess she's pretty satisfied so yea, I'm happy as well LOL! Next week shall be my turn to shop for CNY clothes!!!!! :p
On another note, I went out 2 weeks ago with UQ friends but I'm too lazy to edit, resize and upload photos so I'm going to write about that next time :p I
will
write about it so don't say I did not :p I'm just too
lazy
tired.
Meanwhile, I'm pretty occupied with 3 good books lately :)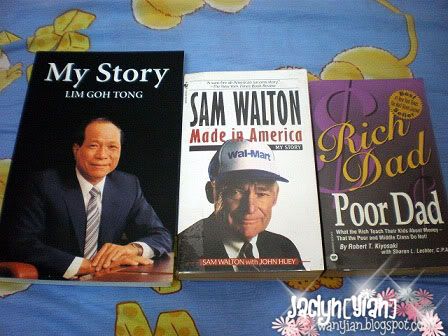 Borrowed from my cousin brother who owns a huge bookshelf filled with really good books!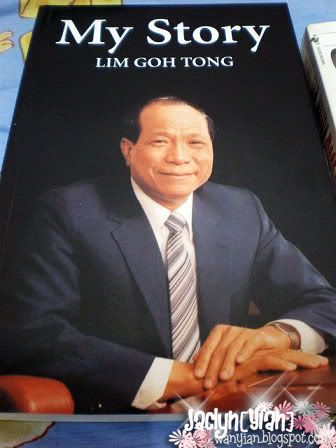 Had always wanted to read this because I hope to be the next Wong Goh Tong wtf.
Sam Walton Made in America - everyone has been writing about how good this book is over the net so I'm really happy that my cousin has it!
And finally... After such a loooooooong time, I found this book!
Rich Dad, Poor Dad :D I know I'm slow in reading this but hey! It's better to be late than never, right?
I'm reading Rich Dad, Poor Dad first and so far, it's pretty good I would say :) Very insightful on 2 different people's teachings and mindsets so it fascinate me to keep reading it. Will let you all know which book is the best and which is worth reading~!
Sorry for the lack of blogging because it's festive season so I've been extremely busy! Everyday I came home half dead so I just went straight to bed. Many commented that they seldom see me online anymore so yea, please be informed of this reason T_T
Things will be better by February and I'll be back in FULL FORCE after Chinese New Year!!!
Of course, I'll still rant over here or in Twitter whenever I'm unhappy or irritated hahahaha.
Off to bed now! Night darlingsssss~!