First of all, thank you very much to my brother's friend who came to fix my old laptop and subsequently update it to Windows 7. I love Win 7 sooooo much because for years I've been using Windows XP so this new interface is considered as damn cool to me.
My second 'thank you' goes to Florence who bought me Evil Eye from Turkey :)
Evil Eye necklace.
Unlike its name, Evil Eye is actually a lucky charm that wards off misfortunes and also evil people. In Turkey, that "eye" is suppose to protect its owner but because it looks scary to most people, hence the locals called it as Evil Eye.
(I hope I translated the story/meaning correctly from Florence)
Now that I have Evil Eye necklace with me, f*ck off those bastards and bitches who are trying to bring me down!
Vanish
wtf.
She also got me a coin pouch with the word Turkiye sewed on it :)
I love it!!! Thanks a lot my dear!
I really do hope it'll help to keep those evil and ill intention people away from me.
New Year eve
Went to my uncle's house for countdown party :D
I may not sound very convincing in saying this since I seem to have the party-animal look but if I'm given a choice between partying with friends or family/relatives gathering, I always go for the latter.
CANNOT BELIEVE ME RIGHT???
Even my managers and colleagues thought I'm kidding FML T______T
They said I have the "party-girl" and "kaki lepak" look so they can't believe it when I said I'm
quite
homey and cook for family.
Sigh.
Kids all happy in lighting up the Hung Ming lantern.
I have no idea where they managed to buy Hung Ming lantern man!
Aren't they awesome???
Up....
Up....
... and away~!
This one is in green!
By the way, it's full moon on that night too! How beautiful~!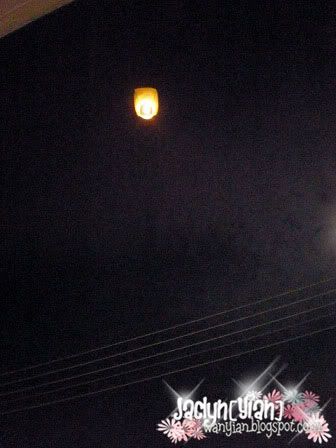 I hope it didn't burn down any squatters in Kayu Ara wtf.
New Year
The following day, I went to KL for shopping with Florence :D She wanted to buy some formal wear for her new job in February so I accompanied her over.
But I ended up spending more than RM200 on shopping again T______T
Frankly speaking, I've been shopping on a weekly basis and each time I spend around RM200-RM400 wtf. I don't dare to post all my shopping loots but here are just a few to show you :p
:D
*beams*
I spent roughly RM230 last Friday and amongst those usual tops and dresses, this is what I want to share!
Moo Moo 1 (left) and Moo Moo 2.
Moo Moo 1 is the elder brother because he's fatter and taller LOL.
Initially I thought of buying 2 for my friends' birthday but I am now considering of keeping Moo Moo 2 for myself :p
Soooooooooo cuteeeeeeeeeeee~!
It's like a love at first sight....
Mama loves youuuuuuu~!!!!
Okay I have no idea how come the camwhored photos looked so dark and low resolution. All were taken with a camera, not camera phone!
Just in case you are wondering, I did not straighten my hair! I just didn't curl it and left it straight because I was lazy :p
I'm still considering if I should buy another present for my friend or I should just give her that because I have too many plushies at home and I'm sure dad won't be pleased if I add more to my collection. I have sensitive nose and soft toys attract dusts T_T
I'm going to think of my new year resolution now!!!!! Hope I can get it done asap!
Want to know how I spent my New Year eve last year? Read it
here!
Super funny and memorable omg.
This year may seem a little quiet for me but being able to spend time with family, relatives and friends is the greatest thing I could ever ask for. That's what life is all about, no? :)
Happy New Year!