This entry is suppose to be up few weeks ago but I'm so lazy and
busy
going out with friends that I don't have time to complete it :( I miss the way I blog back then - when I have so much time and inspiration to write and entertain wtf.
Dad went to this coffee shop last month with his bosses after watching it from Astro (recommended by Chui Ling in her 1 day 5 meals program I think). This place, apparently, serves very good
duck drumstick noodle
and dad thinks it's good so he decided to bring us over for a try.
Business has been extremely good over the weekends.
The name of this coffee shop is called Pun Chun Noodle House, located at Kota Kemuning, Shah Alam.
If you are worried about unable to find this place, fret not. After a little of googling, I realised that they even have their own blog!
Pun Chun Noodle House
- with map attached as well as their address in full.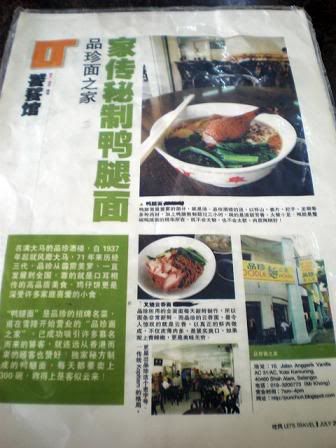 Appeared in newspaper some more.
I was anticipating. Firstly, I've not tried duck drumstick noodle before (jakun T.T) and having to travel all the way to Shah Alam,
IT BETTER BE GOOD!
And I have to wake up early just to eat this when I can sleep in later a bit over the weekend.
Moreover, being featured in TV program and newspaper, it must be damn good already, no?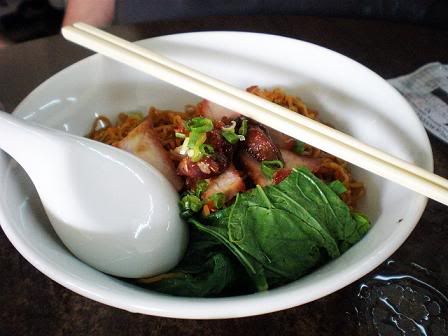 Eldest bro ordered char siew and wanton dry noodle because he dislikes duck meat -_-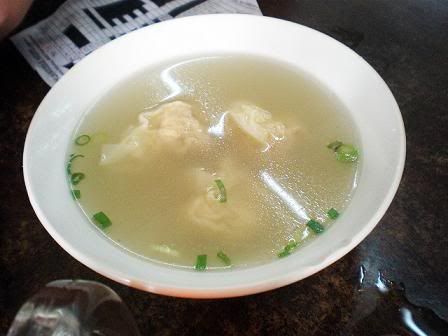 His wantan soup.
Dad also ordered a big bowl of wantan soup for us all to try because it's pretty good.
Indeed not bad :)
Mum ordered duck drumstick noodle soup.
Dad said the best thing about this noodle is none other than their herbal soup base. I was a little upset because I ordered the dry type.
What is it comes without their herbal soup???
T_T That defeats the purpose of me coming all the way from PJ isn't it?
But voila!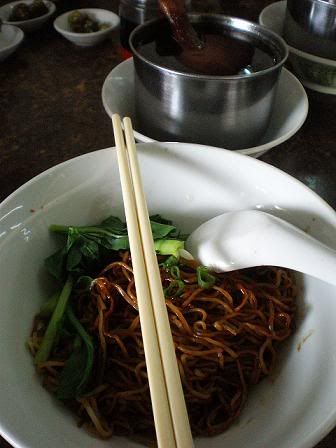 My duck drumstick comes in a separate bowl! :D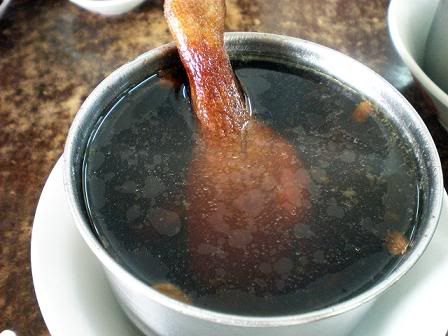 It's piping hot.
I am a person who dislike drumstick but they ONLY serve duck drumsticks. However, the meat is super tender and soup is seriously the best thing on earth wtf. I love the soup so much that I actually finished it all!!!
The amount of Chinese herbals inserted that make this soup so tasty.
If drink too much of it, nose will bleed or not?
In conclusion, if my dad is willing to bring us there again, I'm more than happy to wake up early for this delicious meal again :)
You.die.die.also.must.try.their.herbal.duck.soup.
The price may not be very cheap for a plate of duck noodle in a coffee shop like this but I bet after you've tried their signature dish (don't pandai-pandai go and order their laksa of whatever shit), you might think that it's worth the money paid.
PUN CHUN NOODLE HOUSE



10, Jalan Anggerik Vanilla AC 31/AC,
Kota Kemuning,
40460, Shah Alam
Selangor

Tel: 017-7701121 / 019-3206773

Operating hours: 6.30am to 4pm, DAILY
Dad said if you all are interested, it is advisable to go early because he went there once with other colleagues in the late afternoon and they ran out of the duck drumstick -_-
You don't want to go all the way there to eat their laksa or pig trotters right?