Saturday
was spent by going out for a movie with high school friends at 1u :)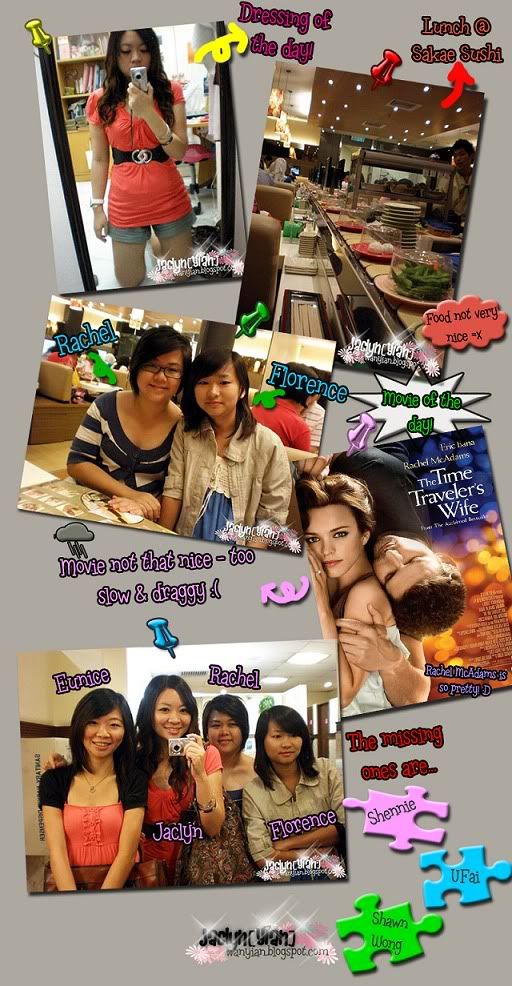 Shen Ling! I asked you to stay back after going to the toilet to camwhore but you went out so quickly T_T
My hair above was curled on the night before but it's still very curly the day after! The moment Florence got into my car, she commented, "Yian... you did something to your hair? It looks very curly today".
"Yea... I curled it myself yesterday night" :)
All in all, Time Traveler's Wife is damn boring okay! Storyline is cool. But it's too draggy. It's worth it if you buy DVD to watch at home with your bf/gf or family instead. Not worth to pay to watch in cinema though. Now I want to save money to buy the book :p
Worst of all, GSC was freaking packed on Saturday! I was unable to book on the night before so am left without a choice but to go there early to purchase but it's fully booked as well FML. After getting consent from everyone, I went to TGV to buy instead. Damn hate TGV okay. Don't bother asking me about it +_+ Stupid teenage kids who went all excited and
jakun
whenever naked scenes of Eric Bana appears wtf.
On
Sunday
(yesterday), my family and I went to Jaya One for Wendy's
again!
I'm beginning to get sick of Wendy's because this is beginning to be a weekly family thingy wtf. I told dad that if he still suggests Wendy's for lunch next week, I'm not going to go already.
I'm not particular with calories/cholesterol and all because I believe in eating moderately (I'm not paranoid about the weight issue either) but I felt embarrassed because the cashier lady recognised my brothers and I already as she served us every week hahaha T_T
After lunch, I requested dad to drop me at Digital Mall because I wanted to look for a mini speaker for Ipod. Digital Mall is
sibeh
small can? I browsed through the whole mall less than an hour and couldn't get what I wanted.
And then dad suggested to give me a lift to KL Monorail station so that I can take a train to Low Yat to buy instead.
HE DON'T EVEN WANT TO SEND ME TO KL FML!!!!
My dad hates to go to KL due to the massive weekend jam T______T
So I ended up travelling to KL on my own (thank goodness I brought my Ipod with me
*shiny eyes*
) and I would say that all this Digital Mall and Low Yat shopping were impromptu. Didn't even plan it beforehand and thank goodness I dressed up a bit and not in my usual Indonesian maid-like dressing -_-
Got what I wanted and proceeded to Times Square for a walk because since I'm in KL already, I don't want to go home so quickly. Initially wanted to go to Sg Wang but I forecasted that it'll be super ultra pack so I gave the thought a pass. Even TS was packed with people! Imagine Sg Wang
*shivers*
Honestly speaking, I dislike going to KL on my own :( I always meet weird people even when I'm with my friends. Yesterday for instance, while waiting for the traffic light, I saw a foreigner in front of me (not going to disclose the race in order not to be racist) pointing his camera towards my direction. Not to be overly sensitive, I walked to the far right to wait.
Then he walked to the far right as well and pointed his camera to me again! I quickly avoided him and walked to the far left again and hid behind other pedestrians. He followed as well but he can't see me so he gave up. When the pedestrian light finally turns green, he walked towards my direction, smiled and said
"Hi. How are you?"
FML.
What's even worse when I'm shopping on my own? It's the amount of money spent on impulse shopping! Here's my total damage yesterday...
Kantoi
.
But I love everything that I bought to bitssss!
Maybe except for the Mentos. Too sweet :(