(This is a scheduled post because I'm attending an interview now ;))
Last Saturday was a long day for me. I woke up early at 8am to prepare myself to go out for shopping with Yung Hui at Times Square and Low Yat plaza. I was 5 minutes early. She was 30mins late. LOL. As a result, I wasted RM6 for a cup of coffee and hash brown as breakfast while waiting for her to arrive T_T
I was determined to search for a dress that I couldn't get in blogshop but unfortunately, I couldn't find it :( Fated I know. I have so many things that I wanted to buy but I'm broke so I'm left without a choice but to buy them next time.
I ended up with these 3 items only - a plain dress, a tube dress and a pearl hairband. Total damage on that day was okay. Less than RM150 at least xD
(Wtf I can't believe I left out my beautiful waist clincher! I didn't realise my fav purchase of the day wasn't included!!! T_T)
I like white stuff so much until I didn't notice that most of my stuff are white in colour!
I totally regretted for not buying that Ipod loudspeaker!!! I wonder when is the next time for me to go back to Low Yat T______T Yung Hui bought SO MANY things! Mostly gadgets and only 1 dress I think.
I want to shop sampai gila too!!!!
While shopping with Yung Hui, I decided to club with UQ friends who I got to know back in Australia. I was hesitating at first because I couldn't get any of my friends to accompany me so I decided that I shouldn't care much and just go ahead.
I only told my dad I'll be back late because I'm going for a Halloween party hahahaha.
SURPRISINGLY
, he didn't say anything :D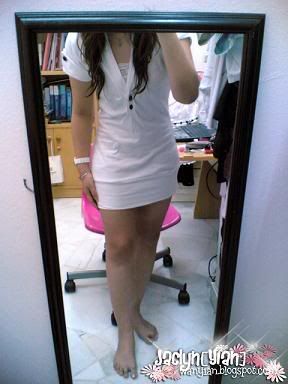 Wore the new dress that I bought on that day.
Sibeh
fat already now
*emo*
Sorry for posing awkwardly above because I placed my full length mirror on the floor instead of hanging it. I'm lazy to hang it back so that explains why -_-
Let me show you the wonders of make up. I think I looked better here than my previous entry because I have more time to doll up. I took 45mins to get ready. It makes a
HUGE
difference okay wtf.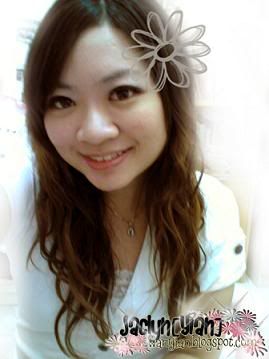 While waiting for Jeremy to pick me up, I chatted with friends on MSN. I was being fickle minded again whether to go with my new pearl hairband or without. I think my friends are going to hate me if I continue to be like this (indecisive).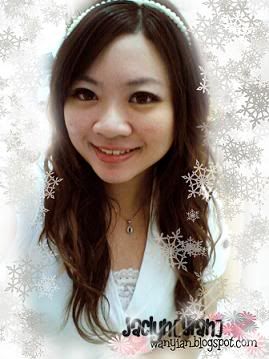 Ho-Ho-Ho! Christmas came too early this year wtf.
My dress is white. Same goes for my hairband, watch and heels! I didn't realise that I swear!!! No wonder Clara said I looked like an angel while she looked like a devil because she's in all black hahaha.
While on the way to KL, we decided to change venue to Phuture (because my high school friends went there!) but unfortunately, Jeremy's friends were there before us and they couldn't get in because they are all underage!!!
So we went back to Poppy.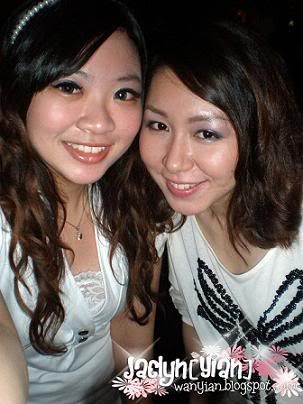 Me with Sylvia.
I even asked Sylvia in the car if I should wear my hairband or not wtf. I'm worried that I might ended up looking too princessy. I don't want to be a "princess wannabe" if you get what I mean :(
But she said I look good with it so I should put it on. I heeded her advice.
Both of us know who each other are back in Australia but we never hung out together before. I mean, I heard people mentioned her name back then but I don't quite remember how she looks like until
Jeremy's bday
in August when she came to me and said she knows me.
That's how we became closer by chatting with each other. The next thing I know, we are clubbing together now LOL. We got
even
closer on that night of course.
She's super sweet okay! Look at how adorable she is!!!
Sylvia with the cat's ears hairband because it's Halloween!
That hairband belongs to Clara though.
Clara
the devil,
Jaclyn
the angel (wannabe type) and
Sylvia
the catwoman.
Finally I have Sylvia who is as fair as me! I always go under the sun but I'm still that fair :( I look sick if I'm too fair. Like the pale type of fairness FML.
I got to know Clara in the car. Shit lah how come all your friends so pretty one, Jeremy? So intimidated wtf.
Clara the lawyer, Jeremy the ?
(LOL I don't know what your job is dude!)
and Sylvia the auditor!
Jeremy was the lucky driver for chauffeuring 3 ladies! What's so sad??? Proud you should be! xD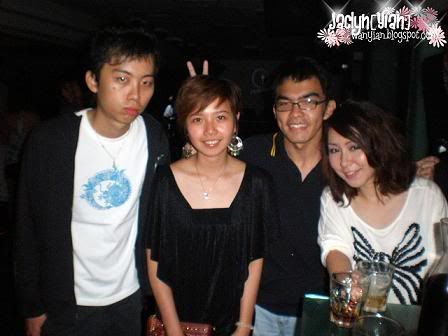 Colin, Clara, Jeremy, Sylvia.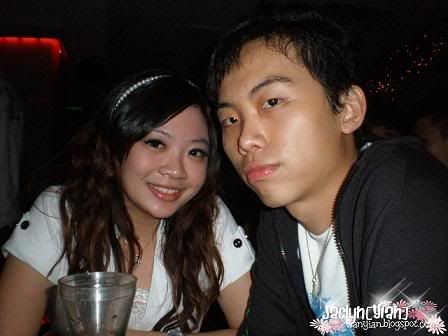 Colin was late and all of us have to wait outside for him! Shy or not you???
I just got to know Colin on that day as well. Truth be told, I don't know most of the people there that night because most of them already know each other beforehand (eg high school mates, uni mates, etc) while I just got to know Jeremy and Sylvia in Australia -_-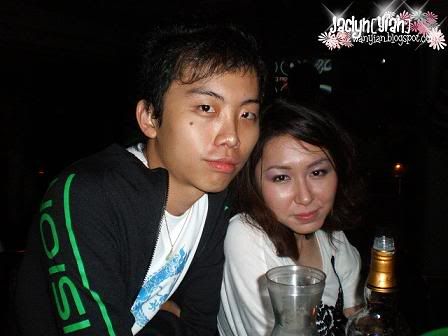 Hahahaha Colin pouts when he takes photo! He's fun to joke and chat with!
I take awesome candid photo :p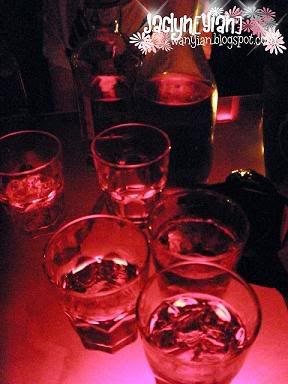 At first we got a small table. But not long after, Jeremy found his friends there so we moved to their place - the large sofa area at the corner. Somehow, each time I club there, I always ended up at the same sofa area.
We went downstairs to dance and when I went back upstairs to drink, someone arrived. A person I believe Andy misses a lot!
Andy, guess who he is!!!!!
Your brother bear, Kai Lit! LOL!!!! U miss him a lot right?
I suggested to Kai Lit that he should call Andy 'baby bear' and he said it's a very good idea hahahaha wtf.
He came with his gf, Peggy!
Peggy is quite a friendly girl :)
I forgot what we were laughing at that I ended up looking like the above =.=
I want to cut my hair already! It's too long now, heavy and messy :( But I'm broke FML.
For the whole night I kept calling Kai Lit as Wei Lik wtf. Who asks him to go MIA for a long time until I forgot his name? =x
He even said both of us must take pic together because we don't have any taken by far. Dude, what about those we took in Klub Kandy last year???
*show fists*
Kai Lit, if you are reading this,
STOP TEASING ABOUT MY HEIGHT!
T________T I'm not short. You are extraordinarily tall okay!!!
*sob*
Peggy & Sylvia.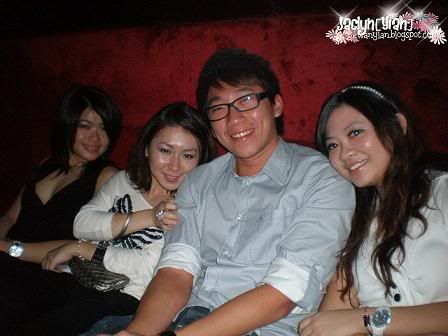 Bapa ayam hahaha.
My worst angle ever T_T Whatever! I'm not a model so I don't take good pics all the time!
Trying to give excuses to cover up =x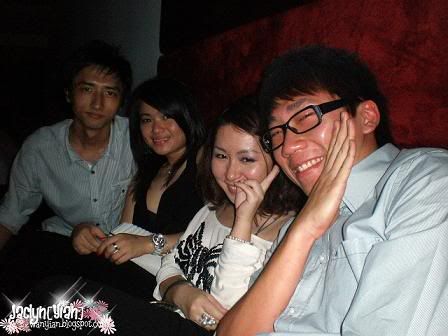 HAHAHAHAHAHAHA
I can't stop laughing everytime I see this photo!!!!
Do you know why Kai Lit poses that way? He wants to cover the chubbiness of his face!!! Why is he so funny???
He said he purposely hid behind Jeremy so that Jeremy's head helps to cover his face a bit HAHAHAHAHAHAHAHA I can't stop laughing!!!
This photo is kinda candid.
Kai Lit I bet you are damn happy with how these photos turn out eh?
My favourite photo of the night! So sweeeeeeeet~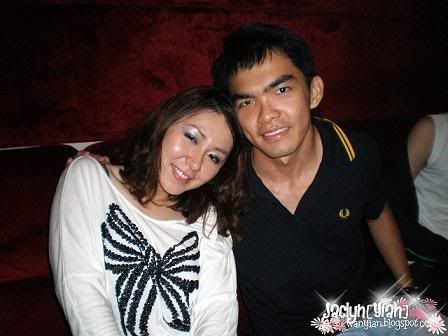 That guy on the right is Clara's bf :)
Us!
Despite having so many friends there that night, Sylvia and I didn't join in for their group photos because we don't know them. But they are all very friendly nonetheless :D
Random notes:
1) I bumped into Meng Keat and Kah Mun at the Poppy's entrance. We were looking at each other for a long time but didn't dare to say hi because we were unsure if we got the right person. But I bumped into them again in the toilet (males & females share the same toilet) and that's when we said hi to each other and chatted
in
the toilet wtf. Hahaha we are funny like that.
2) From now onwards, if I'm given a choice, I think I'd want to avoid Poppy! The crowds are just too young!!!!!
Kanasai
it seems like those people there were so much younger than me!!! Cannot 'eat' wtf. Sylvia kept telling the rest that next time we should go to Zouk or MOS. No more teenagers club like Poppy!
3) While dancing at the dance floor, a guy came and asked me if he could dance with me LOL! I mean, he's so polite! Usually people will just approach the girls they want to dance with without asking for permission isn't it? So if you ask for permission, there's a possibility of getting a 'no' as an answer. He asked and I said "It's okay. Let's dance together with my friends instead" - indirectly giving him a 'no' as answer. Clara and Sylvia laughed =.='''
4) I bumped into Wayne in Low Yat and coincidentally he's going to Poppy that night as well. Initially he wanted to meet up with me downstairs at the dance floor but since it was too crowded and rather impossible to meet up, I told him to just forget it. But he was so nice to come to upstairs to look for me. So I told him to meet up in the toilet instead hahahaha. I brought him to our table and we chatted for awhile before he excused himself because his friend, Raymond, wanted to join back their friends. Raymond is quite good looking but darn! He's 19!!!!!!!!!! What is this kid doing in club??? Ah boy... Shouldn't you be sleeping at home?
5) I went home at 4am due to the jam & all!!!! I think I woke my dad up when I was closing the door. He came out from his bedroom and when I saw him, he said, "Good morning" and went back to sleep.
Wah damn sarcastic lor!!!!!!!!!
=____=''''