It's the time of the year again for us 5 Mawar-ians to gather once again (actually we do yamcha often wtf) to update or
blow water
with each other.
There were 20 of us present - which is considered as alright as many have already informed beforehand that they couldn't make it because a) they are studying in overseas/other states b) working in outstation c) some went for holidays while some we totally lost contact with.
It was exciting because we have 3 girls who brought their significant other along while others were too shy to bring so they came alone instead. It's awesome that most people are dating now because nobody will fight with me in courting guys in future wtf.
To me, finding the right partner is important. But at the moment, I have other worries instead (career!!!) so relationship is not my top priority now :( Or perhaps I'm just not blessed to have a man that I really like or my fate will only come when I'm 30 wtf. LOL later Mei Gee will start to intro guys to me already like how she did to Siok Yee hahahahaha...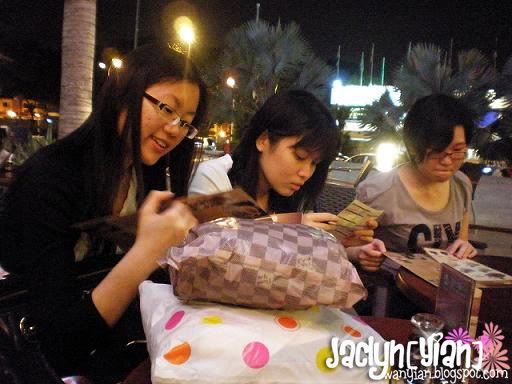 Yoke Man, Pik Chee, Shin Shin.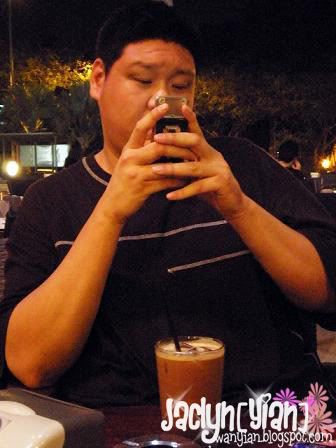 Uncle Wong.
Khoon Wah and I were supposed to be the earliest to arrive but we couldn't find parking so we wasted so much time looking for a carpark! Teng and Yoke Man who came later were lucky to get a parking faster than us FML.
Kher Li, Siew Ling, Siok Yee.
T_T Siok Yee said she sees my face so often lately until she's bored because we often go out together for a drink with friends.
*emo*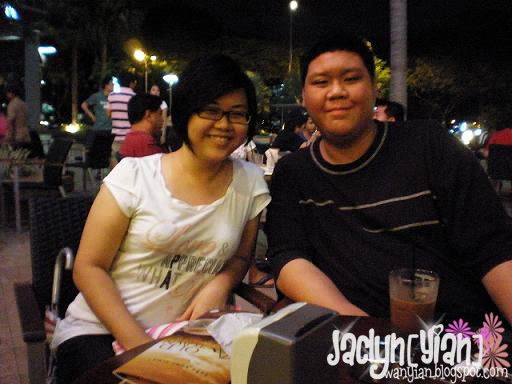 Wai Mun, Khoon Wah.
Since Chee Kin wasn't around, substituted KWah for her hahahahaha
Ohya, bumped into Tsu Lynn and her friend there too. What a coincidence!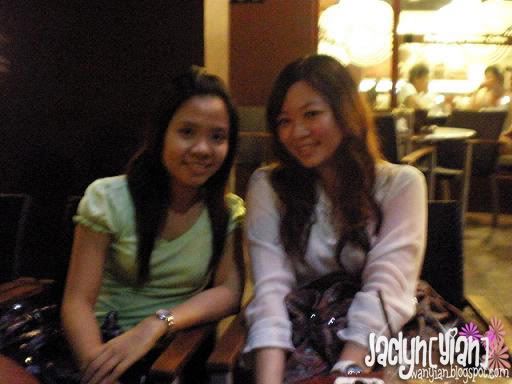 Teng and I.
Contrary to popular belief, Teng and I seem to be close but we both are merely chatty and playful with each other. In fact, we don't even understand each other that well.
Like I was being asked about Teng's bf stuff yesterday night and I have to freaking idea. I don't know and am not interested to know because it's their personal stuff. I think other friends knew about her stuff better than I do -_-
Pui Yi and her bf, Tim.
She just got together with Tim so this is our first time seeing him! Quite a friendly guy so I feel happy for her! Pui Yi is an extremely nice girl so she really deserves a wonderful guy ;)
Khoon Wah is such a bad photographer! The 2 photos above were taken by him and both are blurry T_T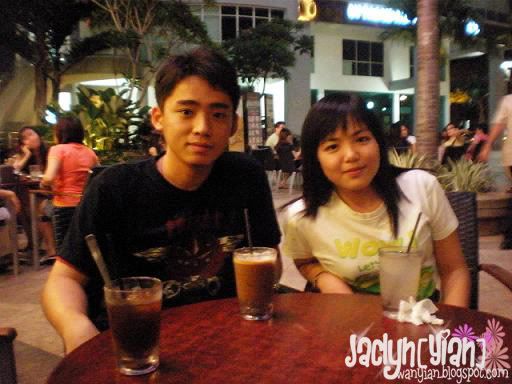 Yoong Foong, my ex-Form 1 classmate with Suet Mei, my primary schoolmate.
This is a funny pair of couple! They way they talk and fight are so funny and cute to look at.
I got confused between YFoong and Tim's details yesterday night. I thought Tim is doing Marketing/Sales while YFoong is an accountant. Turns out, I got both mixed up =.=''' And I got laughed at by them T_T
Cheok Tho brought her bf along too!!! But somehow it didn't struck my mind to take a pic of them because they came so late :( I was busy chatting with everyone so I totally forgotten about it. Cheok's bf is a shy fella. He didn't talk much so I was worried if he's bored being with us - Cheok's friends.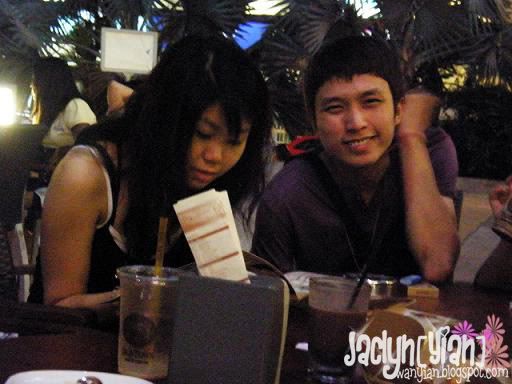 Poh Yee and Thian Jeen.
TJ, how come you looked like you got punched by people on your right cheek? xD
The latest to arrive - Sally and Chun Wah.
Both are not couple but both did not bring their other half along aiks.
So the yamcha lasted till 12am (just because I wrote at the FB event that it ends at 12, all decided to go back at 12 wtf) where most of them left the place - leaving KWah, YMan, KherLi, Siew Ling, Siok Yee and I, the 6 of us there as we stayed back to chat.
Throughout the night, we all found it so hard to talk to each other due to the large turnout so at that time was the best time for us to have some real talk! Well, we were listening to Siew Ling's story in UK since she just came back from there plus some gossiping here and there :p
Since Oldtown White Coffee at Jaya One closes at 1am, we were left with no choice but to change location to McD in ss2 because the night was still young and we still wanted to chat. Spent an hour in McD before leaving the place at 1.40am.
So yeap, that's about it. It feels like a huge yamcha session instead of the usual 6-8 people so I felt very difficult to chat with everyone on that night. Nonetheless, thanks to all who made an effort to come and to those who can't make it, we shall have it again next year ;)
Initially I wanted to blog about my dinner with uni friends but since I got teased yesterday (and lately as well!) by friends that my blog is slowly becoming a food or tourism blog, I decided to cut some slack and post this 'food-less' entry first hahaha. Seriously, what can I do with my friends other than going around for good food? All of us are too broke to go for a trip so I have no choice but to post entries of food, food, food and
FOOD
. LOL!
Hey at least I'm introducing some awesome places for you all to try out! Should at least thank me right??? T_T