According to my dad, before Choong Kee restaurant was opened, they actually sold claypot rice in a coffee shop - ironically located at the end of the shoplot (beside the open parking space). Business has been good so they decided to have their own shop instead.
Since then, many people claim that this place serves the best claypot chicken rice around PJ. I don't know how true it is but I'm pretty darn sure that this place is
FAMOUS!
My family and I used to frequent to the coffee shop that they rented back then when I was very young. Hence, my dad knew their lady boss :D
The reason why I said that this place is famous because it is
always
packed with people - especially on weekends.
People kept coming in and many have to wait to be seated.
I have a few advises for people who wanted to give this place a try:-
Jaclyn's 101 tips for dining at Choong Kee
1)
Do not go if you don't have the patience to wait.
My family and I waited for 45mins to be served! Best part? My dad has already called Irene (the lady boss) beforehand to make reservation.
2)
Go there early!
Go there by 7pm (better still, before 7!). Latest 7.30pm otherwise you don't even get a chance to eat at all. The lady boss came out from the kitchen and told the people who were waiting outside that everything was
SOLD OUT
. Time?
7.55pm!!!
3)
Bring something to entertain yourself
because you have to wait for a long time. My youngest brother listened to music, eldest brother played with his iphone while dad, mum and I stoned wtf.
4)
Call to make reservation.
Although you won't be served earlier than others but at least you get to eat regardless you are late or not. Irene's number is given in the photo above. Check out their operating hour too.
5)
Don't try to be funny with the lady boss.
Don't try to nego with the lady boss or question her why you have to wait for so long and etc because according to my brothers (they went there before while I was in Australia), she's
freakingggggggg
fierce! She scolded her son and workers like nobody's business. Don't play play otherwise she'll slap you with the claypot wtf. My dad can joke with her because they knew each other for years!
Ya I know you are jealous hahahaha.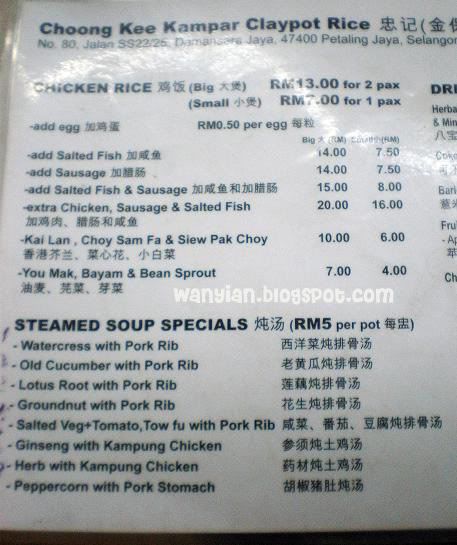 I'm so kind. I took a picture of their menu so remember to bring enough money to dine there. Don't tell the lady boss that you don't have enough cash otherwise she'll smack you with claypots since she has many in the kitchen.
Drinks.
They even ran out of Chinese tea by 7.30pm -_- My family ended up drinking sky juice (
cheh
must sound high class a bit kakaka). Healthier wtf.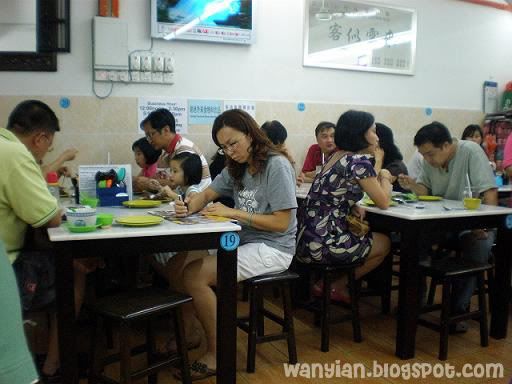 Everyone keeps themselves occupied by reading magazines and newspapers.
I'm not too sure about them providing newspapers for patrons to read or patrons brought their own but they have 2 huge stacks of magazines for everyone to kill time :)
Environment wise, the place is pretty new and clean, albeit a little narrow.
From the photo above, can you see the yellow sign? The claypot chicken rice here are cooked with charcoal!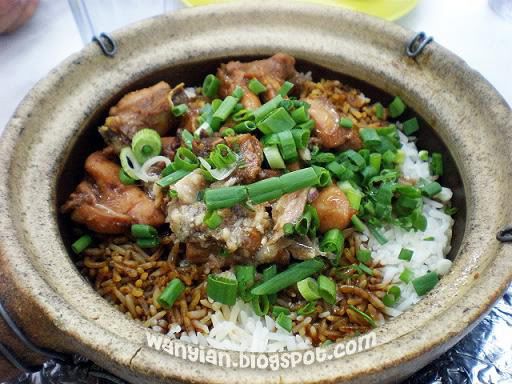 Dad ordered 1 small claypot chicken rice with additional salted fish (RM7.50).
And also 2 large claypot with additional Chinese sausages (RM14 x 2). You may refer to the menu pricing that I posted earlier above ;)
Now the questions all come in.
Does it taste better than usual claypot chicken rice? Is it worth the wait? Is it worth the money paid?
Hell yea.
The chicken rice are very fragrant and the salted fish just added extra oomph to everything. Whether the salted fish or Chinese sausage tastes better, it's up to individual preference. As usual, the base is slightly burnt but the burnt smell ain't that strong so you can actually scrap the bottom burnt part to eat - if you like it.
Overall I would say that it's good and worth the money paid :) Again, I'm not a food blogger so I don't know how to use all the bombastic words to describe the taste and I'm not really picky when it comes to food so yea, try it yourself instead. Still, I'll feature restaurants that I think are good in my blog because average/lousy ones are not worth writing about it.
At the end of the day, we even got discounts from Irene hahahahaha. That's the benefits we always get whenever my dad knows people. If you are a PJ-rian, you should know about a famous restaurant called Seremban Favourites in Aman Suria that serves the best
char siu
around (being featured by countless bloggers, newspapers and TV). We started eating at that place every weekend the day they began operating and not even popular yet. Eventually my dad befriended with the owner (who happens to come from Seremban like us too) and each time without fails he'll give us a bowl of fishball soup for free xD
Choong Kee Kampar Claypot Rice


No. 80, Jalan ss22/26,
Damansara Jaya,
47400 Petaling Jaya.
(Closed on Wednesday)

Feel free to call me along if you want to try out this place because I live really near to DJ :p
Darn I'm hungry now.
Alright. Next up will be the best dry Bak Kut Teh in Klang :)