I'm going to write each event that happened on Saturday and Sunday in sequence although I really wanted to write about the clubbing right now. I'm worried that if I procrastinate further, I might lose the interest and summarize everything into a super short entry instead of writing everything in details.
So off I start with Kher Li's birthday dinner on Saturday night.
(Like, wtf I'm writing my friend's birthday instead of mine which happened weeks ago -_-)
Started the day in the afternoon by going to Pyramid to shop with my little bitch for 2 birthday presents. I attended 2 birthday parties back-to-back so yea, suddenly I'm hoping that my dad prints money.
Total damage on Saturday - RM1**. Including the dinner+bday cake on that night of course.
I think I need to sell my kidney as well in order to finance my spending for these 3 weeks in Malaysia wtf. I think I spent more than RM600 in 3 weeks. FML.
Okay back to something happier :p While shopping halfway with Teng, received smses from Lee Ting and Cheok,
FORCING
me to club on that night hahahaha. It's really funny how both of them used different reasons to persuade me to go.
Cheok - Your blog is boring lately due to the lack of photos. So, time to add some photos to your blog (taught by Lee Ting! LOL!!!).
Lee Ting - Tonight clubbing... don't ffk... Shen Ling very emo, as her bff, must accompany her...
Hahahaha I almost died of laughing! Lee Ting is always the joker in my list I swear. Later, I came to realise that she actually used SLing's name because she's perfectly fine! Wahhh... use the word bff some more. I'm not her bff also! She has so many friends, I'm not even in the Top 10 list wtf.
So I said I don't mind going provided I don't have to pay because I just spent 3 figures on presents and I'm broke (no more allowance from family T_T)! The best thing to club with Lee Ting is that she always manages to get guys to cover for us girls so we always don't have to pay.

Thanks a lot mamasan!!!! :D
Sorry I went out of topic again. So we adjourned to Aman Suria's Restaurant 88 for good Chinese food :p I've tried that place before with family and relatives so I agree that the food there is pretty good.
Kher Li aka the birthday girl and Mei Gee.
The dinner was
sibeh
early! 6.30pm!
Siok Yee and Pik Chee.
Haven't seen Pik Chee for ages! And it's amazing that both of them looked the same after so many years~!
Kanasai
I looked 5 years older while they still maintained the same. FML.
My little bitch and Shin Shin.
Food! Oh glorious food!
We ordered fried sotong, Thai style chicken (I think), super awesome tofu, vege and a bowl of vege soup for the 7 of us :)
MGee: Wahhhh so happy to see so much food on the table! Got 1 soup some more.
SYee: Crazy woman.
:p
I have no freaking idea why people who stand at the back always tend to bend down to take pic =.='''
I want to look tall also cannot wtf.
Backache wei.
As you can see, I succumbed to peer pressure hahahaha
Dinner was good. We spent quite some time there chatting and catching up with each other's life. And somehow, I ended up having to organise our class gathering because they said that my name is strong enough to summon people out (most of my yamcha gatherings are successful -_-) wtf.
But I told them that they shouldn't rely everything on me so I demanded that we set the date, time and venue together and everyone do their part to spread the news :p
I got leadership skills wei hahahaha
(Will reveal the details next time as we still have a long way to go :) It's in Oct!)
Chatting halfway, brought out the surprise bday cake.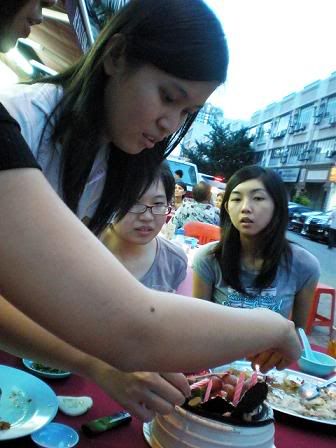 Very hard to light because it's windy.
Happy 22nd Birthday girl!
Must help to block the wind when she's making her wish some more.
Happy Birthday! Hope you'll like the dress that we got for you ;)
Finally, a group picture!
Dividing the cake for everyone.
"Hehehe.. the cake is so delicious... hehehe...."
Right after dinner, Teng sent me home to pack my stuff and then to Cheok's house before going back to Puchong :) Thanks for the ride girl!
Next will be the clubbing night!
To be continued...