Just came back from Sea Park mamak and I miss the nasi lemak ayam so much! Despite the place being a little bit.. erm... unclean -_-
And the weather is sooooo freaking hot! Omg I miss the winter in Australia so much T_T
As promised, here's a long overdue entry of my road trip with my darlingssss~
Since it was a road trip, we actually went to a couple of places but I'm not going to post photos of
all
the places that we went to in order to save time and space. Our main mission of this road trip is to drive more than 100km to New South Wales (Byron Bay) to catch the sunrise! Crazy not?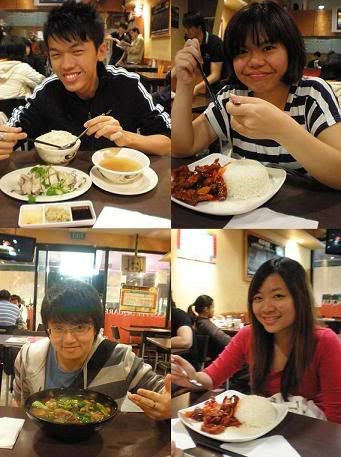 To start the
day
night, we drove to Sunnybank for good Asian food :)
As you can see, I was still in my long straight hair. I think I looked so much younger like a 18 year old girl
*cough*
. But not so glamorous of course.
2 cute darlings~!
Pretty girl and
*cough*
handsome
*cough*
boy.
After dinner at
Sunnybank
, we adjourned to
Mt Coot-tha
to waste some time before making a move to Gold Coast at 11-ish. It takes more than an hour for us to reach
Conrad Jupiter
- the casino in Gold Coast.
Well, that's the only place we can go to since there's no nightlife in Australia. Jensen gambled a little for the fun of it and lost $50 within 30mins wtf.
Feeling a bit bored and tired, we decided to leave and make a move to our final destination, Byron Bay, which was more than an hour drive again. We reached there really early at around 3-ish and everyone decided to take a nap before the sunrise.
Shu Yi was reading her novel in her car while I was enjoying the beautiful sky filled with stars! I swear I've never seen so many stars in the sky like that in my life! I used to vote for Redang with the most beautiful sky but now my vote goes to Byron Bay. Byron wins hands down.
Unfortunately, after awhile this group of Koreans were doing some stupid stuff and they banged our car. I'm not going to explain in details but the end result was, the driver was held liable for the damages. End of story.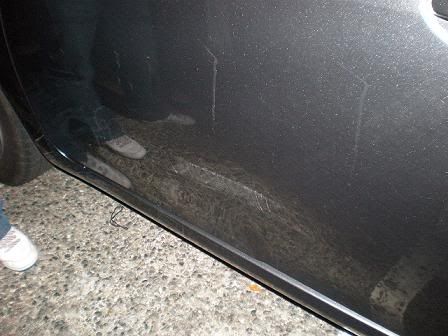 Passenger door was dented. Dammit, of all places he must bang my seat!!! I think he's trying to kill me wtf!
The moment they hit our car, all of us came down immediately to check our car and the best part was, this bunch of Korean jokers pretended nothing happened!!!!!
Wtf!!!!
YHui approached them and told them that they actually banged our car and they denied saying that they did not.
I was so angry that I went to punch them. Sorry
lah.
My fist has no mercy.
This is what my Taekwando instructor used to tell me.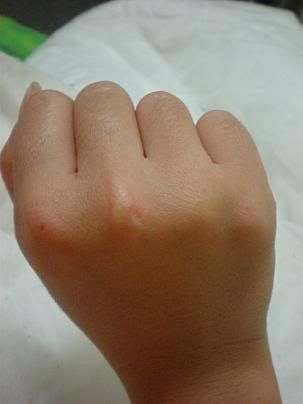 Can you see my injured knuckles from punching them?
Since we were a bunch of smartass, we took pic of the driver's passport (Gosh he's only a year older than me o_O Am still keeping the photo of his passport wtf) and wrote down his hp num, name and passport number again just in case.
That totally ruined our mood for the day :( At least he managed to spoil mine because I almost died there before seeing the sunrise!!! Like, if I really died there
*choiii*
, then what's the point of me driving so many hours to Byron for the sunrise??? Huh?
HUH??
HUH???
Moral of the story is, besides buying insurance for the car,
remember to buy 1 for yourself too!
We have to take a 5mins walk to the lighthouse when the sky is still pitch dark!
The 8 of us practically relied on my hp's torchlight and Boon Kee's mini torchlight keychain when we journied up the hill.
Sibeh eerie looking lighthouse.
Ohya, another advise for my friends who have never been to this place, please ensure that you clear your bladder before going up because the toilet is really well hidden! It's almost impossible to spot the toilet sign as the place is pitch dark - unless you can stand until the sunrise of course.
Most importantly is...
It's freakinggggg cold and windy there!!!
Make sure you are well equipped if you are going there during winter like us!!!
I've never shivered that much in my life wtf.
I wore the least among my friends because I didn't know that place could be that cold T___T
I just had a
sibeh
thin 3/4 long sleeve, a thin jacket, a jeans and slipper on -____- Kasut koyak-ed so no choice. FML.
Byron Bay is the most easterly point of the Australian mainland! How cool is that???
When the sun is about to rise, it was blocked by the clouds.
In the dark, all of us thought it was an island! Turns out to be clouds wtf!!!!
Since the sun was being blocked, we stayed a little longer to wait for the clouds to clear despite the
kanasai
wind was still being extremely strong.
The sky is getting brighter :D
The coolest group of people there.
Not those Korean jokers.
Duh!!!
Love the sky, don't cha?
Darn cold.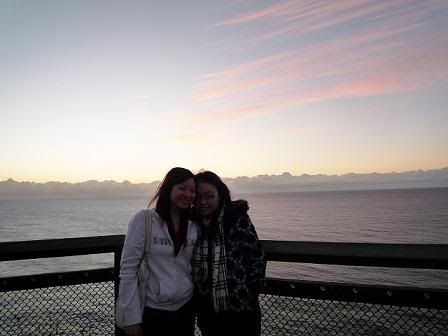 With Jee Meei dear.
Super beautiful sky!!! Who wants any photos that I've posted in original size as desktop wallpaper, let me know.
See both of us cold until so pale looking =.='''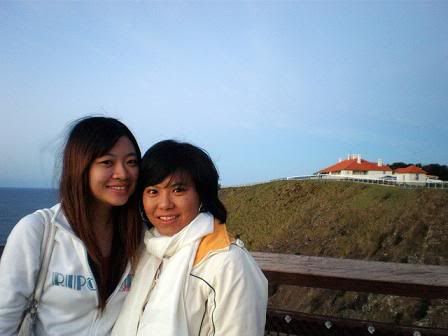 Love this photo taken with Boon Kee! She looked like my little sister XD
The cliff.
Our 1 and only group photo but was lousily taken.
Jensen stood so far away as if I have skin disease wtf.
When he came to my house and we browsed through the photos together. I questioned him on the photo above and he retaliated by saying if I didn't lean towards to BK, it wouldn't turn out to be so obvious =____=
I guess it ended up to be my fault.
Finally, my friend, Mr Matahari came out!!!! :D
Not an easy photo to take due to the angle but since I'm a great photographer, nothing is impossible. Hahahaha...
Below are 2 of my best photos taken throughout the trip :)
Sunrise marks the new beginning of the day. A brand new start.
The 1 above is my second best photo taken. This is my best shot...
Nice or not???? :p Looks like postcard photo isn't it?
Due to time and space constraint, hence my face only. Stupid Jensen took this photo with the lighthouse right above my head wtf.
Our 2 rented cars. So handsome.
Drove to the nearest beach.
While I was busy taking pics of the beautiful mother nature, the rest were....
...busy with their "job" -_-
If you are shocked with the guy in mask sleeping in the car, don't worry. Wei Lik was unwell on that day so in order not to infect the rest of the passengers, he wore a mask whenever he's in the car! How considerate of him!!!
But anyhow, he looked like a corpse in the car hahahahahaha....
Dropped by at the nearest restaurant for breakfast.
This is how...
everyone looked like...
without enough sleeps.
But at least all of them slept for a couple of hours!!!
I didn't sleep at all!
My stupid pimple on my cheek seems more obvious as a result T_T
Drove back to Surfers Paradise in Gold Coast for a walk and lunch before heading home :)
Although I always consider myself as short, but surprisingly I was the tallest among the girls on that day -_- What a miracle...
I still want to grow taller though!!! T____T
Ahhhh I miss my long straight hair~
Initially I have a lot to write about this trip but because it was so long ago, I've forgotten what to write. And I want to watch my Burning Flames III now so may I excuse myself :p
I'm slowly
zhng-ing
my look and my hair will be next :D
I need cash.
*sigh*
I can't wait for the PC Fair this weekend! I have so many things to buy! All on dad because he won't be giving me allowance anymore hence all my purchases shall be paid by him!
p/s - To clarify, I did
not
punch those Korean jokers. My knuckles cracked because it was too cold and dry. I'm not so
ganas lah...