Andy Chong, this entry is specially written to entertain you for staying at home!!!
Reason? I'll reveal in a moment.
Last week was the Queensland Sports Carnival organised by the MASCA - specially for all the Malaysian students studying in University of Queensland. The carnival started on Friday night if I'm not mistaken with volleyball game and etc.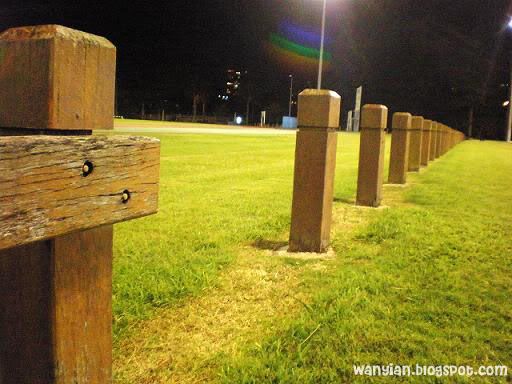 I accompanied my daughter Xu to uni at night to collect her t-shirt for her basketball game on Sunday and met a couple of friends there who joined the volleyball competition. Besides, Xu and I pretty much entertained ourselves with the football (rugby)
players
game while waiting for the shirts to arrive.
Finally, Sunday comes and being the forever supportive housemates, Suann and I decided to accompany Xu to uni for her first game in Australia! We find it so hard to wake up in the morning because Suann and I both slept late on the night before because we were rushing for our assignment that was due today.
Supportive or not???
However, the moment we met up with the guys, I was told that Andy got injured halfway through the game and Timmy got injured before the game even started -__-'''
So the last one standing was none other than Sim.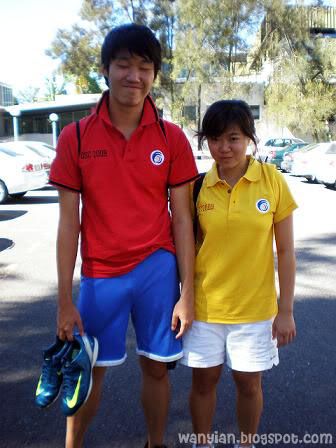 Basketball competitors - Red vs Yellow.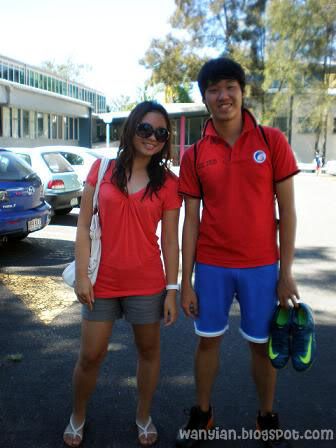 I'm from the red team. So we both are a team wtf.
I know I have put on weights! You people don't have to remind me that constantly T_T It's freaking hard to lose weights when the weather started to be cold okay? I'll
TRY
my best to lose it before coming back to Malaysia alright?
I also want to come back with glory wtf.
Our joker boy...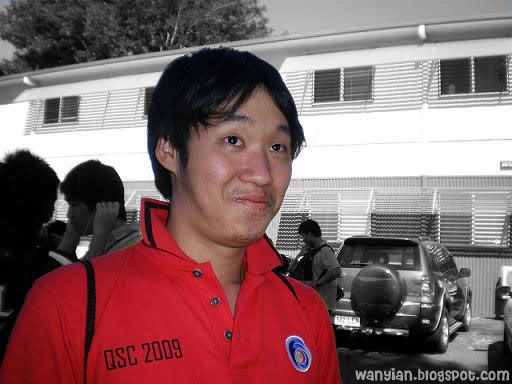 Wahahahahahahaha.... I parted his hair to center parting and he was so sporting to let me take this pic of him for me to laugh :p
After briefing at the Cornell car park, we were divided into 2 different groups where 1 group will be playing at the Cornell gym while the other played at the ISP. Xu and Timmy played at the ISP while Andy and Sim played at the Cornell gym. Being the supportive housemate again, we went to ISP to support Xu.
Shin Chan.
Timmy was pretty upset that he couldn't play.
So upset till he used my eye drop to fake his tears.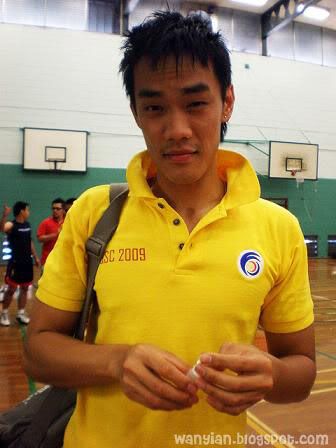 Innocent or not you tell me?
The truth is... his eyes were red on that day. So I gave him my eye drop to ease the redness a little. I guess it worked because his eyes seemed fine today :p
Shin Chan - Blacky - Chris.
Shin Chan a.k.a Terence and Chris are from Taman SEA school! Remember them? Blacky is from HELP :)
Alright.
Someone
told me that Blacky looks like the singer Tank. Is it true???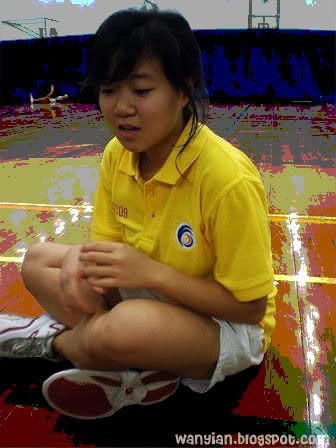 My darling was very nervous. Too bad mama can't play with you because I have already retired from this game long ago.

And I totally regret for not playing it again!!!!
Too late now. Too late. T____T
Briefing and warm ups.
Even for games like this we have to have the stupid Malaysian timing. The game was suppose to start at 12pm but it got delayed till almost 1pm!!!
Malaysia Boleh. Malaysians in UQ pun boleh.
The first game started with...
...the
Black
team against....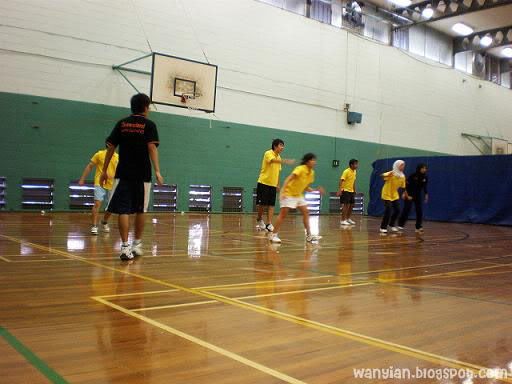 ...the
yellow
team.
The black team's trumpt card was Brian while the yellow team has Gary. Both teams were equally good but eventually the black team won.
Before the game at ISP even finish, Timmy and I switched location to the Cornell gym and man!!! The game over here was even more intense and professional! More fun to watch :)
Love the place because got aircon :p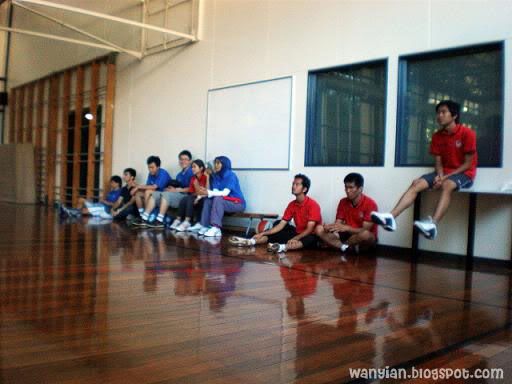 Super hardcore supporters who have been shouting and cheering for a few hours straight.
At least this joker performed on that day rather than not being able to play and have to be a spectator instead
*hint*
Timmy
*hint*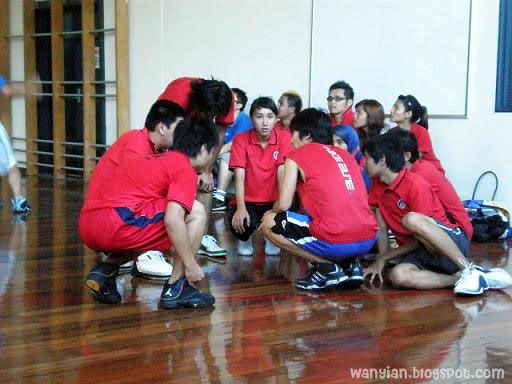 Strategizing.... strategizing...
Finally, the game ended with the Mixed team winning the title while the Red team clinched the second spot. Gosh the final was really interesting and tension!!! It was such a gooooooood game I swear!
After the game, we girls went home to grab a quick bite because we were starving! After that, I accompanied Xu to the Guyatt Park for barbecue celebratory party or some sort.
The barbecue was for the people who took part in the carnival and also for the committee members. I went there as the invited official blogger for the event.
Self invite that is.
But I became the guy's photographer!!! I always be people's photographer so I have my contributions as well okay?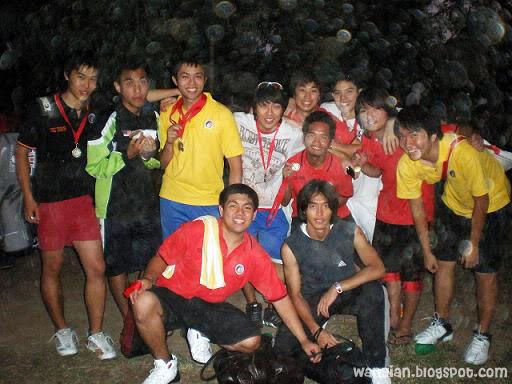 Pick your eye candies ;) Please exclude a few of them who are happily attached of course.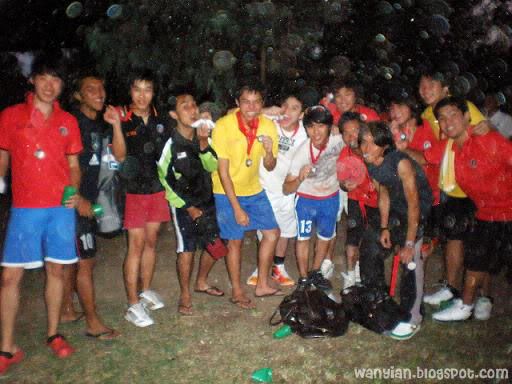 More for you to choose from.
I am so angry! I have no idea why all the photos turned out to have all the white spots in them :( I wonder if Patrick's camera has it or not. Photoshop experts! Is it possible to remove those white particles/spots?
Sim and Harold were competing on who can juggle the longest.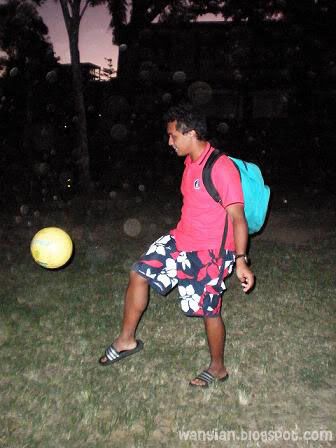 Harold won of course. Even with his slippers.
But we call Sim as
Jaguh Crocs juggler!
Lol!!!!
Then this dude who injured himself actually limped all the way to Guyatt Park just for the food. He wanted to take pics too =.='''
Ready? Ready???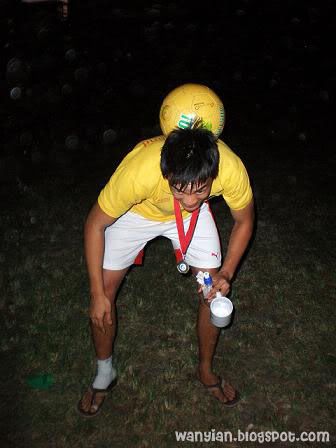 Success!!!!
Kanasai
can you see what he's holding? His yellow team won first place and each of them were given a cup with a few other goodies. He didn't even contribute for the team but still dare to claim the prizes!!!!
As I quote from Sim:-
Sim: So today you wake up to get yourself injured only lah?
Timmy: Ya wei....
Lol....
The sole representative from Macquarie house for sports wtf.
So Andy actually tore his ligament and have to be on crutches for about 10 days while Timmy injured near his groin and has to limp to uni everyday. I felt so bad for them because they both were soooo looking forward for the game but ended up getting themselves injured and couldn't play the game at all.
Just now I went in to Facebook to upload the photos and the photos that I managed to see with Andy's face in it were only these....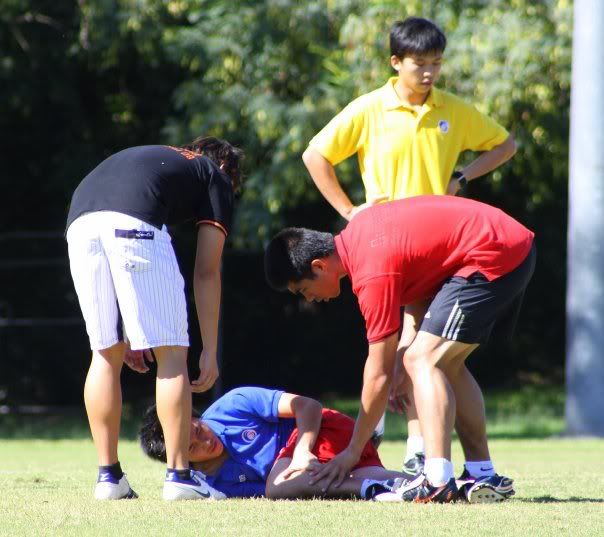 His 'glorious' moments. Damn sad.