Sorry man. The title sounds a bit wrong but the fact is we girls invited a few of our friends over for a simple dinner yesterday. Initially I just wanted to invite Mark and Yung Hui over as usual. Then I thought of asking Chong over since I have never cooked for him before.
And subsequently we invited Terence (my girls' friend) and Phan (my
chee mui
) as well.
I can't invite too many people because 1) our house is too small and 2) I can't manage to cook for so many people over a short period of time :p
So let's start with all the photos taken yesterday night!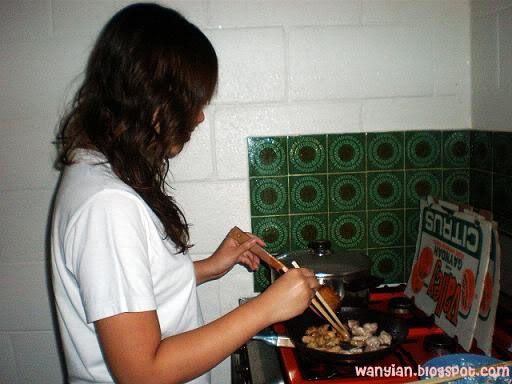 Me frying the pork for sweet and sour pork dish.
Gosh I used the chopstick to coat the pork with cornflour 1 by 1 before frying and my fingers almost cramp wtf. You can guess the amount of pork there -_-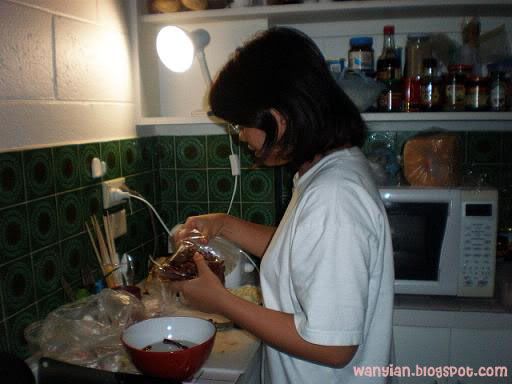 Yung Hui preparing her chicken dish.
It's called
gong bou kai ting
in Cantonese. I have no idea what it is called in English. It's the Chinese dish where the chicken is fried with dried chillies and cashew nuts! Damn delicious!!!
Xu preparing her mixed vege dish! Super yummy too!!
Sweet and sour pork.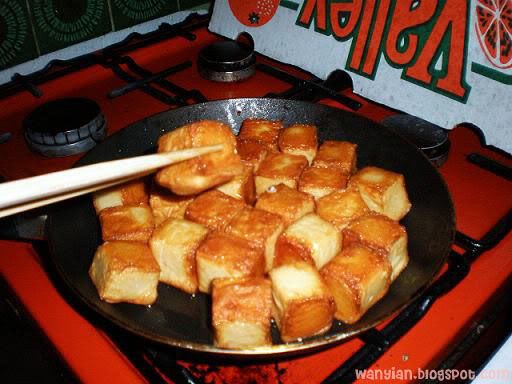 Fried fish tofu.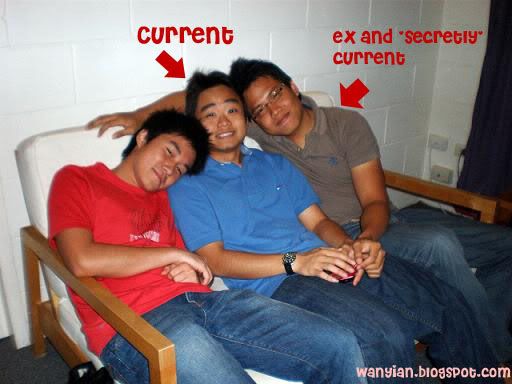 Andy came with his wives. You can see who he loves more from the photo above actually.
They like to
squeeze
sit together I don't know why.
After I was done with my dish and while waiting for Xu to finish hers, I grabbed my camera and ask them to 'peace'.
And they really did! So cute!!!
Terence too weak. Lol.
Hello Mark? Where are you???
Aren't you suppose to help too?
Mark looked like a hungry small boy! Lol!!!
So, here I present you the dishes that we cooked for dinner yesterday night. Nothing great like the 5-star restaurants but enough to feed the hungry stomachs that night :p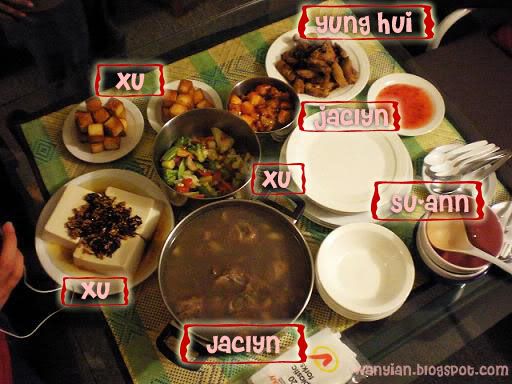 Jaclyn:
Lotus root soup and sweet&sour pork.
Yung Hui:
Gong bou kai ting.
Xu:
Ice tofu, fried fish tofu and mixed vegetables.
Su-ann:
Rice.
Suann cooked the rice but because they are not in the picture, I have no choice but to tag her under the plates section! XD
Feast people!!!!
Andy *thumbs up*
Because our unit is really small and lack of chairs, everyone has no choice but to sit very close to each other when they eat! Lol!!! Isn't it cute??? Can feel the
kemesraan
or not?
After dinner.
All wiped out clean.
Thank goodness our estimation was just right. Not too much and not too little!
After dinner, this joker brought out the beers that he bought...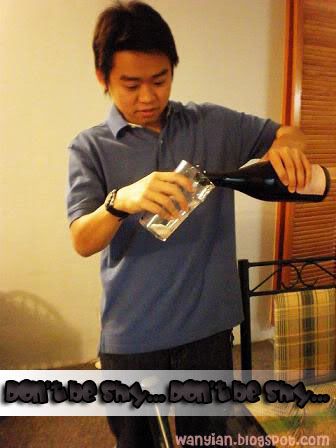 and poured for everyone to drink! He even went around saying "Don't be shy.. Don't be shy..." and refilled everyone's cup -_____-'''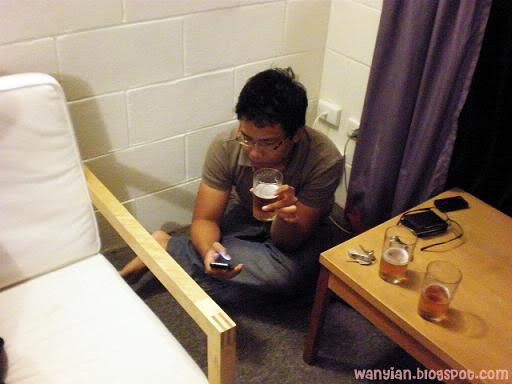 I have no idea why Phan
emo
at the corner. Plus he has been texting for the whole night!!!
Hmph!!!
The best part was, Terence tried to immitate Phan!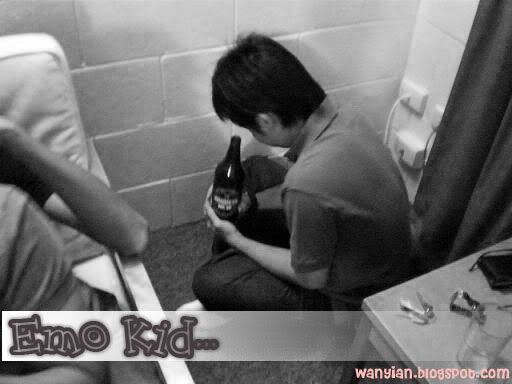 Hahahaha.... You think who did better?
Terence brought 3 bottles of beer and Andy brought a bottle of champagne. They guys drank beer while us girls had champagne. The champagne was soooo gassy! We felt so full after drinking it.
Cheers~!
And bottoms up!
They are trying to break my sofa wtf!!!
Shin Chan.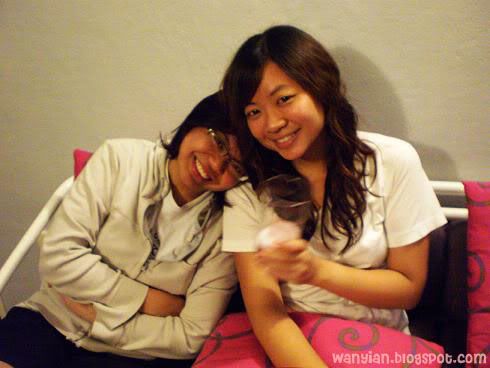 The not feeling well Yung Hui and the sick-and-asthmatic-Jaclyn :(
The crappy thing is that now is autumn and the weather becomes slightly chilly, which I love it sooo much! But I have asthma symptoms out of a sudden wtf =.=
It better not attack now.
And I'm having flu and cough now. Damn best. I think history is going to repeat itself.
(Last year I was down with flu and cough for almost 4 months where there were blood in my mucus and phlegm. Not to mention the on and off fever wtf. Damn dramatic.)
Xu and Suann.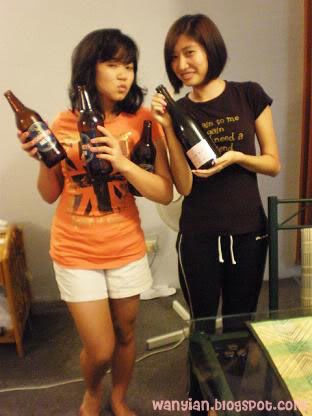 The most expensive beer girls in St Lucia.
The girls.
The guys.
How come it seems like we're having matchmaking session???
Terence - Su Ann
(as expected!!!)
Andy - Xu
(such a cute pair!)
Mark - Me
(-_- so weird. Usually ppl would say Phan and I instead :p)
Phan - Yung Hui
(Lol!!!)
Phan, that's why you gave us that reaction? Lol.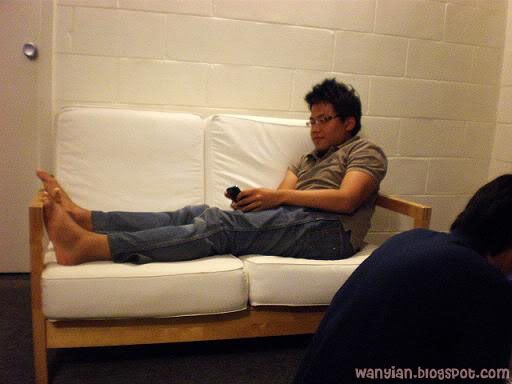 Phan feels so at home~~
Both of them feel so at home in fact! Mark got free butt massage by Phan. How lucky!
Chong, don't get angry ok?
Thanks guys for the beers and champagne :)
You don't have to bring anything over actually.
Special thanks to:-
Terence for 3 bottles of beers.
Andy for a bottle of champagne.
Mark for a bottle of Stella Artios.
Phan for the plastic bags.
Phan actually brought the most important items of the night okay??? Don't laugh at him! Without it, we can't even have dinner because we can't dispose all the rubbish! So thanks a lot buddy!
Thanks girls for cooking that night. The food was wonderful~!
Thanks for the rice!!!!
(inside joke)
Credit goes to Suann for the photos too!