Chong chai, here's another entry written to entertain you who are stucked at home and being disconnected from the world outside!
Ain't I the best mama in the world? Lol!
Today, despite not having any classes, I went to uni with my housemates for the Asean's Makan Night! Kindly organised by our UQ Malaysia Student Society with Singapore Student Society, Brunei Student Society and Thai Student Society.
Here are the details from the email that I received:
Date: 28th April 2009 (Tuesday)

Starting Time: 4.00 PM (1600)

Tentative Food: Malaysian: Nasi Lemak, Nasi Ayam, Ais Kacang and Kuih-muih

Singapore: Chicken Briyani

Brunei: Nasi Katok (Rice, chicken and gravy)

Thai: Pad Thai with Prawn, Thai Spicy Salad with Fish Ball and Vegetable and Thai Sweet Bean Dessert

Plus many more will be announced

Place: Near Main Refec, UQ St Lucia Campus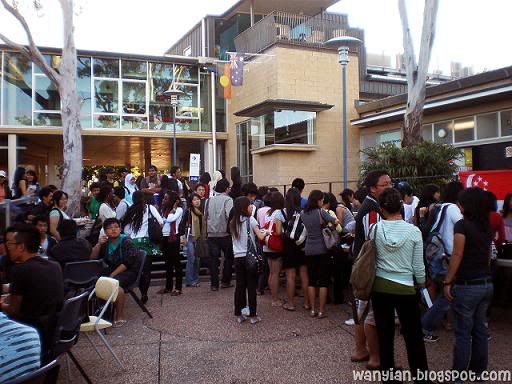 The turnout was surprisingly promising but again, the food arrived later than promised. So everyone has to queue up and wait! Seriously I hate waitings :(
Terence, Suann, Xu and I were the earliest to arrive.
We started off with a pack of nasi lemak each...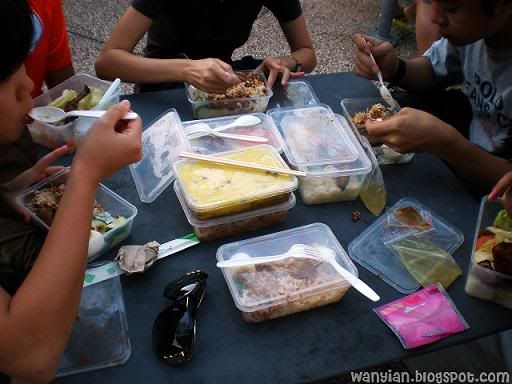 ...before getting more food to share among us - courtesy of Suann and Xu.
Later, we were joined by Phan and Sim. Andy didn't come because of
you-know-why
from my previous entry. Timmy came later because he has people to fetch him over instead of having to walk.
These are what we bought today!
Nasi lemak with chicken wing ($5).
ANCHOVIES!!!
Omg can you see anchovies over there???? Anchovy is super expensive in Australia!!! And the nasi lemak this time tastes different from the one we had last year. And it's not as spicy as last year's one too.
(I'll put the link to my old post at the end of this entry)
By the way, I was told from a reliable source that the nasi lemak were cooked by the Petronas chefs - who cooked for all the Petronas scholarship holder students.
Nasi ayam ($5).
I didn't taste this so I can't comment :)
Nasi briyani.
This nasi briyani is pretty good I must say.
Pad Thai ($8 wtf).
Pad Thai is pretty good as well but the only let down is that it was too cold. Therefore the noodle is a little hard. But taste wise is pretty good with a tinge of spiciness =)
Guess who's that dude in the middle!!!
Not too difficult I believe ;)
Sim looked so cute! He styled his hair differently today and he looked even more like a Korean~!
How can this entry be posted without the blog owner's face, right?
Hehe. I looked very fair. Hehe.
Now you know the reason why I don't want to be too fair and always wanted to go under the sun, don't you? I looked very sickly and pale!!! T____T
Yes I'm deprived of sleep lately and I'm not having any make up on. I did scare you didn't I? *sob*
For last year's Asian Food Nite, click
*here*
I wanna go watch my dramas now!
Good night people and have a wonderful day ahead~!