On a lovely Sunday morning, dad decided to bring us (more like me) all the way to Klang for a good Bak Kut Teh lunch. Well, I've been pestering him for weeks to bring me over to try because brother has been raving about how good the dry BKT is while I was in Australia.
Dammit they always go out for good meals when I'm away T_T
So in order to please me, here I am :D
Restoran Bah Kut Teh Yap Eng - best dry bak kut teh in Klang
The journey from my house to Klang took approximately 30mins -_- I wonder how my dad drives to work everyday because I hate to drive long journey.
The moment I got down from the car, gosh, I can smell the strong BKT smell coming out from this shop. It must be good~!
Another interesting thing about this shop is the way you make your tea. They don't make for you. You make your own instead!
(I heard that they allow you to bring your own tea leaves as well :))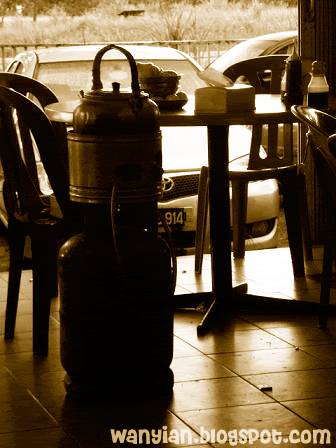 There are many gas cylinders
(I don't know if there's other name for it but I call it this way though)
around the shop with kettle on top of it. Not exactly safe for kids but it's so traditional, no?
Hahaha it has been such a long time since I last saw a kettle like that because my house uses electric kettle.
Here comes the food. I really wonder, how good the food is since this place is dubbed as one of the best bak kut teh shop in Klang? My dad and his colleagues have tried many BKT shops in Klang but all of them voted this as the best so far because their dry bak kut teh is something that you can't find elsewhere.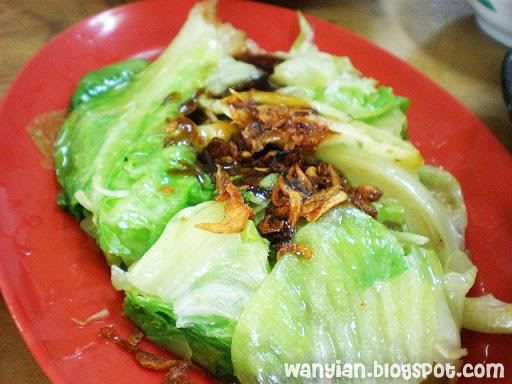 Yau mak
aka Romaine lettuce
<- hahahaha google 1
Nothing special about it. A dish that you can get in all the restaurants anyway. I always order
yau mak
to go with my bkt meal. I felt that it's just a perfect combination - like soya bean with yau char kwai or sticky rice wtf.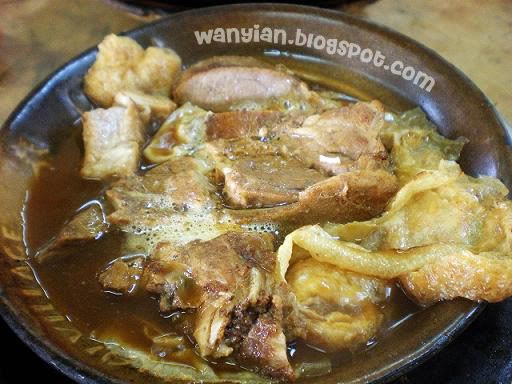 Bak Kut Teh!
It's
REALLY GOOD
omg! The herbal taste is strong, soup is flavorful and the meat is tender. It's really, really good.
Dad ordered an extra bowl of taufu pok because my 2 brothers love them.
Finally, here comes the main dish!!!!
Jeng jeng jeng....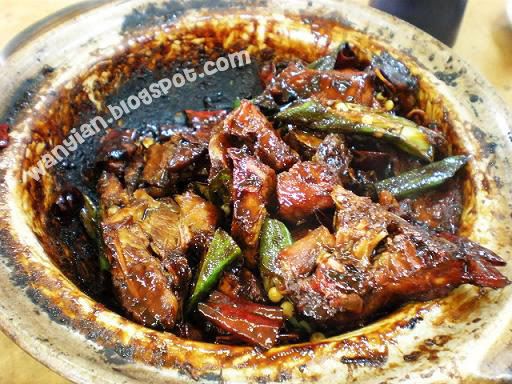 Dry Bak Kut Teh.
2 words -
sibeh

awesome.
The taste is out of this world
(okay it's kinda exaggerated :p)
and the pork, gosh, how can they cook the pork till sooooo soft? Very fragrant and soft.
I LOVE IT AND I'M CRAVING FOR IT NOW!
Did you realised that something is missing in this bkt meal? It's the
yau char kwai.
We went there late so they ran out of it already T_T So, be sure to go there early because things will probably run out after 1pm on weekends. According to my dad, if you come in the morning, the place will be super duper packed with people.
They are also opened at night for dinner.
Total cost for our meal was RM55.
So cheap!!!!!!
But don't worry, I don't think we got discount although my dad knows the people there ;)
Now, the question is, how to get there? I have

no idea

what the adress is but

if you come from Jalan Bukit Kemuning, take a 12 o'clock from the roundabout to Jalan Sg Jati, 41000 Klang.

Drive straight and you'll pass a Petronas station and a police station on your right. Go further down and you'll be able to see Yap Eng Bak Kut Teh restaurant on your

right.

Once you see it, take a U-turn back from the traffic light :)
I want to go back there again T_T
Anyway, good luck in hunting for this awesome restaurant in Klang!