I'm so sorry but I can't wait for each of you to confirm with me whether I can post up the photos taken on the eve or not simply because
I can't wait anymore!!!
Tambahan lagi low credit.
So last Wednesday while I was out shopping during the day, MFai called me to join them for dinner at night and then we shall go for a drink at a quiet place to usher the new year. Finding his offer tempting (because we are not going for countdown and bergeser-geser with uncles), I agreed.
And the very kind MFai came to pick me up around 8pm due to the terrible jam at Damansara highway. We immediately drove to Balakong just to dine in this restaurant recommended by MFai.
Milwaukee Steak Corner.
The place was packed with people!!!
SUPER PACKED!
We decided to wait for a table but my stomach was growling loudly in protest.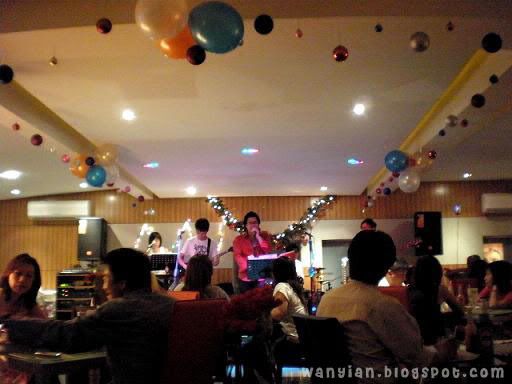 The steak house look just like a party house! Look at those decorations.
It seems like we were crashing someone's party isn't it?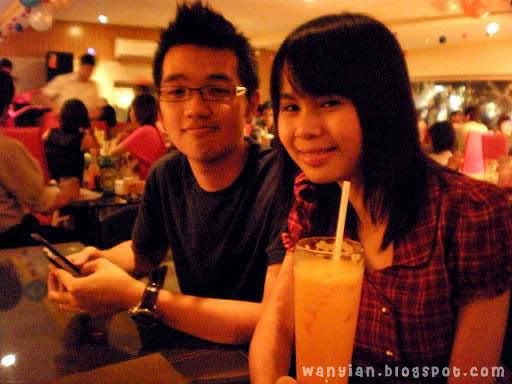 Time to introduce the actors and actresses of the day to you people.
The 2 above are Meng Fai and Li Lee.
She's Sow Mei (Meng Fai's sister and was also my first time meeting her. She's superrr cute!!!) and Mun Wai.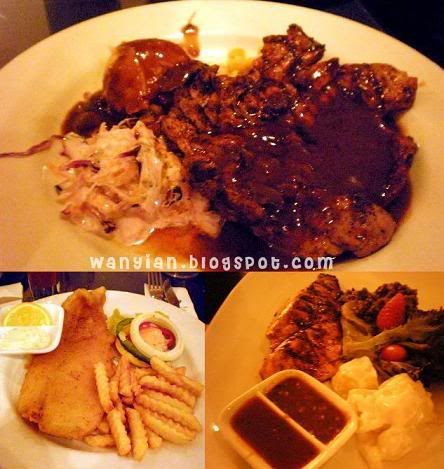 And these are what we ordered that night that comes in large portion though a little pricey.
That fish & chips was mine. I had so much of that in Aus and yet I still ordered that -____-'''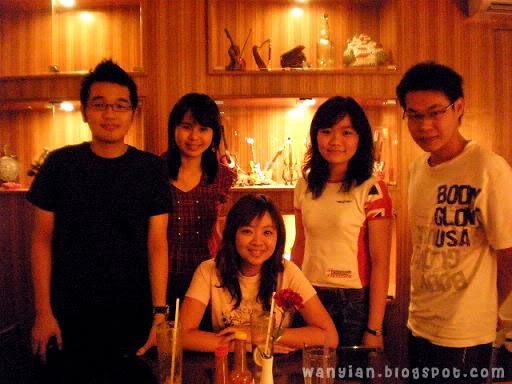 Main actress usually don't appear so early 1. LOL.
Throughout our dinner, we just laughed non-stop with all Meng Fai and Mun Wai's superrrr lame jokes. I can't even eat properly because I was busy laughing!
And here are the videos specially made for May Yoong!
Guess what?
WE GOT RAYMOND LAM SINGING LOVE NOT ENOUGH for you wei!!!!!
Erm. I mean, Balakong's Raymond Lam lah. Accept or not?
The way MFai suddenly appears saying 'Hi' to Mayy is superrrr funny too!
Can't get enough of this Balakong Raymond? Here's more for you!!!
May Yoong I even zoomed in for you to see his face lor. Kakaka...
I really dislike the idea of having a live band playing in such a romantic restaurant because they are simply too loud for us to have a good chat with each other.
Moreover, that Balakong Raymond kept asking everyone to clap with him and there's once he looked at me and said,
"Come on... clap together with me"
because I was seated right in front of him!
I gave a 'wtf' face to him with a fork on my left hand and a knife on my right. I kinda wondered....
How am I suppose to clap while eating you moron!!!
Next, we adjourned to Sim's house where he brought us to a good yamcha place called...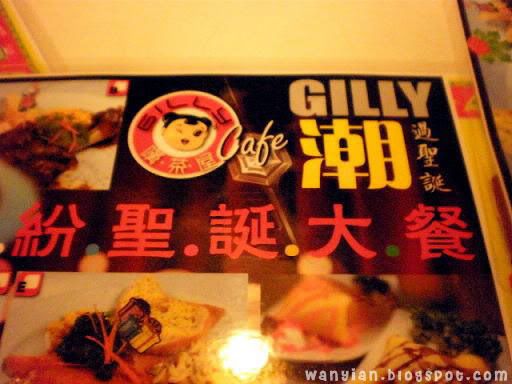 Gilly Cafe.
The place looks like KL's massage centre/parlour wtf.
But the place was really packed with people and noisy with all the laughter and screaming, which is good because we were looking for a place to party.
That's how you sit.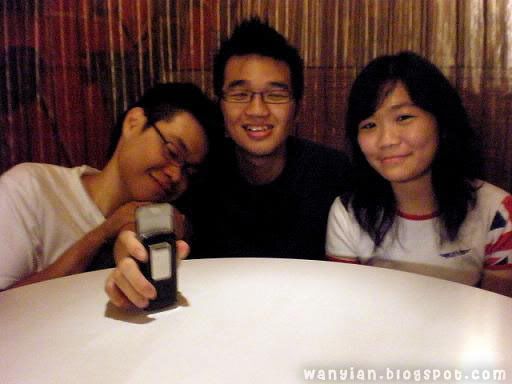 Mun Wai, so fast got 'feelings' towards Meng Fai already? Your drink, "Feelings' hasn't arrive also. LOL.
Sim complained that his face looked very round here.
Pandai. Who ask you to put on weight? :p
Li Lee seemed so happy. Why? Because I was there right?
The guys.
The girls.
Happy New Year!!!!!!!!!!!!!!!!
MWai, MFai, Sim and I drank a bit of liquor that night (Chivas+coke), kindly sponsored by MWai :) Li Lee drank 3 sips from my cup and she 'high' already wahahahahaha....
After that, we requested for a deck of cards and played 'Heart Attack' game for about an hour before we decided to switch to Truth or Dare. Heart Attack game was really fun and humorous as well because MFai and MWai kept losing. Ended up, all the guys kept losing and they vowed to win for at least a round because they really wanted to hit us girls badly.
At the end of the game, I did not get hit even once!! Woohoo!!!!!!
As for Truth or Dare, initially everyone chose Dare because we were in public and nobody dares to choose Dare. But halfway through, Sow Mei decided that everyone
must
choose Dare in order to make the game challenging a bit.
We obliged. Li Lee was the first to get chosen and her Dare was to kiss MFai on the lips.
They both did!!!
With MFai's sister presence! LOL!!!
Got photo taken but I'm not going to post it up because I think they both will mind.
If you want I can show you secretly.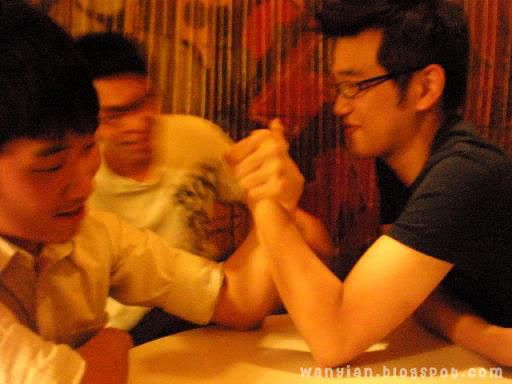 Arm wrestling.
Sow Mei was chosen and she's suppose to arm wrestles with me but I objected because it felt like I got punished also (the fact is I'm weak in arm wrestling :( Losing to a 17 years old girl is so embarrassing!). I don't know how it ended up the 2 fellas above took up the challenge instead.
Next up, Mike is suppose to grope MFai's ass while he was on the phone with Ken. And I think he purposely NGs a few times so that he can grope MFai's ass more lor! Hamsap boy XD
Very very unfortunately, I was the next person got chosen. And without any hesitation, MFai threw me a veryyyy unexpected challenge without even thinking twice, as if he was waiting for me to
kena
for the longest time already.
I was asked to kiss Sim.
Sim, don't pretend to be innocent!!!! I superrrr rugi ni...
But oh well, I'm sporting lah...
You know what? I was asked to kiss Sim twice wtf!!!
Being a good actress
*cough*
I told myself to finish this scene in 1 take so that I don't have to retake it again. But this time, the NG doesn't come from the actor/actress!
It was the cameraman (Roar!!!!!!!!!!)
Meng Fai has always been a bad photographer and I knew it long ago. I actually wanted LiLee to take charge of the camera but he asked me to trust him! Ended up? He said that he didn't get to take any photo and asked me to kiss Sim again.
Two.freaking.times.
MFai I felt like giving you
2.freaking.slaps
on the spot I swear! LOL.
You are NOT doing this on purpose don't you? T_T
I realised most of the time I was dared to kiss someone in this game! Why like that???
Anyhow, I guess my kiss with Sim is not as romantic as these couple below.
Ken came to join us last minute! How unlucky you are.
Funny thing is we asked him to kiss either MFai's forehead or nose - where both also oily.
Wahahahahahahaha.... Ken chose MFai's forehead cuz it's less oily and easier to kiss apparently.
Mike challenge is to piggyback Ken!
Earlier Li Lee was asked to piggyback MFai but she failed because MFai is way too heavy for her.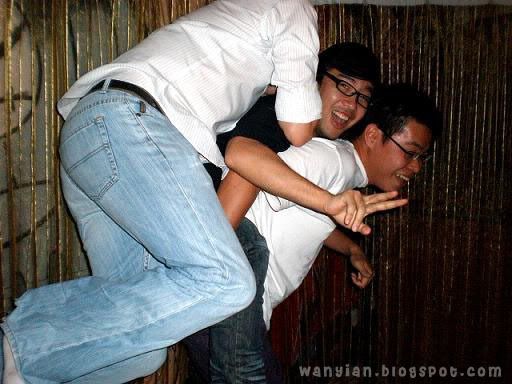 Buntut besar siapa tu?
But Mike was forced to carry 2 person some more. LOLLLL
MUST WATCH!!!
We asked Sim to do his famous butt shake and man, he can shake until
sibeh
fast I swear!
However, when all of us got hyped up and high, it was time for us to go home already because it was already 2.10am. So we all parted and Ken was so kind to give me a lift home :) Thank you so much!
Another meet up soon eh?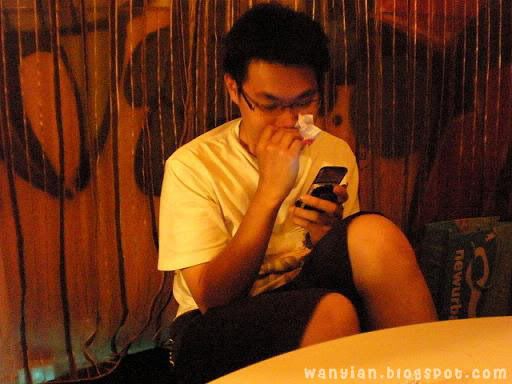 *sob* *sob*
Goodbye 2008...