I have been trying to upload photos to Photobucket for the past couple of days but the internet was so stucked up until I was unable to upload any up. What's more when I have tonnes of photos to share with you people!!!
As I mentioned earlier, I went to...
...Dreamworld the day after my 1 day trip to Gold Coast! And yea, we were back to GC again the following day for more fun and thrills.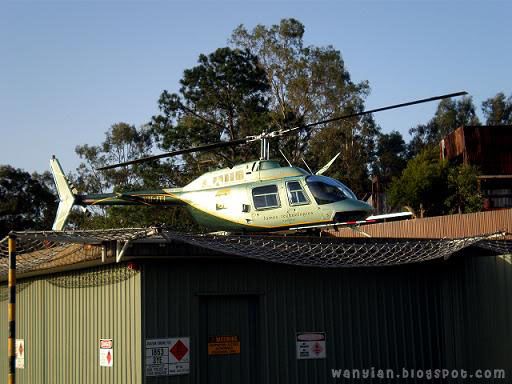 If you are rich enough, you can pay to ride on the helicopter to tour around the Dreamworld :)
While buying our tickets at the counter (we managed to purchase at children's price! LOL!!!!), we were greeted by a bad baddddd news.
Tower of Terror was closed wtf????????????????????
(I'll show you what is Tower of Terror later)
To start, let me show you roughly how Dreamworld actually looks like.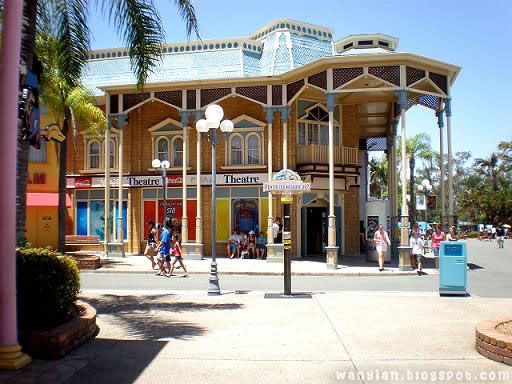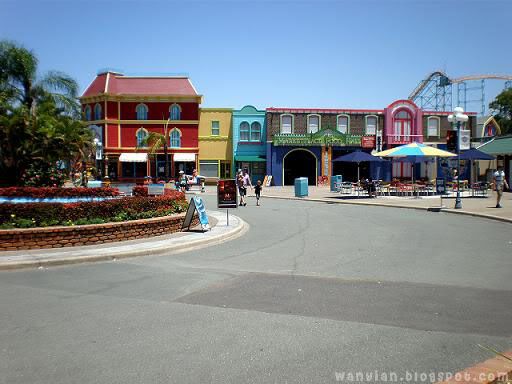 To be honest, 80% the photos taken in my camera are sceneries because we went there late and were rushing to play as many rides as we could. Therefore, there aren't many photos with our face in it compared to my visit to the
Movieworld
.
But to compare, Dreamworld is not as beautiful as Movieworld because the latter is a newer theme park. So it's better to sit on the rides than wasting time to take photos. I mean, that's the purpose of visiting to the Dreamworld isn't it?
White Water World.
Just like Sunway Lagoon, Dreamworld has both "water" and "dry" park. But we only went to the dry park because well, we were late that day :p
Blame who?????
*cough*
Andy
*cough*
In Dreamworld, there are Big 6 Thrill Rides that you
MUST
try!
Clinching the #1 place in Dreamworld is none other than this
Giant Drop.
When I tried on the Batwing in Movieworld, I find that Genting's Solero Shot is scarier. But now Solero can 'sau pei' already because nothing beats this Giant Drop I swear.
More about it later! (Damn potong I know. LOL)
Flowrider
for the surfers dude.
I don't know the name to this ride but it's similar to Genting's Flying Coaster. Just that this is for the kids XD
(We didn't ride on this)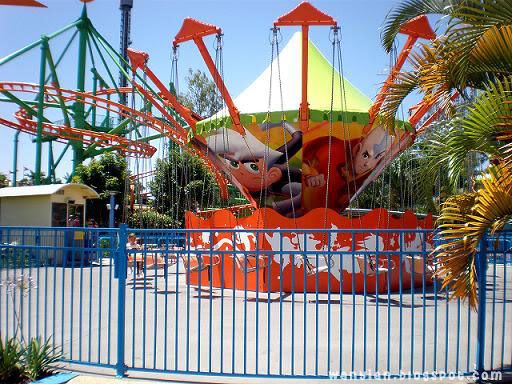 "Spinner" for the kids as well.
(We didn't ride on this)
Clinching the #2 place as the Big 6 is the
Tower of Terror
(on the right) where it goes on a L shape. Such an exciting ride isn't it????? Super
potong
that it was closed on that day T______T
Tower of Terror and Giant Drop share the same tower just in case you are curious. And yes, I actually combined 2 photos taken just to show you the complete look of the whole tower. It was so high until I couldn't fit everything into 1 shot.
How high and scary this Giant Drop ride is, I'll let you know later. LOLLLLLL....
We went for this Vortex as a warm up. Nothing much other than the whole thing spins at a fast speed that all of us are able to stick to the wall like Spiderman.
And feeling a little bit dizzy thereafter.
We also tried this Nicklelodeon kids ride for another warm up.
This is how it looks like from the outside. To be honest, this ride is pretty slow (for our standard) and not thrilling at all :( But good for a little warm ups.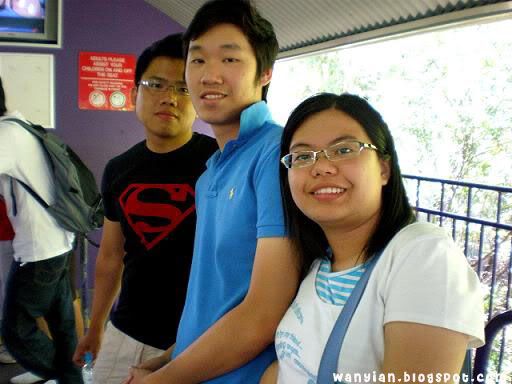 Phan, Sim, Yung Hui.
Andy, Timmy, Mark.
May Yoong, Yian.
Have a wonderful look at our tired and not-enough-sleep face.
#3 The Cyclone.
In fact, the
first ride
that we took that day was this Cyclone. It may look scary to you but actually the ride is okay only. Nothing beats my favourite Superman okay!!!!
Let's take a commercial break shall we?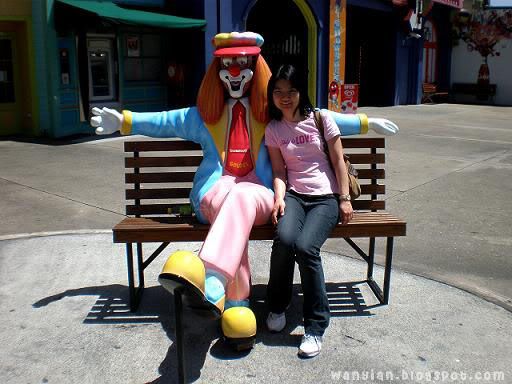 May with her bf.
Yung with her bf.
Me with my bf.
Don't laugh!!!!!!!
The 3 girls managed to seize the opportunity to take the pics above while the guys were studying the map on which ride we should go next.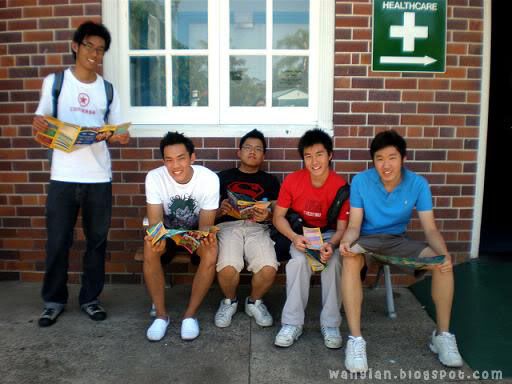 Each guys with a map in their hands.
The toilet bowl is so pretty in Dreamworld! Oh man, this is so random :p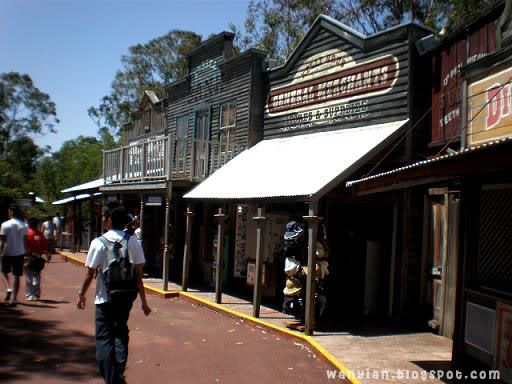 Oh I must rave about this!!!
The Mummy - Tomb of the Dragon Emperor LIVE
is 1 of the
best
experience I obtained that day. This Mummy is not a ride but a
haunted house
instead!
It's limited season so anyone of you who'll be visiting to Dreamworld, do go for this! Preferably with friends because you'll get to see how you friends got freaked out like you've never seen before.
Initially before entering, we joked that maybe we should scare back the people inside because they are human afterall. However, we were so wrong! All of us got scared and freaked out throughout the journey except for Andy.
Read:
Except for Andy, the rest of the guys got scared just like us girls!!!!
We kept laughing non-stop thereafter and man, it was such a wonderful experience for all of us! Never did I imagined that the macho Timmy got scared till he fell on the floor! Wahahahaha... That was hilarious~
Sim never fails to make us laugh with all his antics.


I did not ps my face red okay. It was really hot and sunny till my face turned that red. As always.

In jail also so happy one?
May, before you're being executed, where's your One Piece???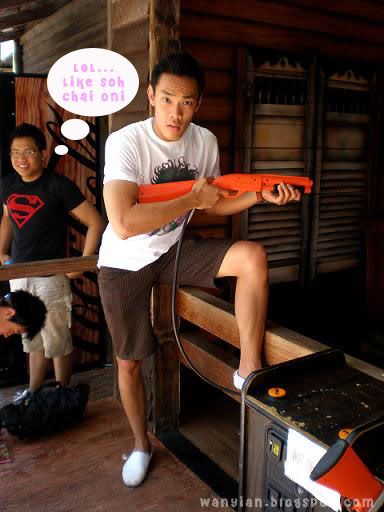 Kakakakaka.... Poser sial!
We went for a water ride to cool ourselves down a little. But the funny thing was this bunch of Asian aunties actually opened their umbrellas for this ride!!!
=________=''' Might as well don't play right?
This ride (I can't remember the name so sorry) is such a let down because we didn't really get
that
wet and it's not thrilling at all.
We even got time to pose in the middle of the ride.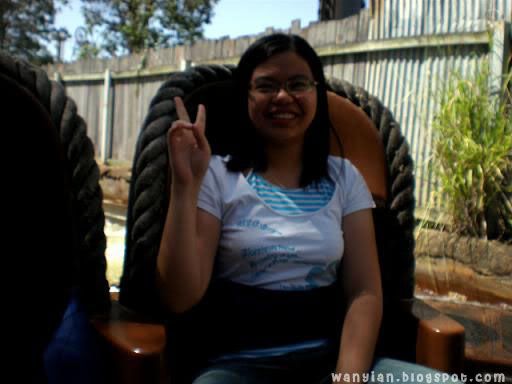 If you do realise, I don't pose with the 'peace' sign XD
In fact I don't pose like that unless it was requested. LOL.
Alright. Now is the time for the star of the day to appear again after all the sneak peak at the early of the entry.
Giant Drop is my favourite ride in the whole of Dreamworld full stop. Can you see how tiny those people are when they were hanged at the top?
Giant Drop is the tallest free fall ride in the world!!! Standing at 119 metres tall (which is 39 storeys high), it falls at the speed of 135km/hour!
Don't believe? Read this.
Let me tell you briefly how this ride goes. Firstly you'll be pulled up slowly so that you can enjoy the scenery of the whole of Gold Coast bit by bit. As if it's not enough, you'll be hanged at the top for a good
30 seconds
to enjoy the magnificent and breathtaking view of the place.
Being hanged as high as 39 storeys for a good 30 seconds can be pretty scary ya know. Use your imagination! And while you are enjoying the beautiful scenery...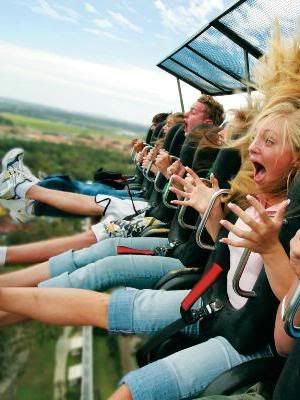 and
POP!
You fall at the speed of 135km/hour to the ground. For someone like me who are so afraid of heights actually love this ride, you can imagine how wonderful the view at the top is. But that doesn't mean that I'm not afraid of heights please. I still have that phobia though :(
Initially Yung Hui and I wanted to go for the second time but looking at the queue, we decided to give it a pass. We queued for 45mins for this Giant Drop earlier!
(May and Phan, you don't know what you are missing wei!!!)
After lunch must pose.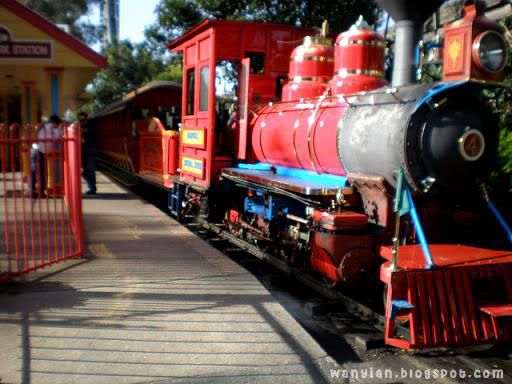 Toot toot train.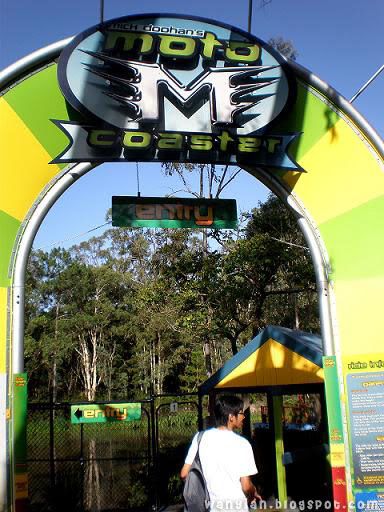 #4 Mick Doohan's Motocoaster.
I have never ride a motorcycle in my life. Never!
But I finally managed to ride once. At a fast speed some more. Not bad right?
This ride is not as fast as expected but it's fun because it really feels like we're riding on a motorbike for real.
Next, we went for The Claw.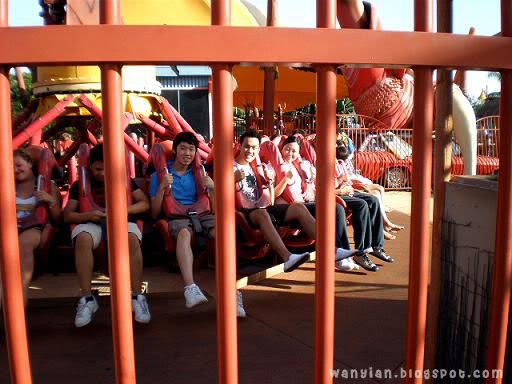 #5 The Claw.
Claw is the second ride that I like in Dreamworld because it was really fun! Just look how excited we were before the ride starts. Ok, maybe except for Phan who refused to go for it but was forced by us :p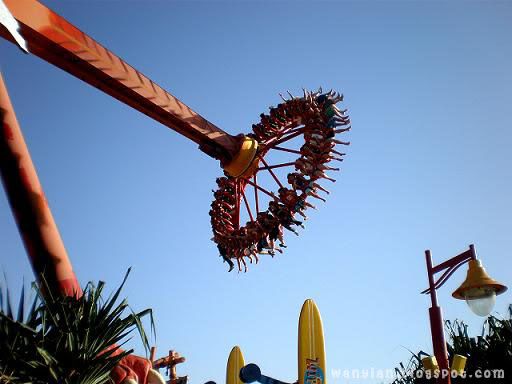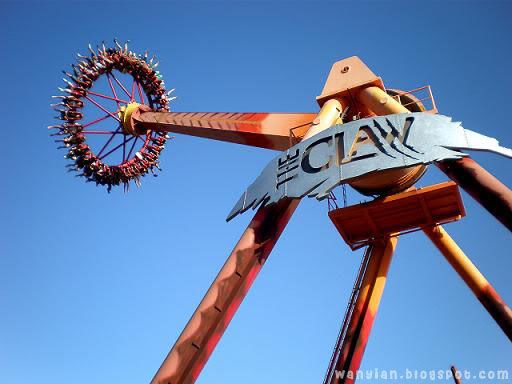 This is just like a giant swing! So fun!!!!!!! Looking at all these rides make me wanted to go back to Movie and Dreamworld over and over again XD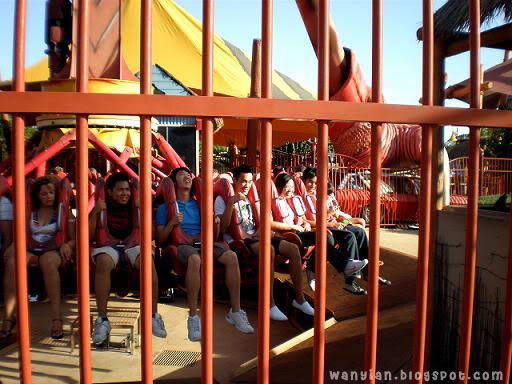 Excited us after the ride.
Some find this Claw scary but for me, I find it okay. I don't know why but now it seems like no rides is scary to me now. Darn
lansee
I know. But I'm serious lah XD
Special thanks to Yung Hui and May Yoong for the photos and video taken :)
The last Big 6 ride is this
#6 Wipeout.
It spins you upside down like crazy.
HOWEVER,
when we wanted to sit this Wipeout after The Claw, it was closed!!! Super wtf!!!!!!!!! You cannot imagine how disappointed I was that time.
Log Ride was another ride we took in Dreamworld and during this ride, something really hilarious happened that kinda made 2 of my friends Stars of the Day! Or perhaps, blacklisted?
Not gonna elaborate :p
Finally, we went to shop for souvenirs before the shop closes.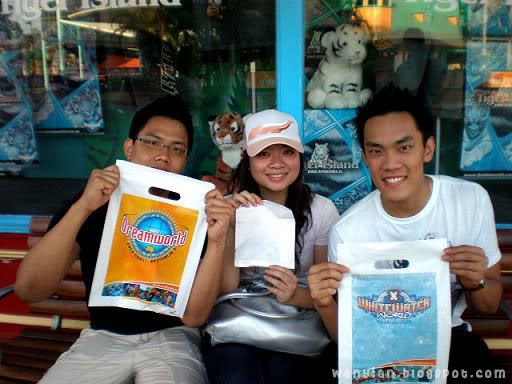 So unfair! I bought the most keychains but I don't get nice plastic bag like the guys T_____T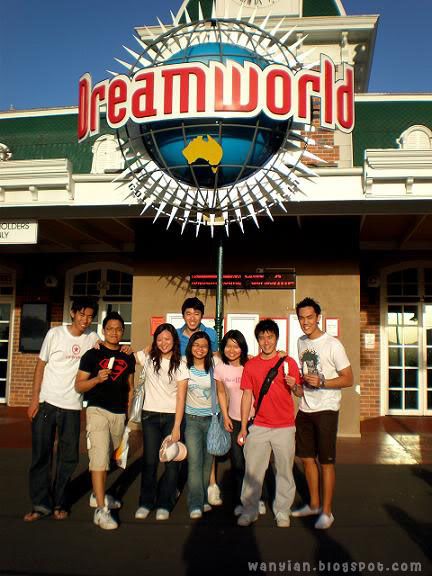 Group pic in front of the entrance is a must!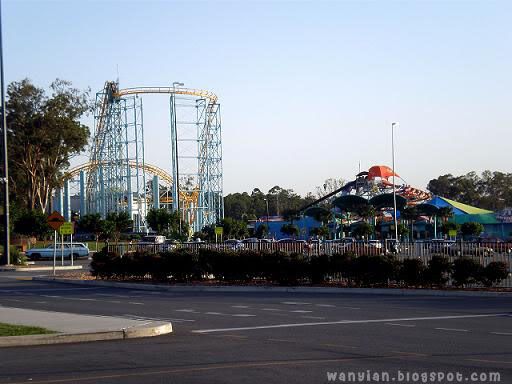 Dry park on the left, water park on the right.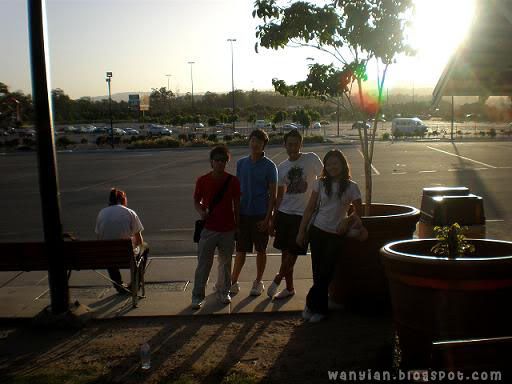 Camwhore while waiting for the bus.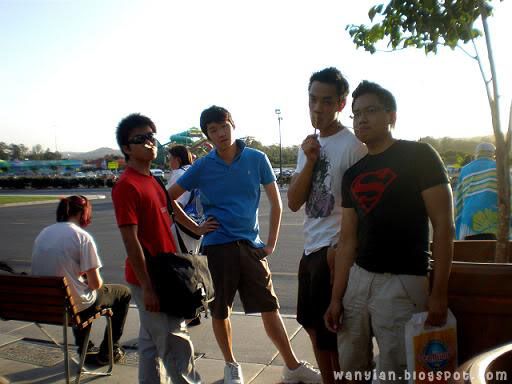 Guys with their ice-cream stick.
Suppose to be a very cool photo but Sim's Son Goku pose spoils everything.
Headed back to Chinatown for dinner. We are always that crazy -___- I was praying that there isn't any staffs staring back at us from the inside.
All in all, I'm happy that I managed to ride on 4 out of the Big 6 rides though I'm a little disappointed that 2 rides were closed on that day. But still, I'm really proud that I actually challenged my fear to sit for the Giant Drop after Batwings.
No rides is scary actually. Just that for the Giant Drop, it took quite some time to reach the top and also falls to the ground! Claw is fun too and it felts like sitting on a giant swing :) Whether the rides are scary or not, it depends on individuals. Don't blame me if you peed in your pants after those rides just because you read about my reviews. I'm not held liable okay! Not gonna pay for a new pants of yours either!!!
I want more exciting and challenging rides!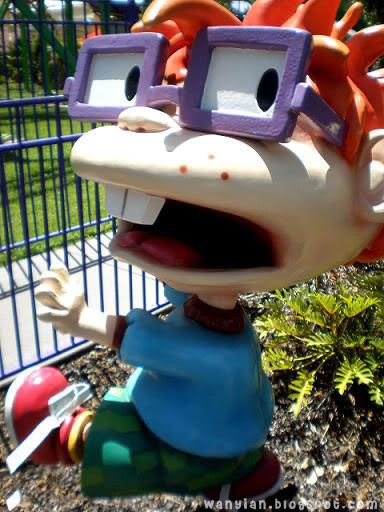 My favourite photo taken of the day!
Cute right? :)