I went clubbing last Thursday for an event called Klub Kandy (which happens 3 times a year only) in Fortitude Valley and I dare to say that that was the best club I've ever been to!
Sibeh
nice and happening!!! Seriously, clubs in Malaysia should really learn a thing or two from the clubs in overseas. And yes, even Poppy is not as good as the one I went to last Thursday.
Very difficult to persuade May Yoong to go clubbing ya know. She's too good girl already!!!
Shamelessly showing off my newly bought dress from an online boutique. There were 2 person who complimented
me
my dress that night. I'm
SO
proud~
The girls waiting for train in Toowong.
The guys gay-ing in Toowong train station.
Met up with Mark and Yung Hui in Fortitude Valley train station. Can you see Yung Hui's beautiful yellow dress? She bought it in the afternoon when we shop in Chermside (biggest mall in Brisbane!) and wore it at night for clubbing. Isn't that fast?
Me with pirated Rain. I like this pic because I looked tall in it XD
Hey Kevin, I'm wearing the bracelet that you bought for me before I leave Malaysia ;) I love it to bits!!! Very simple and elegant.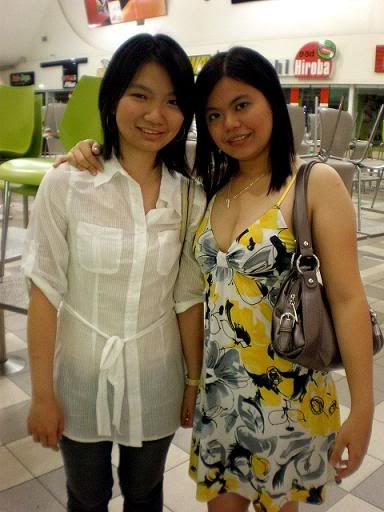 May Yoong and Yung Hui looking gorgeous that night.
I'm happy because I won't be the only girl going clubbing with the guys that night! LOL. Or else I got to hold Kai's jacket for him again -_____- Or help to hold someone's spectacle. Wait, I think the specs belongs to Kai...
The girls.
The guys.
We took quite many photos while waiting for Sam and Ai Yung to arrive but I think posting these few will do.
We arrived at the Family club around 12+ and the queue was insane!!! The queue was so long till we have to queue up for quite some time and the club inside was packed with people! Security was tight on that night too.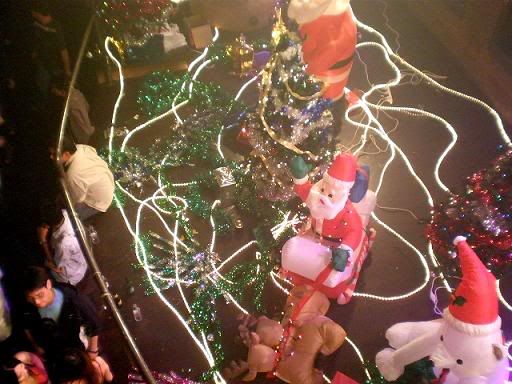 Christmas decorations for the event.
This Family club has 3 storeys and every storey is packed with people, with mostly asians.
Best part of all?
There were damn many good looking guys that night!!!!
No no. Not those
lala
looking guys in Malaysia please. They are of high standards okay?
There were many pretty girls too. Like the 4 girls above.
And 3 more over here. LOL.
Plus 1 more over here.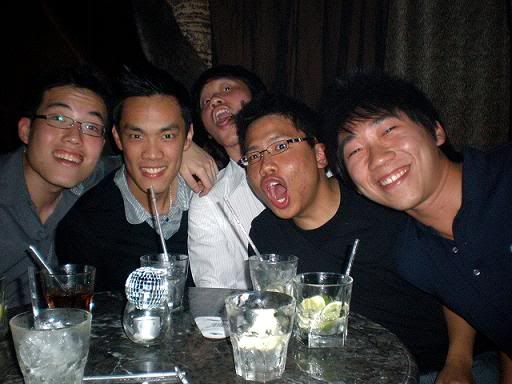 All high already -_____-
Our skin is like yin and yang!!! LOL. Get it?
I actually sat on Kai's lap and man, it was so comfortable okay???? Like cushion only XD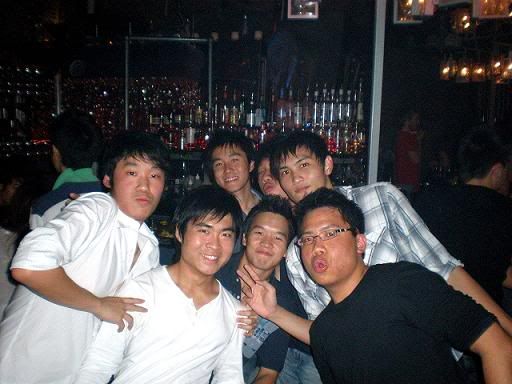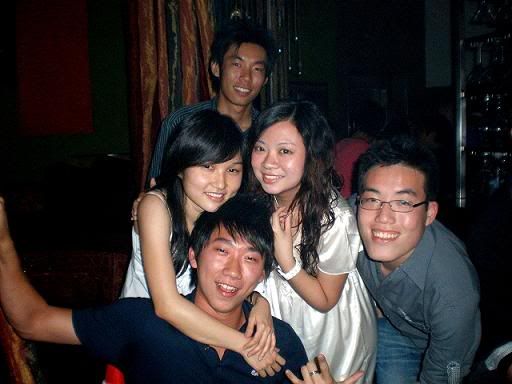 Mark... what are you doing behind? +___+
*cough*
Look at the pair on the right
*cough*
After drinking, all of us went to dance and I didn't take any photos of us dancing. This was my first time dancing with uni friends other than my secondary friends back in Malaysia :p I don't even dare to dance when I went clubbing with them at Reiji few months back. Maybe because I was sick that time I don't know.
That night I was exceptionally sporting! Kakakaka...
Jordan was sleepy because it was already 3+ am. We left the place around 4 plus and headed over to the McDonald because some were hungry.
No idea what these 2 fellas are doing.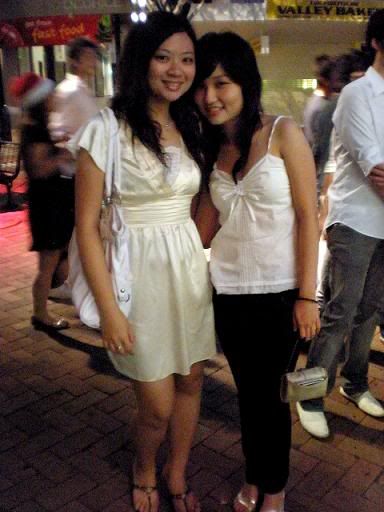 My first pic taken with Ai Yung!!! Can you imagine how precious it is???
Ohya, it was also my first time wearing heels in Aus!!! My legs ached at the end of the day and thank goodness I brought my flip flops to change XD Yes... I brought slipper to go clubbing! Very cool I know.
After McD, we headed over to the casino in the city for early breakfast and I actually reached home at 8am!!! It feels weird because people are rushing to work while we rushed home to sleep. What a life.
Alright. I shall end my post here because I wasn't really in the mood to blog anymore as I just receive the news that my grandma was admitted to hospital. I'm so damn worried but there's nothing I can do other than waiting for my brother to update me.
I want to go home!!!! :(