Finally here comes the entry about my university!
Don't say I didn't warn you beforehand. I have tonnes of beautiful photos ahead for you to get jealous a bit because this is what you can't get in Malaysia. LOL. Actually this is directed to HELP UC only -____- Totally no university feel if you study in HELP I swear. All you see are buildings and traffic jams.
Credit to Miss A, May Yoong, google and of course, myself for all the photos.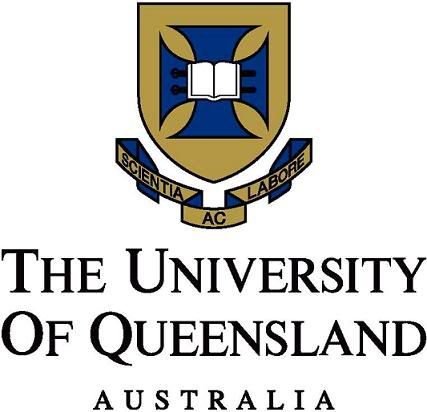 To begin, this is my uni logo.
Looks just like any typical school badge in Malaysia. Don't ask me what the designs and colours stand for! I have NO idea seriously.
Eh. I think Taman Sea logo looks nicer :p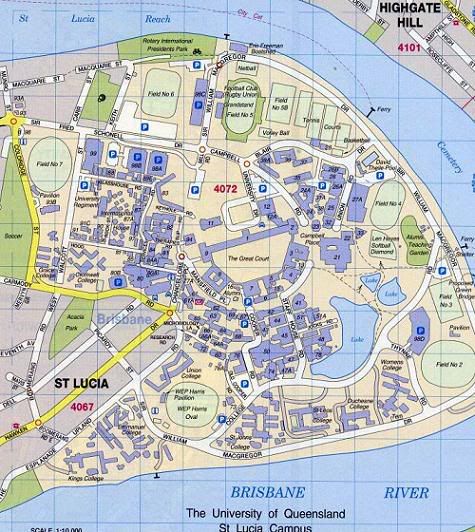 To show you how
BIG
UQ is, here's a map of the uni. Big isn't it?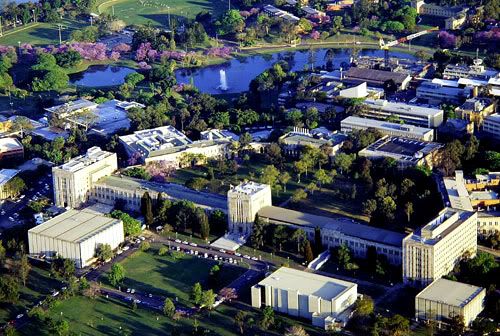 Top view of UQ.
Don't ask stupid question okay. This is obviously taken from google. I don't own a helicopter in Australia or else I don't need to take a train to Gold Coast already.
This is the entrance that I took every single day to uni. Looking at the photo itself also
sien.
This is the Great Court. During weekdays, you can see many students lazing around at the Great Court to study, chat or sleep.
Another mini court for students to laze around.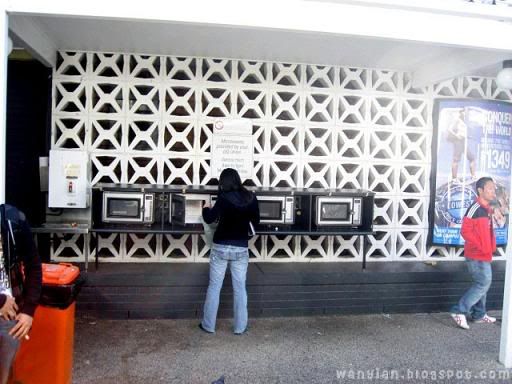 Microwave for you to heat up your food and also hot water dispenser.
Vending machines duh.
Main refectory. Meaning food court in another words.
Besides, UQ also has dental clinic, clinic, theatre, museum, bookshops, candy shop, banks, post office, pharmacy, cd shop, saloon, souvenir shop, sushi bar, noodle shop, lots of cafeterias, pizza parlor, gym, tennis courts (whatever courts also got), veterinary clinic, Subway (opening soon!!!),
bar,
and many more.
Yes. Apparently every universities in Australia has a bar!!! How cool is that?
Malaysia also not bad though. They have mamak! Like the mamak in Wisma HELP (damn, I miss the maggi goreng there).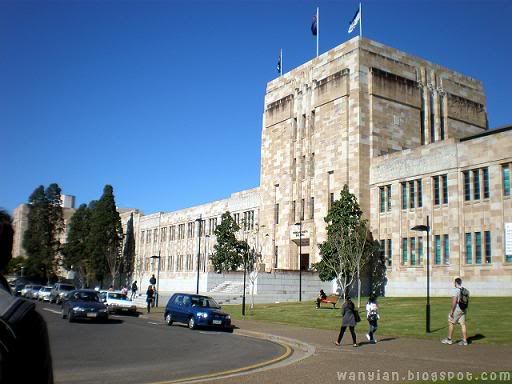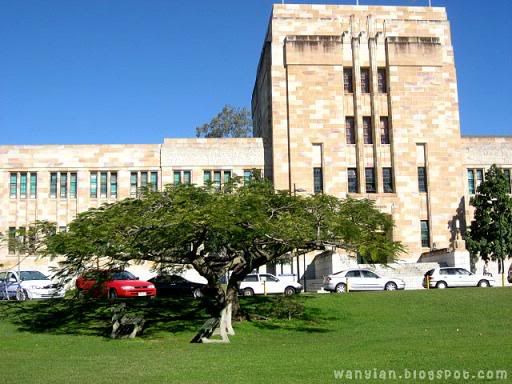 This strech of building is so long until I need to take 3 shots of it.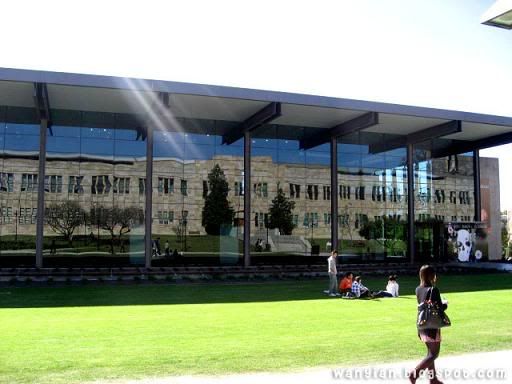 Art museum. Never been inside before. Not interested to go in either.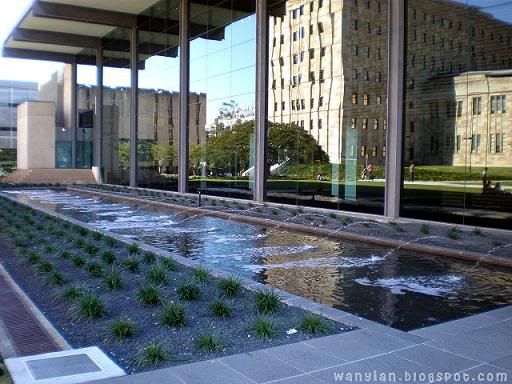 So many buildings around until I can't identify what buildings they are.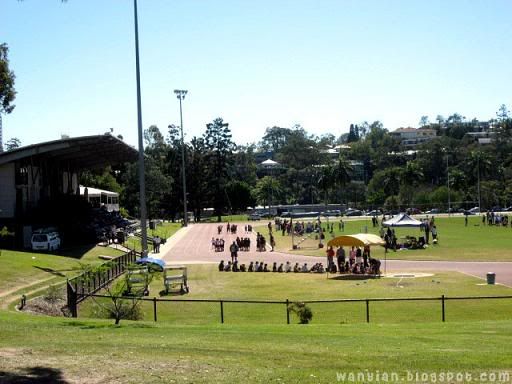 Part of the field. On the right side of the field are tennis courts and basketball courts.
I didn't take picture of the whole uni, so too bad. But at least you have an idea how it looks like now, don't you?
Moving on, I shall bring you to the UQ Lake. It's such a perfect timing because it's spring now and the place is
SO
beautiful. Photos taken are so clear and beautiful until you thought I used a DSLR instead of digital camera wtf.
I did edit them a bit with PS I admit :p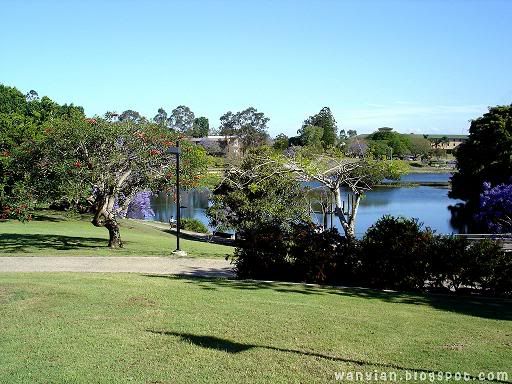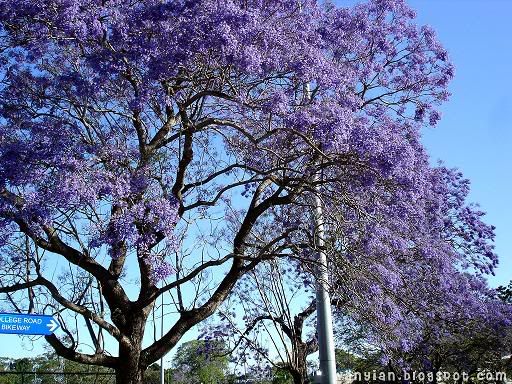 I mentioned before in my previous entry. Do you still remember the name of this purple tree?
It's jacaranda!!!
Scroll back down for the infos!
Pretty isn't it???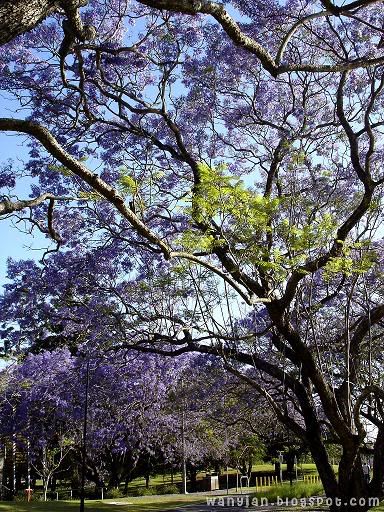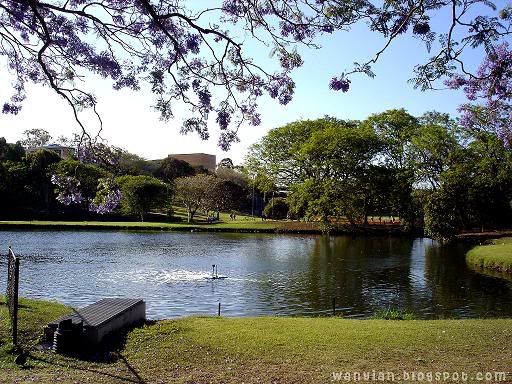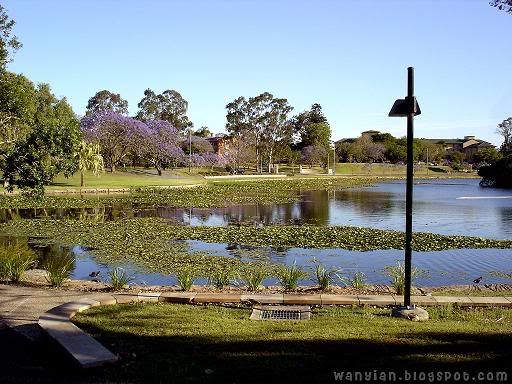 This is my favourite photo of all taken by May Yoong.
So pretty!!!
May Yoong is such a good photographer.
After all the beautiful sceneries, it's time to
torture
you to look at my face.
Sibeh

windy.
It's spring but I wore like summer. Very hot! Plus I went to uni just to submit my assignment so I don't have to dress up nicely. But this is also how I dress to uni most of the time. Very casual. Very comfortable. Very natural (because without make up. LOL. Laugh
lah.
).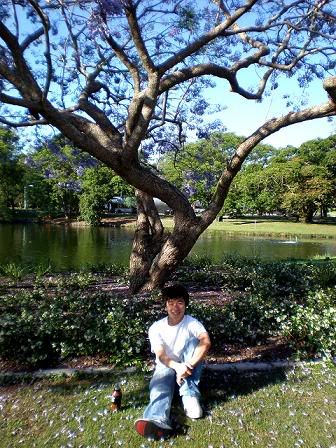 The famous Marilyn Monroe from the previous post.
The famous Santa Claus.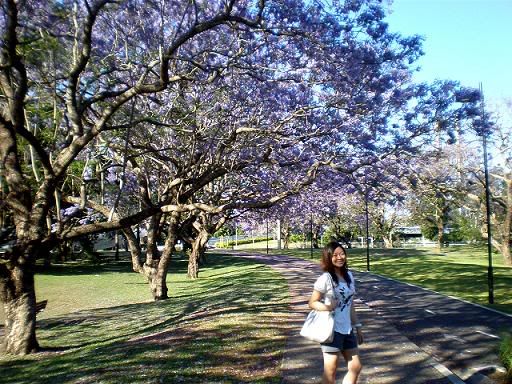 The famous
Star Wars
bride.
Gosh I looked so tired from the picha above! I had 2 hours of sleep only on the night before because I was rushing for my assignment T____T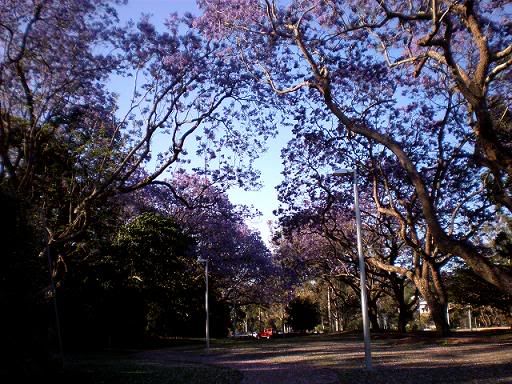 PRETTY!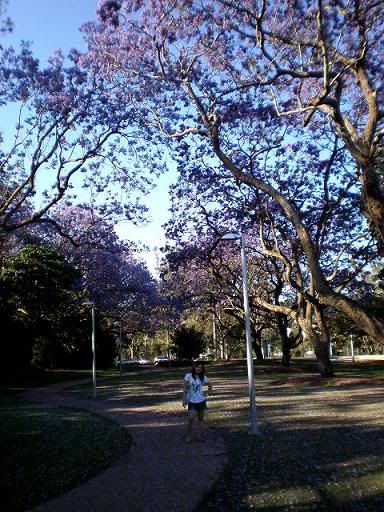 Can you... erm... spot me?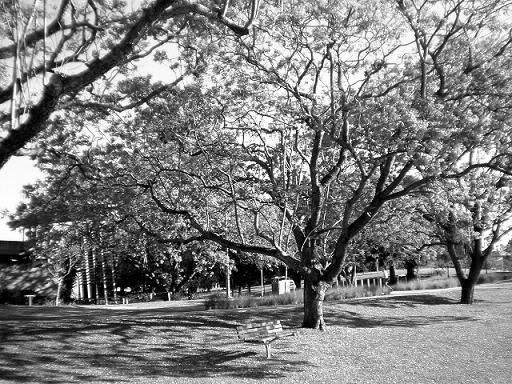 Lonely bench.
"Always remember that you are not alone. Look around you. You have others who support and be there for you all the time, without you knowing it"
Simply crap the quote above in order to suit the mood of the photo.
Do you remember my
old entry
about the Malaysia vs Australia? I did mentioned before that there are many birds around the place right? Here are some of the birds to show you.
Not kuku bird ar!
Her name is Ibis. Say 'hi'. She's very big in size. And dirty too.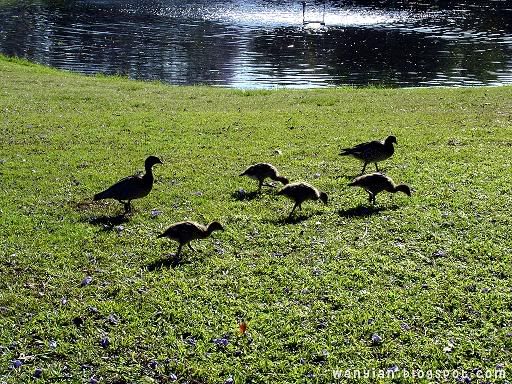 Gooses sunbathing.
I don't know what bird is this but I think it's cute.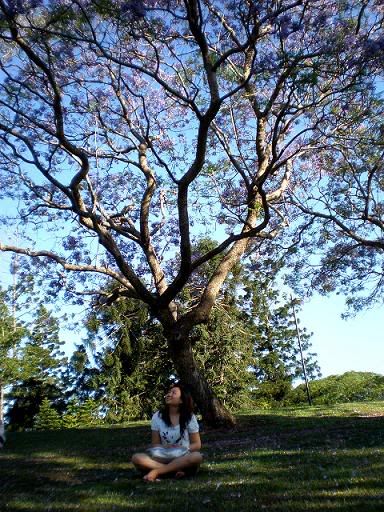 Nice or not? Pretend to be very relaxed and happy.
With the amount of birds wandering around the place, you know why I said there are many poops around.
Who knows I'm actually sitting on it omg!!!
Emo Yung.
As for my photo, she actually suggested me to pose like a sleeping buddha.
My reaction was -__________________-'''
No idea what a sleeping buddha pose is?
Let me enlighten you.
Where to hide my face if I pose like that in public you tell me.
I ended up posing like this instead...
Normal a bit at least.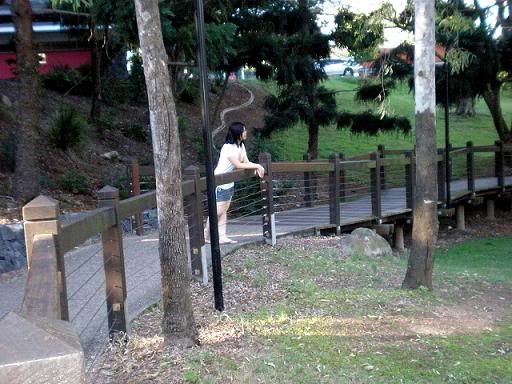 Emo Yung continues...
My-lack-of-sleep-face-and-also-very-messy-hair photo is enough to spoil your appetite for the day.
At least
moi
looked tall above!!! Muahahahaha...
Dating, touching, make out, quickie...
dipersilakan.