When you are in foreign country, looking for a good plate of chicken rice is harder than you looking for a good wife. Or maybe a husband. Okay, I don't know what am I talking about haha.
Last Tuesday, Yung Hui, May Yoong and I went to Chinatown to buy Chinese groceries and we decided to lunch at the famous chicken rice shop that Chong once introduced to us but we didn't get to eat because everything was sold out (what a long sentence!). Imagine, everything will be sold out by 2pm!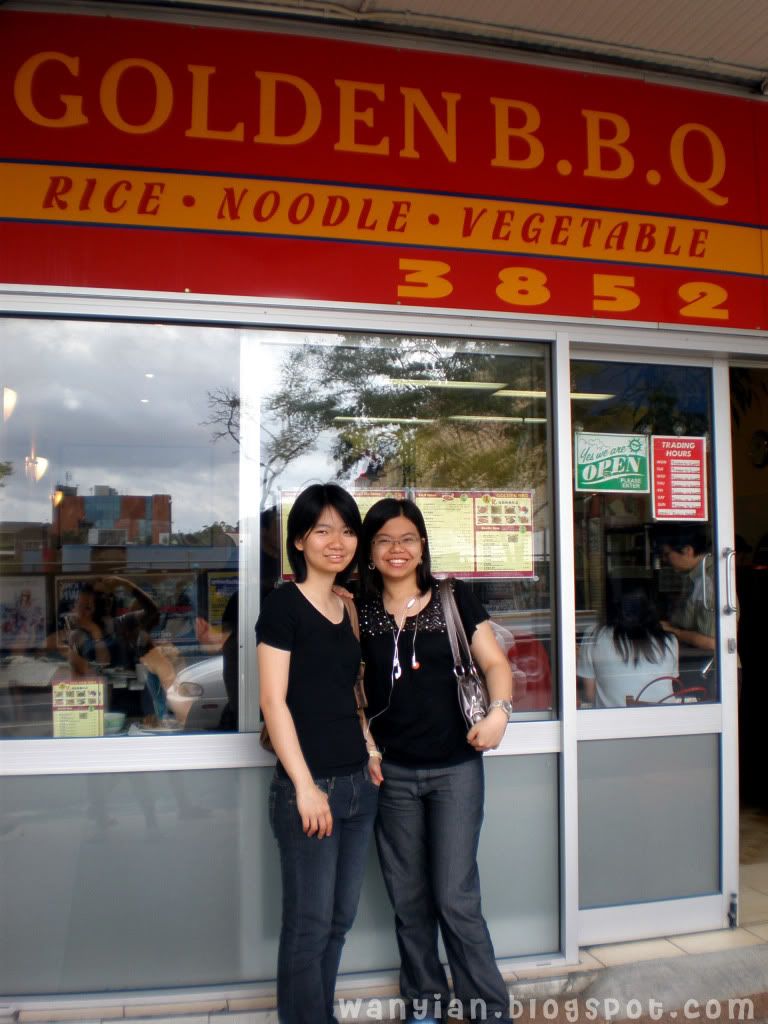 Thank goodness we were early that day. All we need to do was to wait to be seated. Gosh! It was only 11.50am!!!
And the place was already packed with people.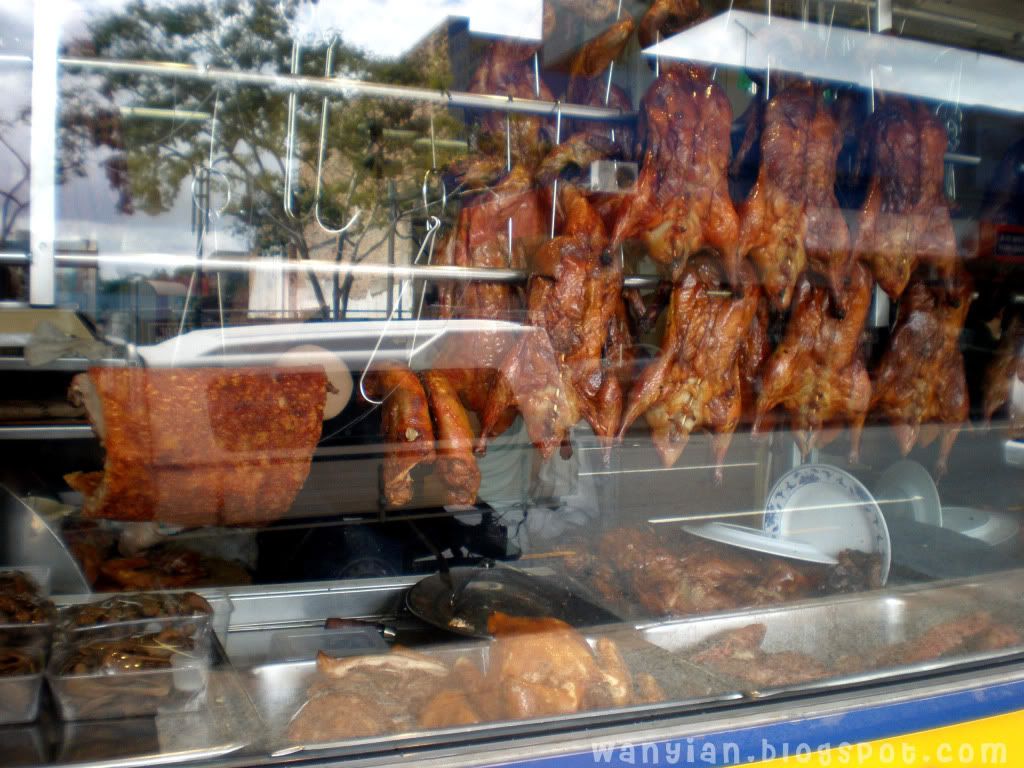 Yummylicious roasted pork, roasted duck, soy sauce chicken and roasted bbq pork. The only disappointment is that they don't sell roasted chicken :(
I miss
siu yuk kai fan!!!!
(Miss A, it means roasted pork and roasted chicken rice :p)
We both
LOVE
our new handbag a lot! I'm so into silver and gold now I don't know why. Bling-bling~~ ;)
Do you like my hoodie Nike top? Just say YES will do.
After waited for about 10 mins and placed our orders, we were given a bowl of soup each for free!!! I miss drinking chinese soup!
But I suspect they put in MSG because I felt damn thirsty not long after.
(Another thing when you eat here is you'll have to share table with strangers without a choice)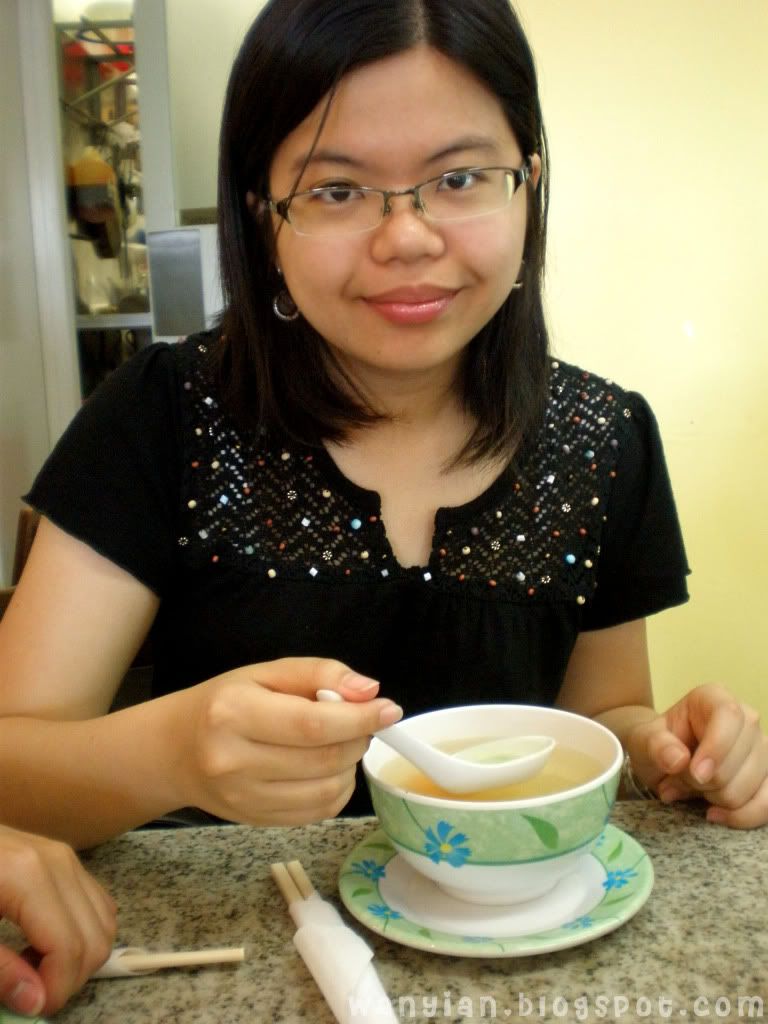 Yung Hui with her cute lil new top.
Forever tired looking May Yoong XD
I think you need to learn some make up skills from me to brighten up a little bit ;)
Girls must be hardworking in order to look pretty right?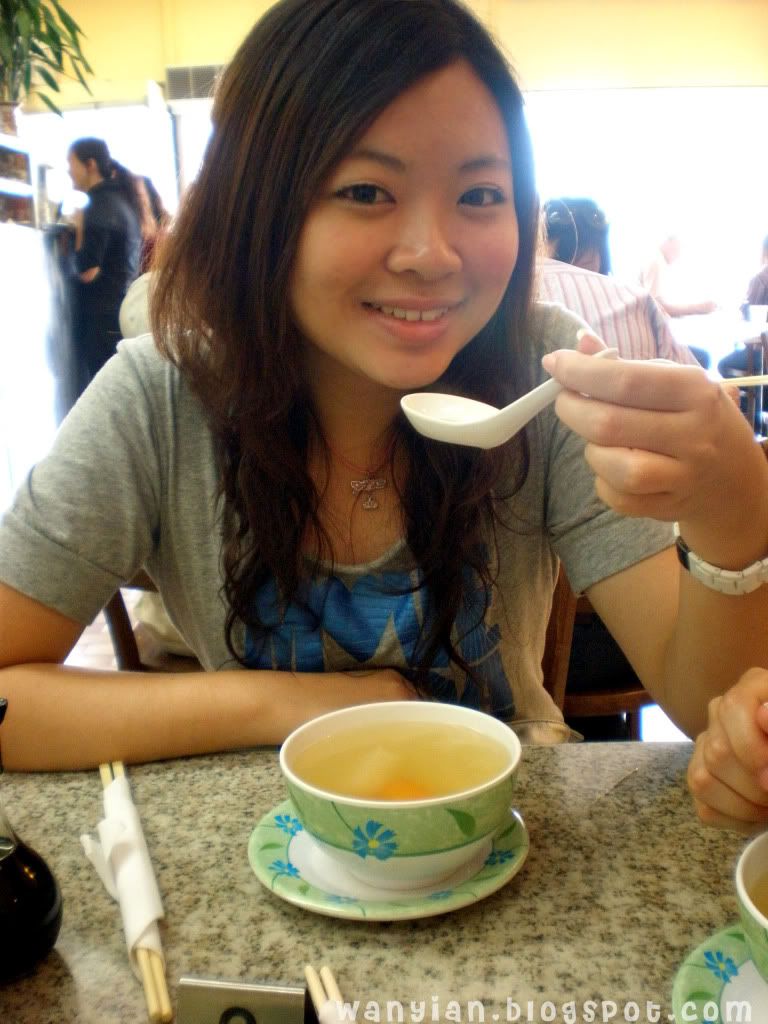 Me with my bad hair day as usual. I really feel like flying back to Malaysia to get my hair permed and dyed by Rex and then fly back to Aus.
I don't dare to perm my hair here! There are very few Australians who perm their hair. They straighten more instead. I don't dare to risk my hair T______T
My plate of roasted duck (I love duck!!) and roasted bbq pork. It's pretty expensive ($12.90) but the portion is really big and most of all, delicious.
I was eating halfway and then only realised that I forgot to take pic to make you all drool over it. Kakaka. Too hungry at that time. And I'm a good photographer too! It looks like the rice was untouched right?
The fact is... it was already eaten! Evidence is the bones on my plate. LOL.
Just in case you are wondering why 3 girls get 4 bowls of soup. That's because being a soup lover, Yung Hui ordered another extra bowl of soup for an additional $1.
Another thing worth to mention about is, the restaurant is managed by all females!!!! Woohoo~~~
From cashier to chopping chicken to waitressing, they are ALL FEMALES! Even the chefs behind are females. There're 2 males working in the kitchen and according to YHui, they wash plates only -_-'''
After a hearty meal, we walked over to Yuen's for grocery shopping and went back home thereafter. In the train, we even bumped into Soo Wen and Shu Ying (plus another quite good looking friend). They went to Yuen's too but we didn't see them. We also don't get to see them while waiting for train at the station.
So, it's a small or big world now?