Here comes another super long entry with tonnes of photos that will suck up all your bandwidth!
*insert evil laughter*
Don't say I didn't warn you.
After a month long of planning and anticipation, finally, Yung Hui's birthday is here. It came, happened and it's a past now. I hate it when time flies.
(Credits to Jordan and Sylvia for the photos too)
To cut the crap, I went to Yung Hui's place to help after class. May Yoong, Ee Lian and Phan were the earliest to arrive while Jordan, Sylvia and I came later.
Yung Hui's party theme:

B

o

l

d

c

o

l

o

u

r

s

+semi formal


Girls:

Must make up


Guys:

Must spike hair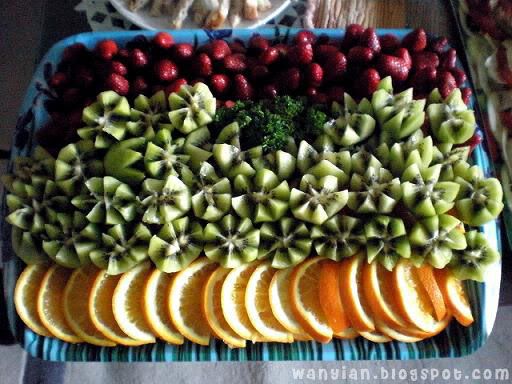 This fruit dish is sooooooo attractive isn't it? I decorated it!!!
Actually I just helped to peel off the strawberries leaves and decorated the whole thing. The girls (May, Eelian and Sylvia) peeled the kiwi skin and halves it while Jordan and Phan cut the oranges.
Credits to everyone!
The sandwiches and salads were prepared by the people who came early to help.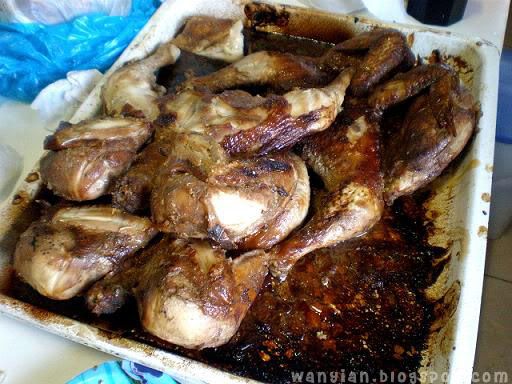 Grilled chicken by aunty sue.
You cannot imagine how delicious it is by looking at the picture. You
MUST TRY IT!!!
Wantans wrapped by Phan. Popiah I don't know wrapped by who.
But all were deep fried by Ee Lian and aunty sue :)
Ee Lian helped aunty sue in frying the noodles.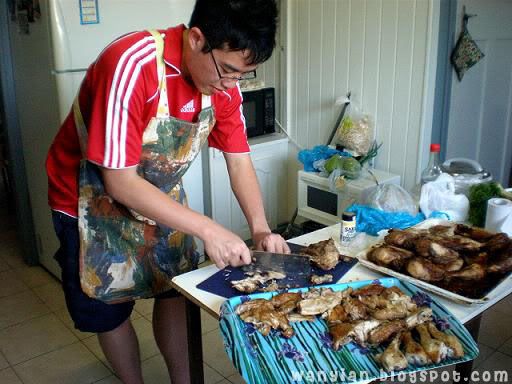 Jordan helped to chop the chicken. But halfway through, he passed the job to...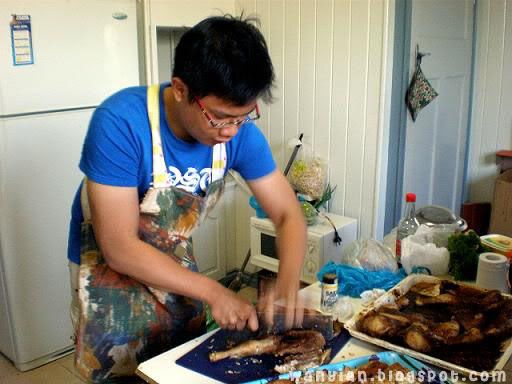 Phan. Look at his muscles! He got it after years of chopping chicken ok don't play play.
Things were done pretty early since there were so many people helping out. The girls took turn to bath and I, on the other hand, took turn to make them up.
I was the make up artist cum photographer that night XD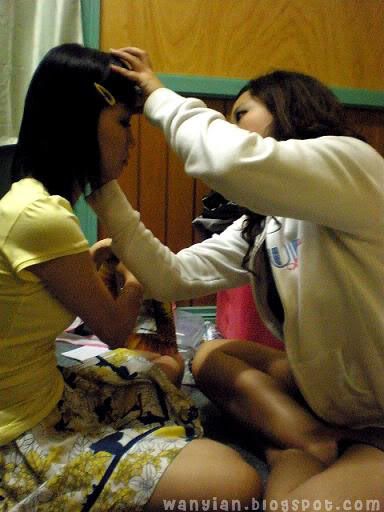 Me in the process of transforming the ladies. I was the last to change because I need to get the girls ready first.
Here's the question. Are you interested to see the girls
before
and
after
their make up?
Not interested also must see! I don't care!!!
The lighting in Yung Hui's room is a little dark to capture the colours and the details. Too bad.
But I can assure you that in real life, they all looked so gorgeous!
Sylvia and I don't have the
before
photo simply because we were running late and totally forgot to take picture beforehand.

And that was my first camwhore photo in Australia!!!!!
*claps* *claps*
The guys who came early.
The girls who came early. It was my first time seeing Hui Yee and Jin Jie with make up. So pretty!!!
Foods served that night were salads, sandwiches, fried noodles, chicken rice, fruits, black peppered pig maw soup, bak kut teh, fried popiah and wantan. Drink was fruit punch.
So delicious~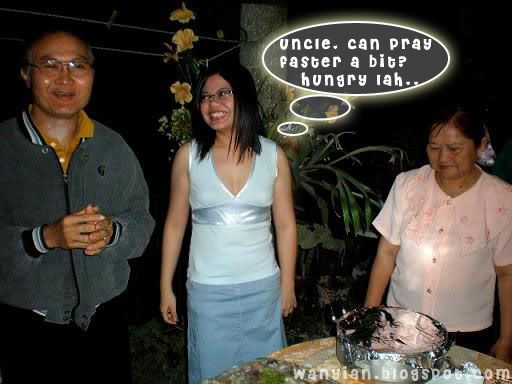 Opening speech by Uncle Andrew and the very kind uncle and aunty (aka YHui's daddy and mummy in Aus) decided to pray for Yung Hui.
After praying....
...it's time to wallop the food like beasts.
I heart bak kut teh and the peppered pig maw soup that night.
After I finished my meal, Ee Lian, Hui Yee, Chong and I went out to escort another bunch of friends over to Yung Hui's place.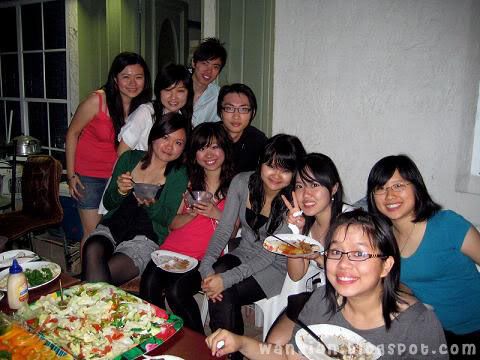 Here are the latecomers :p
Then it was the cake cutting time. Aunty Sue actually baked the cakes above!!! 1 coffee and 1 fruit cake.
The fruit cake was decorated by Ee Lian and May Yoong if I'm not mistaken. So nice right? The taste is even better!
Yung Hui... welcome to adulthood. LOL.
It reads - Birthday Happy! Hahaha...
Another thing that I noticed is.... her knife is bigger than the knife I used to cut my cake!!! If so, Tim's birthday need to use parang and Phan's birthday use saw? Wtf. LOL.
Lucky for us, Yung Hui's favourite present of the night was none other than the Siberia Husky that we got her! Can you see how happy she is? Another present that we bought for her is the Nike bagpack. Superrrr nice backpack I swear.
By the way, the dog's name is Akela. She even has a birth certificate. Damn gaya.
Present giving ceremony. They got her a brown handbag.
(Nike bagpack and handbag photos I curi-ed from YHui's blog)
Family potrait.
LOL. It looks like I was photoshopped inside +_+
While taking a break,
it's time to camwhore!!!!!!!!

This is a test shot while waiting for Yung Hui to get her Akela. So the bear represents Yung Hui XD
My fat right thigh looked so skinny above!
Lovessssss....
Yung Hui with her beloved Akela. I with the dusty Christmas bear T_T
But the bear is seriously very adorable~
I want Akela! I forced Jensen to take the bear. Muahaha...
Yung Hui with the girls.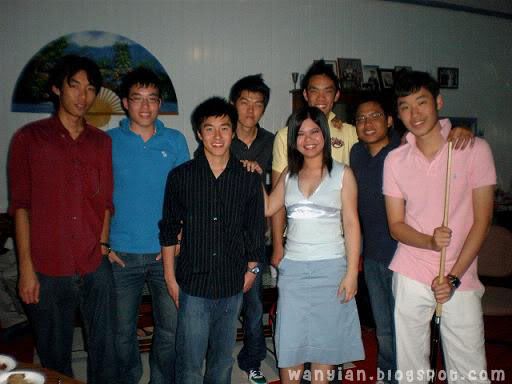 Yung Hui with the guys.
Yian with Hui Yee and Jin Jie.

I shall call the photo above as 'All About Yung Hui'. LOL.
Most of the photos in my camera are all Yung Hui's pics! I'm such a good photographer~
While taking pictures around, suddenly I was inspired and asked everyone to take pic with me. But the condition is...
Everyone must act cute and peace!!!
Wahahahahahahaha.... Isn't my idea brilliant? We've never taken any picture like that before and damn, everyone looked so funny above.
Everyone should be cute! Not funny!! Kakaka...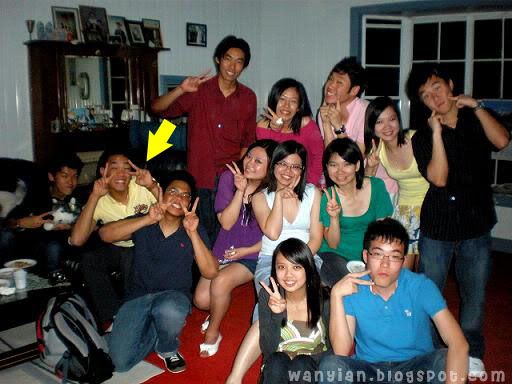 I can't stop laughing at Timmy I don't know why. This is my fav photo taken that night!
Look at the colour of our shirts. So colourful and pretty. Everyone looked so happy.
Do-Re-Mi-Fa.
Hui Yee loves the pic above.
Because both of them wore matching tops, they wanted to take pic together.
And left me with Timmy.
The photo above was kinda candid because Jordan just captured it without telling us T____T Which explains my weird expression above. But Jordan is a great photographer because he managed to make my legs look so much longer! Thank u!!!
Since arriving here, I didn't wear any heels at all!!! Gosh. I miss my heels.
Me and my darling in class. She's a very cute and funny girl. And oh, very soft spoken too.
Best deal? Single and available!!!!!! ;)
Earlier everyone was fighting to take pic with the bear. But look at it now. How pitiful.
Pink
+
purple
= Picture perfect!



Yian:

Hm... This picture... Okay lah... Not bad not bad...


Jensen:

You like then say only lah! What 'okay okay' and 'not bad not bad'? Just admit that you like it!!

You know what?
You are damn right!!!!!
I really like the pic taken above XD
Us with fireworks that Yung Hui bought.
My eyes can never win Sylvia's eyes T_____T Body size
lagi
cannot. Life is so sad for me T_T
Looking at the photo above, I feel like redying my hair...
A random group picture.
Oh my God. Sooooooo pretty!!!!
So so so nice! Everyone actually played like kids that night. Unbelievable for
adults
like us. LOL.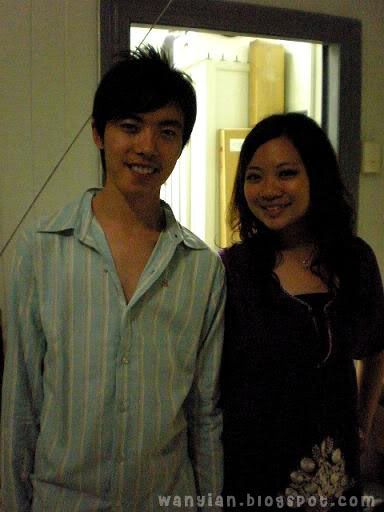 Me with
ah boy
Jeremy. Shy boy lah this fella.
Jin Jie and Hui Yee were so helpful in helping Yung Hui to wash all the dishes. Thumbs up!
While the girls were cleaning up the place, the guys were busy gambling -_____-'''
They left first because they wanted to go clubbing
(sorry for ffking that night :p Too tired. Next time okay?)
. The 2 girls above are cute right? Many guys are aftering them 1 lor.
After helping Yung Hui with all the cleaning and packing, the rest of us decided to go for a drink in the city.
I have no idea what they are doing in front of the petrol station =.='''
Sylvia and I in front of Louis Vuitton shop. Oh, May Yoong is in the picture as well :p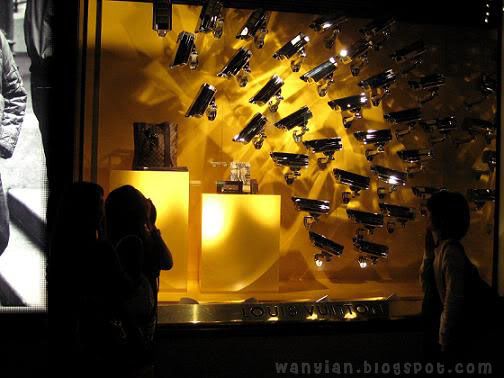 Damn many cctvs.
Our acting good or not?
The tired and sleepy us. It has been a long day for all of us. On top of that, I only slept for 3 hours on the night before to prepare for my presentation.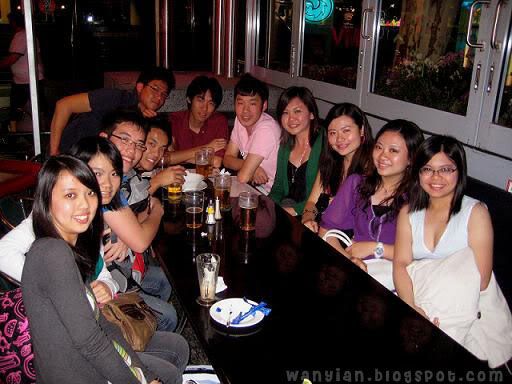 Last group photo taken of the day before we left the place around 1+ in the morning.
By the way...
Happy 21st Birthday to you, Yung Hui :)