I realised that ever since I got my haircut at Kim Marie 3 months ago, I have bad hair day
everyday.
Roar!!!!!!!!!!!!!!!!
I'll never go back to Kimarie ever again!
On a happier note, this will be a happy post because 3 weeks ago
(very long ago I know)
was Ekka Day and I went there to experience the fun and hype with my friends!!! Ekka Day is a very important day in Brisbane that happens only once a year. That's why that Wednesday was a public holiday!
Here's inside the hall where we can hardly walk due to the amount of people turnout that day. We bumped into many many friends too!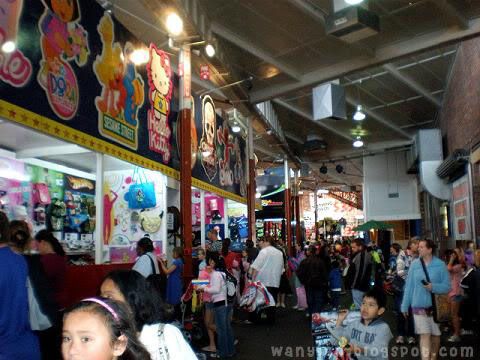 In the hall, there were many stalls selling Showbags. Showbag is a bag with goodies in it that you have to pay for of course. You get to choose what brand and types of candies, chocolates, sweets and etc to buy and if I'm not wrong, Showbags are for you to show off to people what you bought.
Don't scold me if I'm wrong. I heard it from somewhere actually :p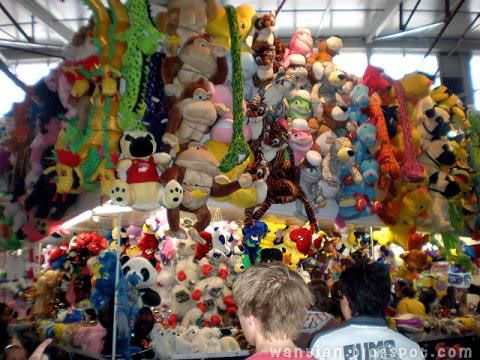 This is the 1 and only stall selling
huge
soft toys if you don't get to win any at the fun fair.
Oh, I forgot to mention that Ekka Day is kinda like a fun fair day too! I'll show you around the place later so please be patient.
More stalls selling goodies.
A very cute stall for you to custom make your own bear!
Too expensive so I gave it a pass T_T
Guys who had their heavy breakfast there because they didn't have their breakfast at home beforehand. Reason? Woke up late I guess.
Enough of the indoor! Time for the outdoor :)
Isn't it cool? It's not even snowing in Brissie but you still get to sit on it for the feel of it ;)
(I don't know what it's called and I don't have time to google to check it out for you people so please don't mind okay?)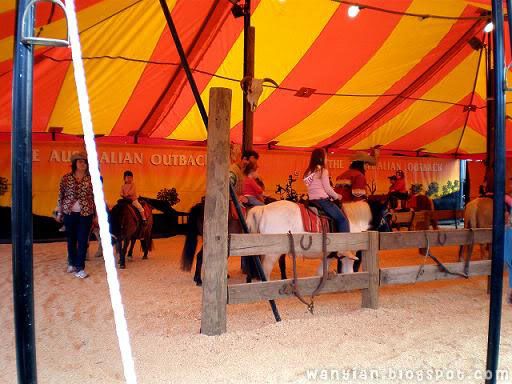 Ponies for the kids. Please, for kids only.
Ferris Wheel.
Timmy bought Homer that day and he super sayang it. Sorry Swinger, you have a competitor now...
After that, we went to see animals -____________-
Everything is BIG in Australia.
Even their chickens, geese, ducks and etc are so much bigger and
fatter!!!
Horse (duh!!!).
I don't really enjoy looking at the animals because they were freaking smelly! And boring.
Here's something interesting to share.
Lion dance that I see back in Malaysia were all carried out by the Chinese. Guess what?
Have you seen lion dance by the
angmohs?
Sorry Jordan for being the cameraman :p
Yung Hui and Derek aren't in the pic as well. What a waste!
Moo~ Moooo~~ Mooooooo~~~
Ice-creams in Australia are the best!
The strawberry ice-cream by Nestle above was simply fantastic I tell you.
Inside was filled with
more
strawberries!!! OMG! How not to love the ice-creams here?
Next, we went to another side of the area and was shocked!
Look at the amount of humans here!!! It's crazy.
The other side of the Ekka has another Ferris Wheel too. A smaller one.
That's very, very high.
And the games here were wayyyyyyy
more
extreme that'll make you puke or scream your lungs out.
That's very extreme -.-'''
Confirm will make you puke I swear.
The rides in Ekka were scarier and way more extreme than Movie World's! Thank goodness we have to pay for every single rides in Ekka or else I would've challenged myself to go for it again like how I did for Movie World if the rides are all free :p
If you are not game for those rides, you can of course, play the games at the fun fair to win yourself those huge plush toys!
I've seen freaking many people carrying
HUGE
soft toys around. Honestly...
I'm so jealous!!!!!!!!!!!!!!!!!!!!!!!!!!
I want the crocodile :(
Guys, to win over a girl's heart, try to win her some
HUGE
soft toys at fun fair. That do add extra marks I tell you. Remember to say that you learnt it from Contagious Laughter okay? LOL.
That's a Haunted House! Darn cool ain't it???
I have no idea why I posed the way the guys did to be honest. After looking at the photo of myself above, I felt that girls shouldn't put any plush toy like that because it made our boobs looks bigger -__________-''''
They looked like kangaroo don't they? :p
The Bart that I took pic with earlier actually belonged to Yung Hui.
Shrek is bigger, taller and fatter than me!!!!
If you notice properly, there was a boy holding Shrek's hand for me to take photo with! LOL. He's so cute...
Sylvia bought Piglet for herself that day.
I bought nothing so I took Sylvia and Yung Hui's plush toys to take photos with :p
Jordan act cute. Hahaha...
So cute isn't it???
Piglet was kidnapped that night. Someone save him!!!!
Anyhow, that's the end of my happy Ekka entry today and it's time for me to sleep (12.40am already) since I'm still a sick patient.
Frankly speaking, I have nothing else to blog about already after this Ekka Day because life is back to normal where we stayed at home to study everyday and doesn't hang out that often anymore. I'll try to korek out something to write when I feel much better ;)
Till then, take care~