I've finally submitted 1 assignment today and did a group presentation! All I could say is everything went pretty well and hopefully Ms Sarah (not a Dr
yet
) will be lenient in marking.
Another thing is, all the random and unknown people,
STOP ADDING ME IN FACEBOOK!!!
I have like, 40+ people waiting for approval lor wtf.
I don't give a damn about Friendster
(Friendster got even more people waiting for approval -_-)
anymore therefore I don't bother to delete those random people but please, Facebook is strictly for the friends that I
know
only. This is
not
a popularity contest so I don't need 13645278525728357230 people in my list. In fact, I don't want to be like those type of girls/guys who approve/add people randomly.
What are you trying to prove? Have lots of friends? Or you are popular?
That's pathetic.
Prove that to me in real life instead.
Crap. Seems like I'm preaching. LOL.
Anyway, Lantern Festival!!! Despite the fact that I haven't even start my assignment last Friday, I was quite tempted to go for the festival organised by UQMSA because
I pitied myself for not getting to celebrate Mooncake Festival this year lor!!!!
T_______________T
I remember when I was young, my brothers and I don't like to celebrate all these kind of Chinese celebrations but my dad would always put a table in front of the car porch with some mooncakes and chinese tea and demand us to sit there for the
berbonding
session -.-''''
My dad is a dictator!!!
But now that I grew up, I miss the berbonding sessions that we had last time because my dad no longer gives a damn about Mooncake Festival now =______=''''
Now back to the festival that I went to on Friday.
Initially I planned not to go because I have assignment to do and my friends were having exam on Saturday. I don't have anyone to accompany me! On top of that, it was raining cats and dogs that night too.
But right after I finished my dinner at 7.30pm, the rain stopped and Yung Hui and Chong said that they'll accompany me to the festival. So off I went. Super last minute plan I admit.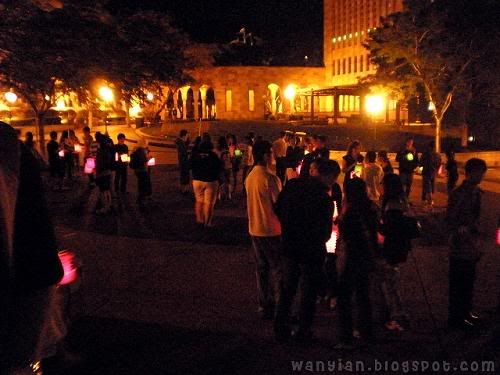 I was actually surprised by the amount of people turned up that day. Initially I was expecting only 10-15 people okay.
Isn't my uni beautiful at night??? It was also my first time coming to uni at night :) The atmosphere is super romantic at night. And it looks so colourful with each person holding a lantern.
Yung Hui chose a
red
lantern though it looks
pink
in the picture.

And yes, all photos posted are taken without flash in order to bring out the beautiful colour of the lanterns. Lanterns are the main subject for this entry today!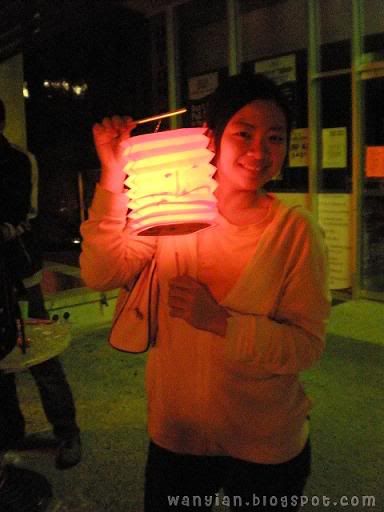 My
orange
lantern that looks
pinkish
in the photo too I don't know why. I also realised that my white jacket is getting looser :( It looks so big and loose in the pic isn't it? It used fits me perfectly last time! Guess I washed it too many times that's why.
Eh, don't laugh at my dressing okay? That's how I dress at home because
I'm lazy to change
it's freaking comfortable.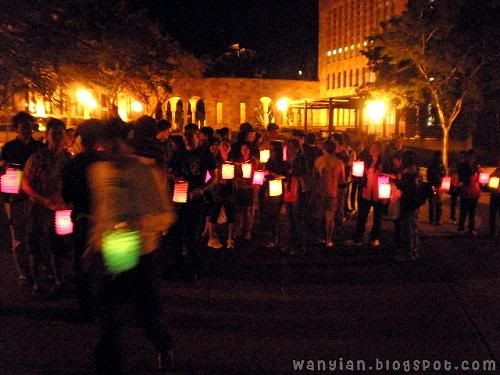 People gather for
some rituals
treasure hunt. Everyone participated for the treasure hunt except for the committee members, Yung Hui and I.
Hahaha... We don't fancy treasure hunt game and well, isn't it great to pretend that we are part of the committee members? :p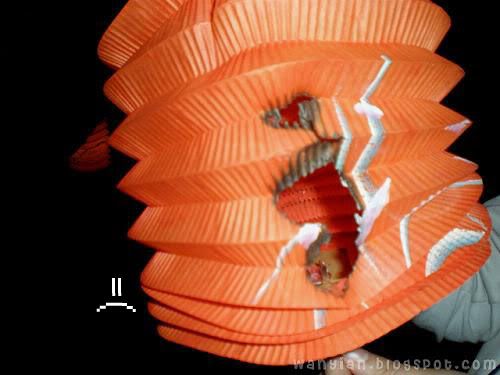 Because it just rained that day, it was super windy and while I tried to adjust my tanglung, the strong wind blew and I burned my tanglung T_________T
Damn dingdong I know.
The delighted me quickly grab a green one for myself because I think the green is really beautiful though it's not that bright in colour.
Besides getting free lantern each, we also get to eat free mooncakes (I miss the mooncakes back home with egg yolk!!!) and chinese tea.
The mooncakes are really small. How small? VERY small!!!
Small or not you tell me?
Tanglung kepunyaan Cik Yung dan Cik Yian.
Somehow writing in BM sounds so funny and weird to me now XD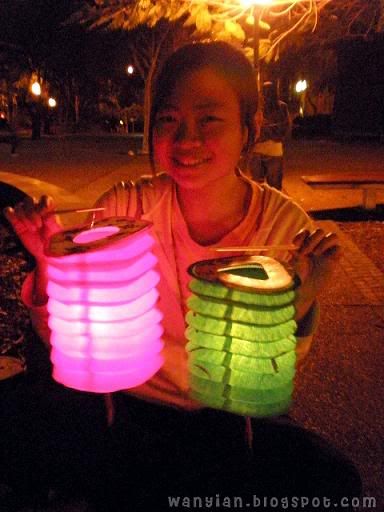 A candid photo of me laughing while holding 2 lanterns was captured by a committee member there. Oh God. I pray hard that they won't upload it in Facebook or blog seriously.
Can you see that I tied my hair up? I love tying my hair into a bun! I don't care if my face may look fatter or not but I still like it.
Photo captured by Patrick, 1 of the committee member and was uploaded in the FB. Now you get my meaning of turning off the flash? It seems like the both of us were holding empty lanterns like that -___-
Participants checking out the map.
Some grouped together for further discussion in solving the riddle.
Crap-I-forgot-his-name and Chong.
Chong came much later because he stayed far away and initially he don't want any lantern but was asked to by the gentleman above. And he ended up with a
yellow
one, which made him have the brightest lantern among us!!! LOL.
Hahaha... Guess how many things I put in my jacket's pocket?
Though you can't see our face clearly, but the lanterns look sooooooo pretty isn't it?
Chong with the bright yellow lantern again. Hahahaha... I like to laugh at him I don't know why. Like small boy playing lantern nia.
Since the 3 of us were the only ones not participating in the treasure hunt, we took a walk around the Great Court area with our lantern. It was so quiet and dark at night in uni. Kinda spooky though.
Yung Hui with Jeremy Tan. I have 2 friends now with the name Jeremy Tan lor! Confusinggggg...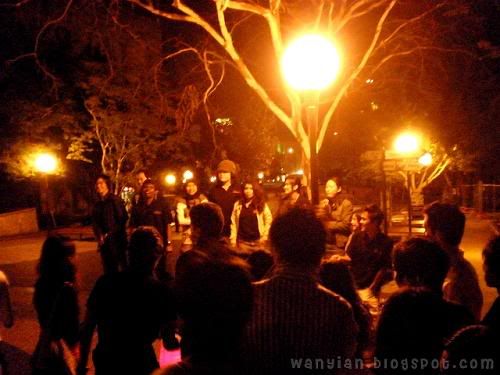 Photo of the committee members. Pity them because they kept taking photos of us and nobody actually take pic of them.
I'm always that kind :p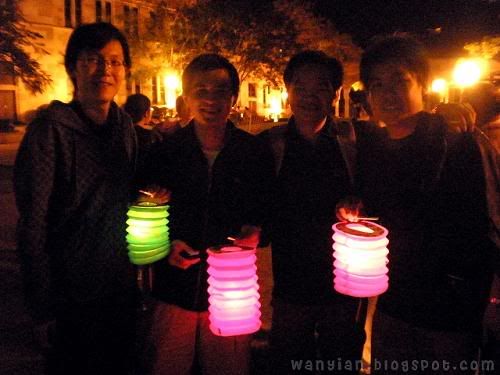 Guy friends that I got to know that night.
Beautiful lanterns.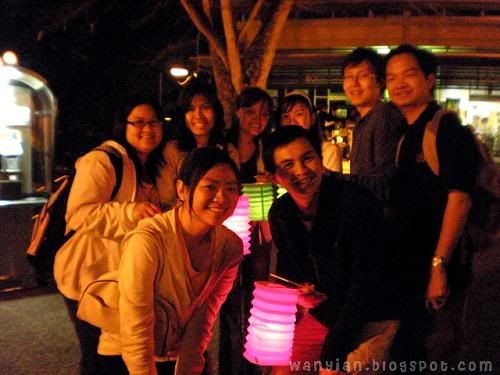 All the new friends that I got to know that day. So happy! They are super duper friendly I swear. Malaysia Boleh wtf.
Jiun, why are you squatting?
Jiun is a real joker I tell you. He can crack a joke in every minute. Powerful or not you tell me? That tall guy is Lucas. He's a PJ-rian as well! Sunway!!! The first thing I told him after knowing that he lives in Sunway was, "Eh... I damn like to eat in Yuen's steamboat lah". Haha.
Jiun then said that he likes the chicken wings there while I said that I like their tomyam soup more.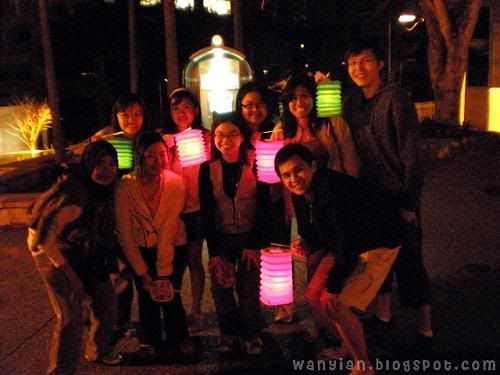 Group picture with new friends!
Now, who said 21 years old adult don't play lantern huh?
That was my first Lantern Festival celebration away from home :) It's pretty memorable I must say although I miss the delicious mooncakes back home.