Suddenly it hits me that my brother do read my blog!!! OMG! And I blogged about the previous clubbing entry. I don't know if both my brothers read or just the younger one, but please,
don't tell mummy and daddy okay???
I'll pray for Arsenal's victory everyday for you in return can? Deal?? Deal???
On the night before Merdeka Day, the usual bunch of us headed over to South Bank to catch the Riverfire Fesival since it only happens once a year.
As expected, the ferry, the beach, the field, all the places that are close to the river were packed with people!!!!
It's just a river festival where the locals celebrate the river (?) and yet, all of them were so supportive to catch the event 'live'!
Come to think of it, I've

never

been to Dataran Merdeka to catch our Merdeka Day 'live' before. Patriotic sial.
That seems like the usual traffic jam in Kuala Lumpur -_-'''
Come to think of it, I chatted with a new Australian friend yesterday in class and the conversation went something like this...
Hayden

(Looking at the chinese guy): Where are you from?


Chinese guy

(I forgot to ask for his name): I'm from China. Hangzhou.


Hayden

(Looking at me): What about you? Are you..... local?


Me:

No no no. No I'm not. What makes you think that I'm local?


Hayden:

Hahaha... Based on the way you speak.


Me:

LOL. I'm from Malaysia actually.


Hayden:

How do you find Brisbane? I mean... you like it here?


Me:

Well, not too bad :) It's quite a nice place.


Hayden:

Nice place? You must be kidding. The traffic is terrible here.



(Hui Yee and I looked at each other and laughed)




Hui Yee & I:

Wait till you come to Malaysia!!!!
I'm promoting Malaysia at least :)
Okay okay. Back to my entry.
We went pretty early that day at around 4pm while the festival was suppose to start at 7pm. Feeling hungry, we went to buy our dinner from
Ginga
and
picnicked
ate at the field.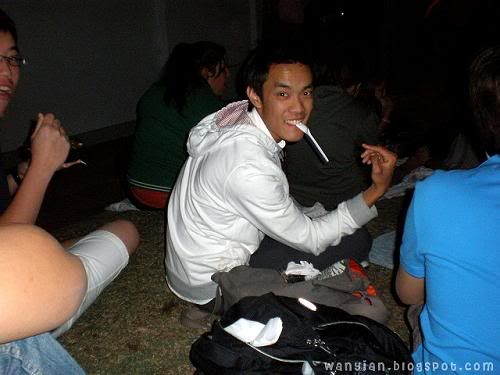 Timmy can eat a lot. I mean,
A LOT.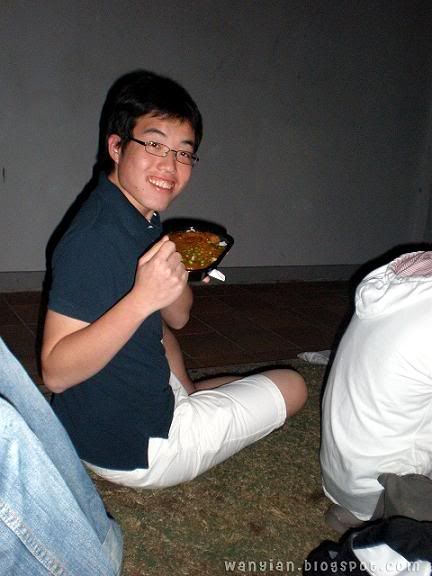 The cooking papa in Manors who loves to cook a lot.
The cooking mama who loves to eat in Manors.
Andy Chong Jin Yip didn't join us because he decided that we are no longer important to him! The others are more precious.. Am I right Chong Jin Yip???? Cis.
Yung Hui don't bother to layan me because she was very hungry :(
Layan a bit lah at least T________T
Sorry I didn't take pic of May Yoong, Phan and Sylvia because I was super sick that day; that's why didn't take that many pictures. I didn't even talk much because I lost my voice and was feeling freaking cold for the whole day. But I still went for the festival because I wanted to get out of the house!!! And to see fireworks. LOL.
The fireworks lasted for 30mins and it was magnificent!!!
Of course there isn't any photos because whenever I wanna enjoy something, I really put in 100% concentration/attention to it so taking pic will be very distracting. But being your kind blogger, I searched the video for you people!
But that person who recorded the video is pretty
jakun lah.
It seems like he has never seen any fireworks before -.- So noisy.
Speaking of fireworks, it reminds me of the firework competition that was held in Malaysia last year where I had a friend who asked me to catch the finale with him
everyday
for more than a month and I gave all sorts of excuses to not go though he offered to provide me transportation and dinner.
Now, even though I'm sick, I dragged myself to see the fireworks!!! I have to walk and take ferry some more! LOL. What is this???
Before I end this post, guess who sat behind me for hours?
T____________________________________T

Why not a leng chai lah why????