Last friday we went out to Hartamas to watch the Germany vs Argentina live. I promised to be at MYoong's house by 9pm but i was late because last minute, my younger brother wanted to follow along. So, gotto wait for him to get dressed up. Reach MYoong's house around 9.20pm and Jordan came around 9.45pm.
We actually planned to go to Souled Out but it was super duper jam all the way to Hartamas and confirm we can't get a place in Souled Out d. So, Jordan parked his car at parking lot which costs RM5! Celaka fella...So good at making money.
First, we pay a 'visit' to the Breakers. I thought it should be fun and happening. But, nothing much actually and those girls also don't know how to dance properly 1. Shake the butt or move the leg only also considered as dancing meh? Go and ask Angie to teach you all how to dance la...
Next we went to Hartamas Square because Chong said he'll meet us there. However, we can't even get a seat and there are already so many people standing there waiting for seats as well. Hartamas Square gave me a feelings like Petaling Street because they have so many stalls around selling football stuffs.
Instead of wasting time over there, we might as well go and check out other places. We walked around the place and we can't spot a single table available for us. Finally we arrived at Devi's Corner but there is full as well. The match had started (11pm) and we actually stood there for 5mins to watch.
We walked further away to the Nasi Kandar mamak and finally we got a table to watch the match comfortably. Not long later, Chong, Sue Anne and Timmy arrived. Basically, we sat there to chat and laughed instead of watching the football match.
Suddenly, something exciting happened. There's this guy who drives a Proton Putra got blocked by a a Wira who double parked. He honk non-stop and there's still no sight of the Wira's owner. Angry,
beh song
and
tulan
, he lift up his beautiful leg and kicked the Wira till it dent! Hey, he's wore slippers only you know. Can you imagine how 'soft' our Proton car is? And that you claim "Malaysia Boleh"??? =_=''
Manyak boleh oh...
Suddenly MYoong and Chong they all asked me to take the picture of that fella kicking the car. I said it's too far and too late d cuz he had already kicked da car. Smart Chong asked me to approach him and ask him to put his leg back at the dented area so that i can take his picture to post in my blog =_='' Later that fella kicked me instead then how?
We all then started to guess where is that Wira owner and what would his/her reaction be when he/she went back to the car. Timmy said maybe the owner of that is just sitting around with us and pretend that the car doesn't belong to him/her because that chinese fella is damn fierce. Go out will only kena whack from him. I also don't dare to go out la... Unless i want to have a match with him la.
From what i see, he can actually reverse his car out but i don't know he didn't. Chong said cannot because not enough space. But in the end, that fella managed to reverse his car out (Chong, it proves that ur estimation is not as good as mine! =P). Before he leave, he get down of the car to pick up a stone/rock (i don't know the size) and threw it at the Wira's window. The window didn't break anyway.
My special words to that fella: Cinapek, u memalukan kaum cina only la...
Chong, Sue Anne and Timmy left around 1am because Anne's mum called d. There, left the 3 of us to watch the whole match which ended around 2am??? (unsure of the time) It was really fun to watch the penalty shoot-out with a bunch of people where they'll cheer whenever the country they supported managed to score. It's SO FUN!!! Germany won anyway and Chong won RM100 in 5 minutes because he bet on the penalty shoot-out. Jealous betul~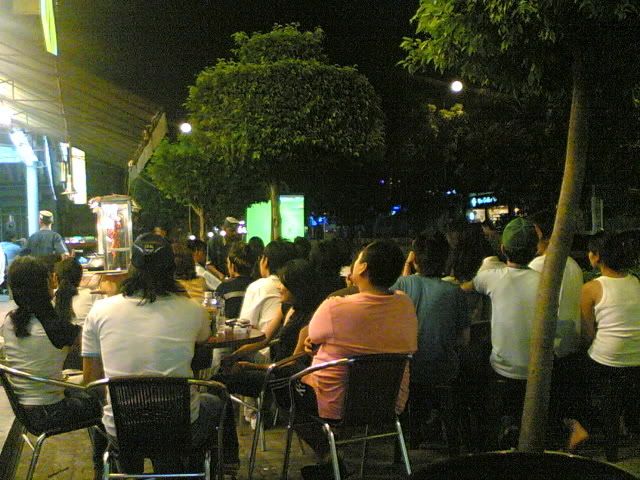 Every1's watching anxiously during the penalty shoot-out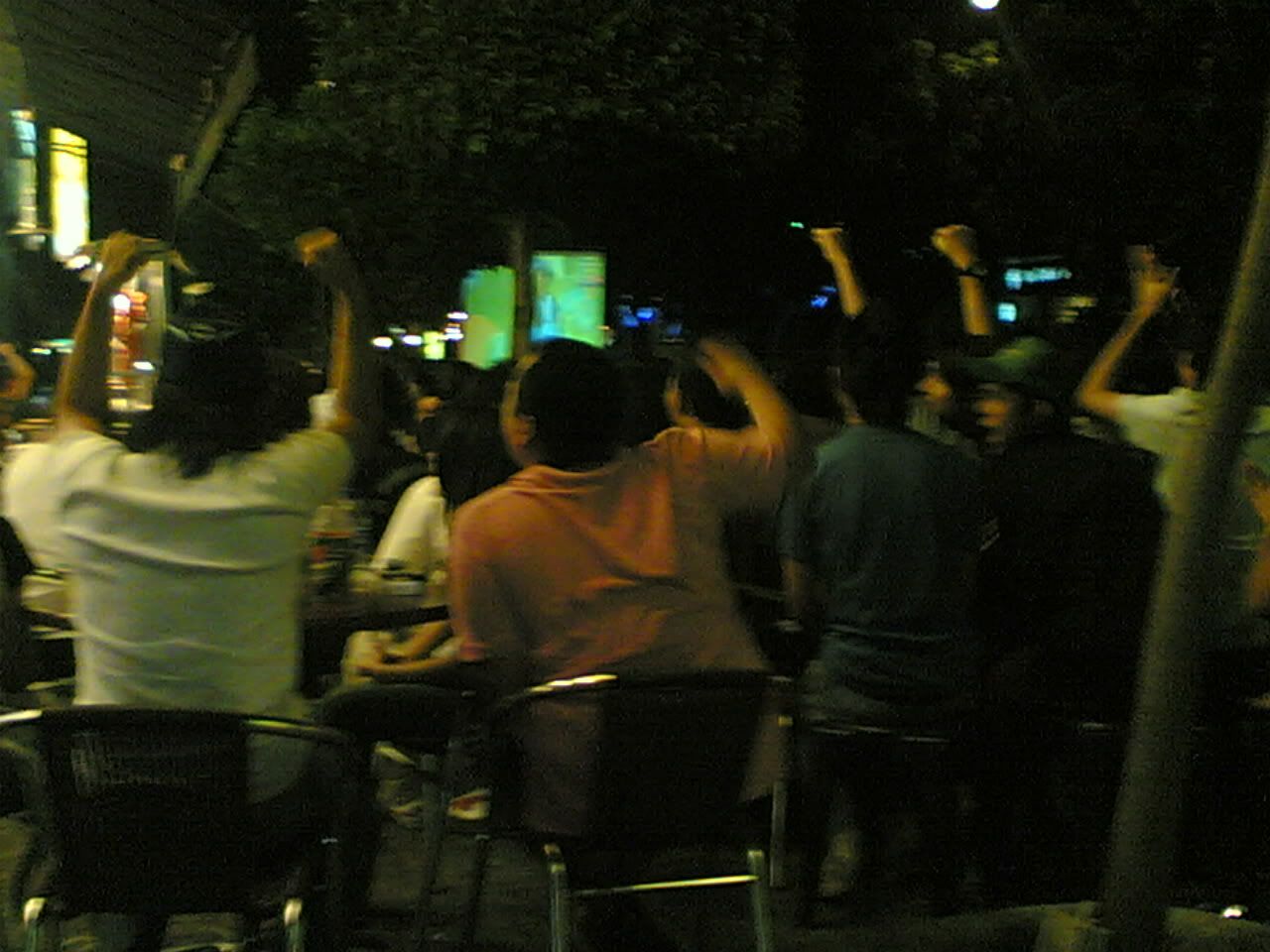 And....IT"S A GOAL!!! (dunno from which country)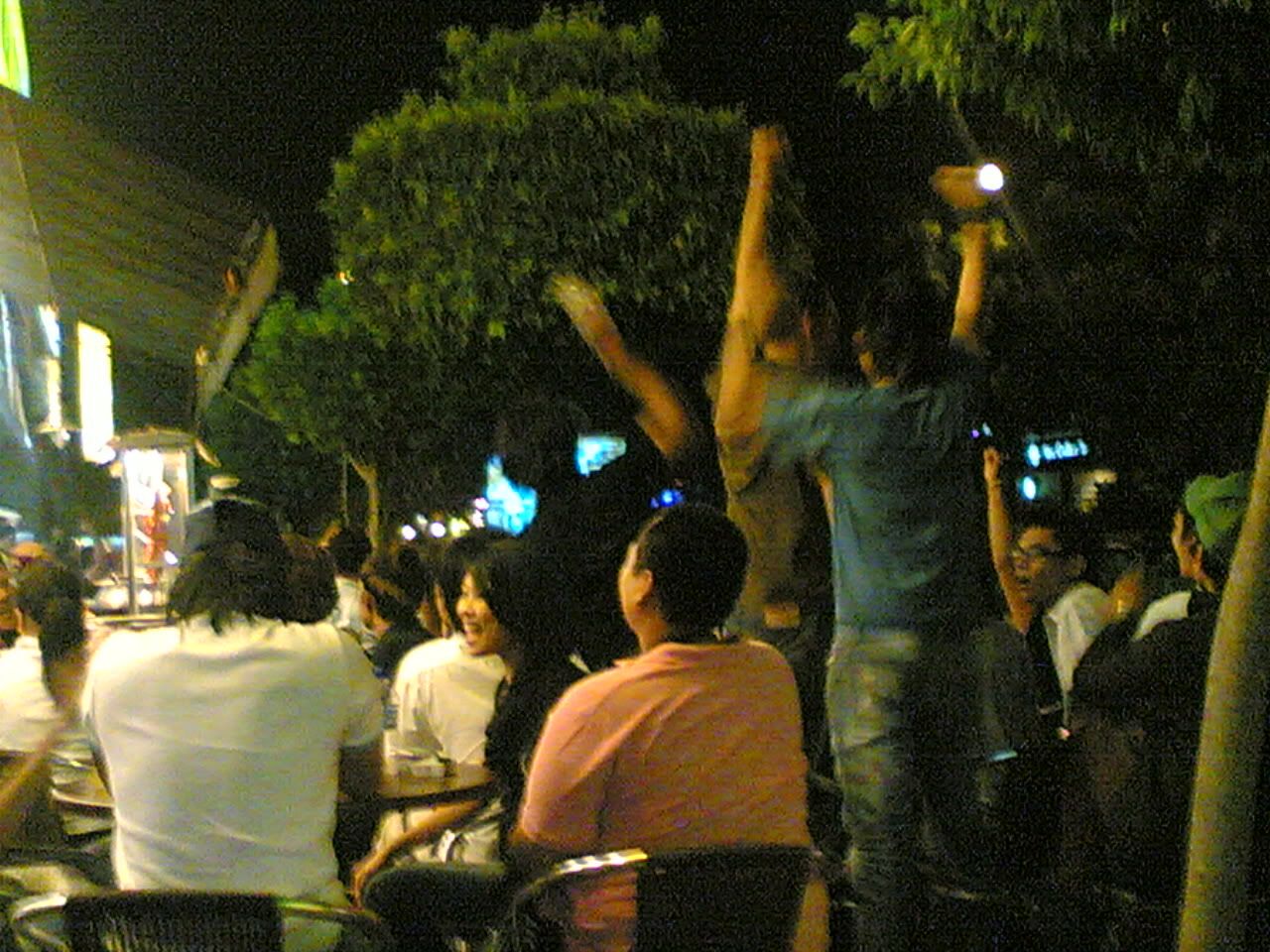 Those fellas (standing) 'high' jor...
Jordan then send me home before MYoong. I kept quiet in the car because i was listening to their conversation but they both find it scary when i don't talk =_=''' Other people don't talk you don't find them scary? So weird... I talk, say i talk too much...Don't talk, say very scary... Susah betul mau jadi WanYian... T_T
Reach my house around 2.45am and i quickly bath. Then, play game a bit before i went to bed because i was super energetic that time. So weird...