Gosh...i was dragged by Teng to the Holiday Villa Subang while promised YMan to go to the Pyramid for some catwalk show since last month.
After picking me and YMan up from my house, we went straight to fetch CHowe from the Taman Bahagia lrt station. Something funny happened over there and we laughed all the way to the Holiday Villa Subang.
Well, Teng asked me whether i knew the way to SJMC or not to double check. How come i didn't know the way? I've been going there everyday ever since my grandpa was admitted to hospital early of this year.
Upon reaching the SJMC, suddenly i felt a pain in my heart while looking at that white building. I just hate to see that white building. It makes me think of how i see my grandpa was so ill in there and also the place i see him for the last time. I just kept quiet all the way to the Holiday Villa Subang just to 'get myself back' to the mood i had earlier.
Opss...Guess i forgot to mention why we fetch Chowe to Subang Holiday Villa. He promised me 2years ago (Form 5) that he will join the Astro Talent Quest last year.
Mana tau
he send in the application form but didn't attach the demo tape
pula
. Of course he was disqualified. This year, he's going to enter for sure no matter what!
That damn car park in that hotel was fucking expensive! Rm4 PER ENTRY and RM2 for every additional hour. Now, who's willing to pay for such a expensive parking? But the worker said no matter we park or not, we still have to pay RM4.
Park oni lor no choice. Cis~ All those evil ppl...
That hotel was beautiful and was packed with tourists all around. We went around looking at the registration counter and by coincident, i met 1 of the guy in my accounts class. Heck, i forgot his name la...1 of Raymond's friend ler. He was there to accompany his frens and same goes to me. He was freaking friendly and we both were teasing each other that we better don't see each other in the audition room.
I wanted to take pics as a remembrance but i was worried that those contestants will come and whack me for taking their photos, i pretended i was sms-ing but actually i was taking pics. Tat's y all turned out to be sooooo blur...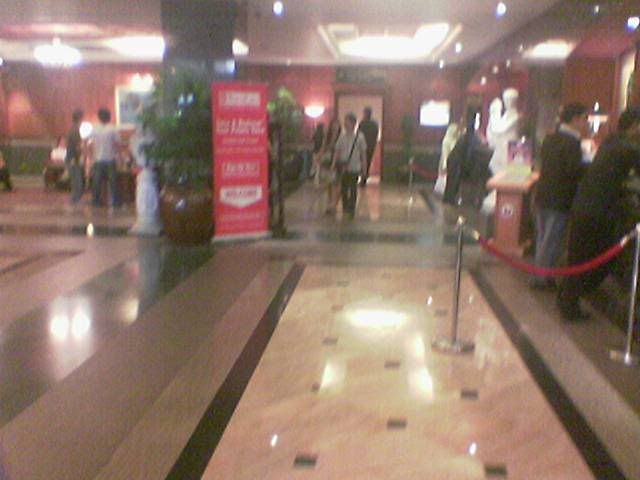 The place where we thought it was the registration counter at 1st.
While walking to the so-called correct place to register, 4 of us were saying that the contestants for this Astro Talent Quest was SO FEW! It's was less than 50 people. So, after we went through a narrow corridor which leads us to the car park, DAMN, we were wrong!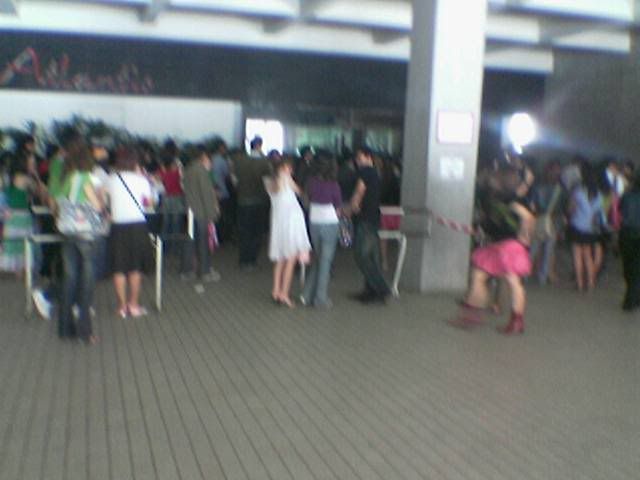 Mata saya pun terbeliak besar to see the amount of crowd in front of me
So, we quickly went and to get a number for CHowe and his number was 836. WTF? You sure got so many contestants over here ar? Dare we say few people join sumore.
YMan then saw her friends over there who wanted to try their luck as well. It's alright to try eventhough you know u might not get it. I admire people who are brave and have the don't-give-up-attitude! U go girls!!
While waiting and it's almost 1 hour, Teng and YMan went out to park her car somewhere else instead. So, i was left to accompany the tai siu. He was damn nervous and he can't even sit still and he said in order to release a bit tension, he decided to tease me and disturb me. What kind of thinking is this? =_='''
Around 12 something, we don't bother to wait anymore and decided to go out to have our lunch 1st. So, we walked all the way up to the shoplots in front of the SJMC (not again!) to have pizza. We laughed, chat and do the usual stuff we do together in the shop to waste time.
Around 2 o'clock we went back to the hotel to check whether it's his turn already or not. Still long way to go but the 3 of us have to get our ass to the pyramid because we were more than 2hours late for the catwalk show.
When we were about to leave, 1 of the lady working over there asked those fella that number is above 800 to come back after 4pm. So, Chowe followed us to Pyramid. Before we left, we saw those people who just came in got number 1000++. Crap...thousands over contestants?
Nah, i even saw the 2 years ago winner Ng Kowk Fei of whatever..dunno how to spell his name. I wasn't expecting to see him though. I wanted to see Nicholas Teo la....NOT U!! T_T
Upon arriving at the Sunway Convention Centre, we were being escort by YMan's friend who work there and the managers(i assume) into the ballroom. Got people to escort the 3 of us somemore. Wah...VIP really VIP wor. Moreover, being the latecomers, we got the front seat sumore.
Pai seh
also when those fellas who sat behind kept on staring at us.
The catwalk was over as we were more than 2 hours late. So we saw some dance and Miss whatever competition. Frankly speaking, it was soooo boring! Teng and i kept on chatting about some cheeky stuff while YMan was talking to her friend. The ballroom is really big and it was PACKED with people! I can even see some of them standing. No wonder they stare at us for sitting in front eventhough we were late for more than 2 hours!
Finally, we kenot tahan and came out of the ballroom. We walked around the around convention centre and only to find out that their products were super expensive. How to buy? See only lor...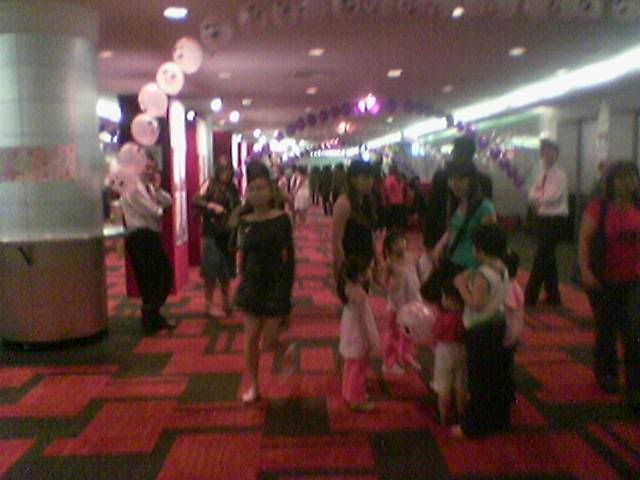 The convention centre was packed with people of all ages!
While we were standing at a side chatting, Miss Chinese Cosmos 2004, Lee Sze Kei passed by to enter to the toilet. Oh gosh, she was so pretty and gorgeous in the gold colour night gown and the 'eye-catching' crown on her head. She looked sooooo sweet and beautiful in person than in the photos. She even stopped to take pictures with people.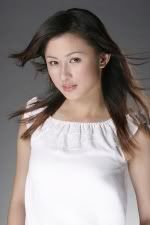 This is how Lee Sze Kei looks like...she looked fabulous isn't it?
After that, we walked around the place to look for presents to buy and finally settle down at the Delifrance for our high tea. By the way, while we were in the convention centre, Ming Shing came over and he fetches CHowe back to the Holiday Villa Subang. What a good and nice friend he is!Today was happy because i get to see many many many good looking guys during the audition. Cuci mata for the whole time....