Home - 1.30pm-2.50pm
While waiting for Teng to come, i watched Doraemon and the Legend of Sun King (something like that la) with my younger brother. I found out that motion picture is even funnier than the comic! Had a good time watchin it but it seems not so suitable for my age =P
Finally Teng arrived and we went to the NuStar Centre because Teng wanna buy their pimple gel. However bcuz i didn't help Teng to make appoinment with my friend, we didn't get to buy as they don't have any stock.
Celaka
Jeling~~ pergi Johore by this time!!! Scold u next time!
Honey Bee - 3.30pm-5.45pm
Went over to fetch our princess Ling before heading to our usual hangout place is ss2, which is Honey Bee. The 3 of us arrived 1st and started to mess around the place before settle our self down. All bcuz of Ling wanna sit in da cute yellow car where Teng and me don't want. I felt like
so poh
oni to sit inside la~~ =_='''
I ordered hot cappucino because i had a little cough that day while Ling ordered Purple Heart or something and Teng had 'Sweet like Chocolate'.Ling n i can't help and kept on laughing at her. She really do think she's 'sweet like chocolate' ar? Muahahaha....
Yman arrived and she ordered the same hot drink as me. We almost played all the games available there just to kill time like
Tumbling Tower, Happy Family, Chor Tai Dee
and etc. Didn't play
Snap
because we think it'll be too loud and we didn't play
Donkey
also because dunno where the cards gone to.Had a great time there with a few close friends together to chat and share with our current issues. Took damn many pictures there until those waiters oso
beh song
us liao...
Here's a few pictures taken on that day:
(Dun worry teng, i'm not going to show all. muahahaha....)
Teng and me =P
Dunno when her boobs outgrow my boobs...Cis~~ i rmbered mine used to be bigger than hers 1 wor...=(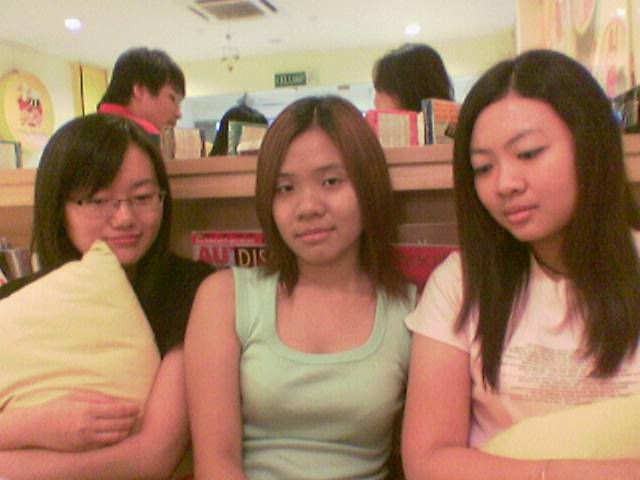 The photographer asked us to pretend to be sad or depress. In the end, Yman seems like crying, Teng seems like sleeping while me, beh song with the photographer! Muahahah... Actually i
tahan
not to laugh oni...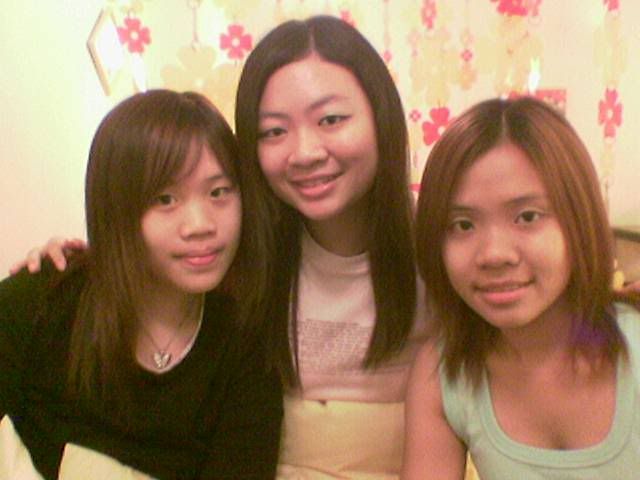 We love our usual hangout place!!!
We like to pose a lot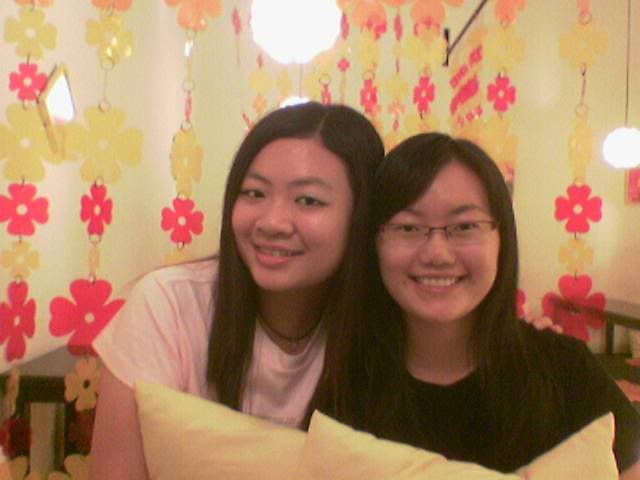 Me n YMan, some1 who lived very very far away during the weekdays but very very near during the weekends.
Sunway Pyramid - 6.20pm-7.45pm
Due to the heavy rain, Teng drove at the speed of 60kilometer per hour! Took a long time to reach Pyramid and therefore, we oni got to walk around for 1hour like that. It was still drizzling when Teng and me wanna walk over to the Sunway Surf Beach. So, we decided to go back to her car to get the umbrella just in case it rain heavily later.
Sunway Surf Beach - 8.15pm
Despite of the rain, there's still so manyyyy people waiting in front of the stage with their umbrellas. Upon arriving, the 988 DJ oledi started playing games with the contestant and i heard a guy was singing. So, we both quickly moved to the middle so that we can see the 2 big screens located on both side of the stage. HOLY CRAP!!! That fella singing on the stage looked so damn familiar to me. Yes, he's Lip Sin!!! I think he was the only contestant who sang the longest compared to the other 4 who sang just a little part of the song. Gosh, he's damn lucky to be picked and he's brave too!
By 8.35 or 8.40pm like that, LeeHom finally went on stage. Being the simple and humble LeeHom, he's only wearing a simple 3 quarter t-shirt and a jeans. Compared to the 1st time i c him (which is last year), he's more built up this time. And of course, he's as handsome as ever! His stage performance was fantastic that keeps us moving and singing along with him. He delivered 5 songs altogether before he went back to the car to rest and change. When he was back on stage, he had changed to a simple white t-shirt and he's ready for the autography session.
This time i didn't get to take any pictures of him because my camera was low in battery and moreover, those bloody umbrellas are blocking my view. Helooo~ aunties and those
che che chais
, it's oni a few drops of rain. U won't die 1 la... Keep ur umbrellas away la!! Teng and i hangout around for awhile n spotted a few handsome guys there. Met a few friends there as well but didn't really chat with them other than Shu Yee who approaches me while she's on the phone talking.
Multi-tasking ni
... She's a big fans of LeeHom and therefore, she's da 'Homaniacs Club' member and proudly showing me the shirt she's wearing. Ceehh...next time i'll show u FIR, JJ Lin or Wilber Pan t-shirt to u! XP
Left the place around 10 something and went to Ming Tien which is located opposite the Pyramid (not the 1 in Taman Megah) for dinner. Correction, it should be dinner cum supper! Wanted to sit outside but it was FULL! All the tables were occupied by youngsters where i assume they just finish seeing LHom. No choice, gotto sit inside and found a nice spot which is beside a table of good looking guys. Muahahaha....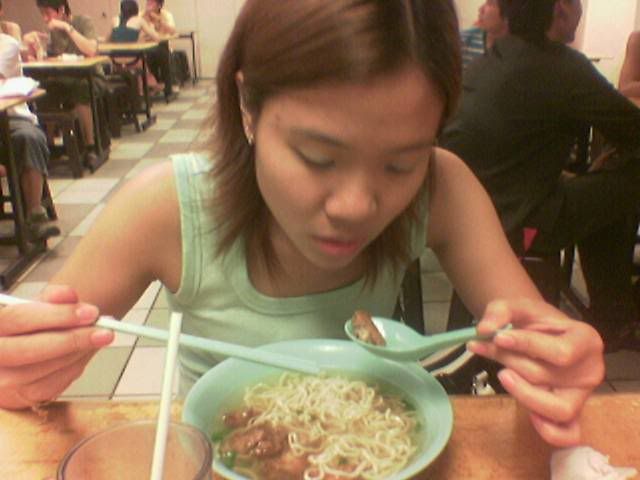 Teng was sooo hungry. While waiting for her to finish her food, i took out *something* and said "Eh, today's
'sau wok'
(hasil) is oni this thing la. Teng was shocked! Those good looking guys sitting on the next table turned to look at me as well. What happened? I was so blur until Teng told me that that 'thing' looked like.....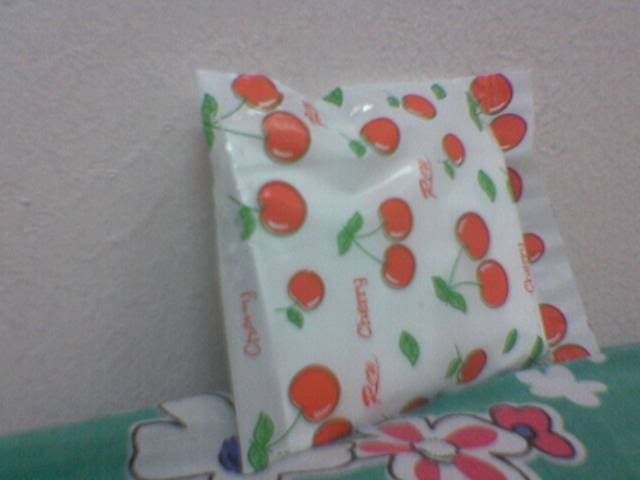 Sanitary pad.
No wonder they looked at me la! They thought i crazy 1 izzit? Play with sanitary pad in coffee shop.
Hilang muka
man this time... so embaressing!! It's actually bra strap la. That girl wrap until it looks like sanitary pad pula... T_T
Finally left the place around 11pm.