Gotto reach college by 10am to meet up with friends for Psychology discussion. Everyone looked so tired because of the presentations and assignments we had. Gotto take bus to library in Wisma HELP before attend our Psychology class at 2.30pm.
After class, gotto wait for my dad for almost 1 hour because my brother refused to fetch. Reason? He wanna sleep! Quickly rushed to Shen Ling's house after stuck for awhile in the Sprint highway due to the jam.
Reached SLing's house around 5.10pm and i went into her room because she wasn't ready yet. Gave her a BIG BIG birthday hug and that will be considered as a bday present d ya!! muahahaa....Then, we both walked over to ss2's Swenson. We talk so much that we didn't see the car coming while crossing the road =_=''' Worst of all, that auntie oni look on the right. She didn't even look on her left before she cross! Apa licence ni? Beli punya ka?
Budak baik di rumah, jangan belajar tingkahlaku mak cik ini ya...
Went into the Swenson and.... NO customer at all! Only the both of us... Felt a bit awkward at 1st but we don't care. We went in no matter what. I tried their Hot Chocolate Sundae which cost RM8.80 while SLing tried their Chocolate ice blended, RM 9.95.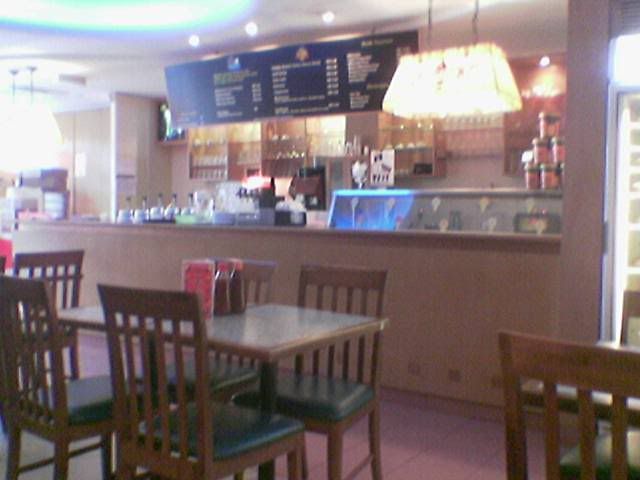 Swenson's, ss2
My sundae arrived 1st and it tastes soooooo delicious!! Yummy~~ ShuYing and SooWen's gonna like this man.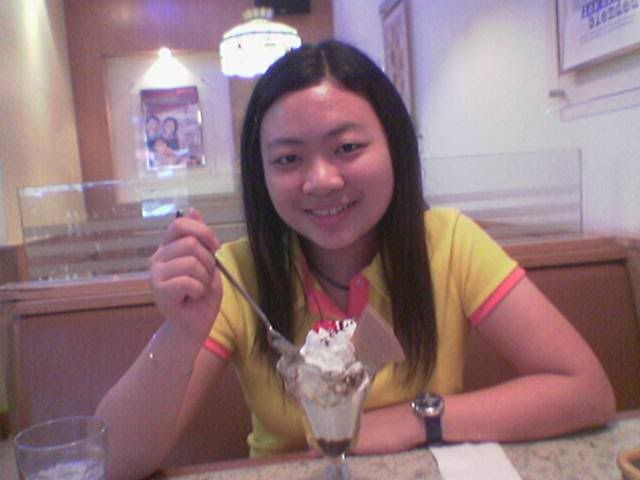 SLing said i looked like a small girl in this pic bcuz i pin up my hair. I think i looked more like a China girl la! Like
so poh
nia...
"Ni hao...wo shi zhong guo lai de...xie xie, xie xie.. >.<"
I wanted to take a picture of me feeding ice cream to SLing de. In the end, the picture turn out to be....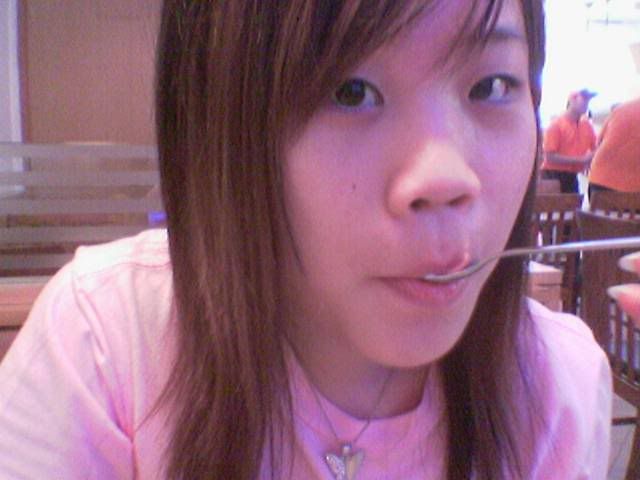 Only 2 of my finger is there
Finally Sling's Chocolate ice blended arrived. I think she don't like to drink it using the straw. Guess wat...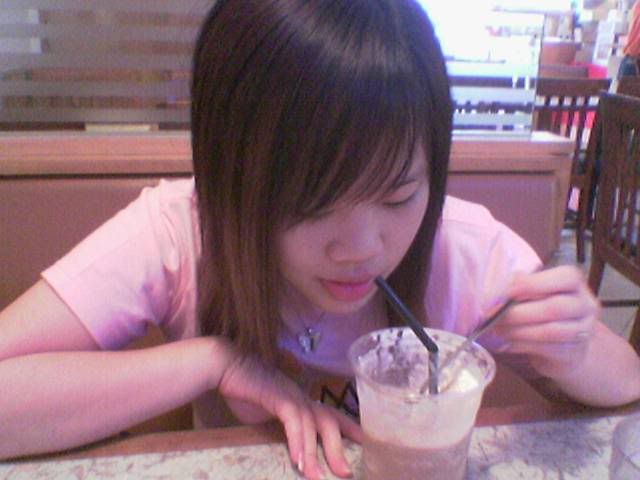 she uses the SPOON to eat instead!! Now, u call it 'creative' or 'weird' ar?
In the end of the day, she insist to pay for the bill bcuz she said it was her birthday. Aiyer... i paiseh la...next time i belanja u back la ya~~ =P
HaPpY 19th BiRtHdAy to u again...Muaks~